Storytime with Lesley Younge, Author of A-TRAIN ALLEN
Loyalty is delighted to welcome Lesley Younge for an IN-PERSON author storytime for A-Train Allen! Join us at Loyalty's Petworth location at 11 AM on Saturday, May 13th in our new children's room for stories and fun with the author! This event is FREE to attend, but RSVP below to let us know you're coming! **Face masks are required for all adult attendees.** Please email events@loyaltybookstores.com with any questions.
ABOUT THE BOOK
Everyone in the neighborhood knows Allen is the fastest kid around. As soon as school lets out, he's racing through the park, past the library, and down the sidewalks. They call him A-Train because he's practically faster than the subway. ZOOM But where is Allen off to every afternoon? Got somewhere to be Got somewhere to be he calls. Race through the city with A-Train and discover what finally gets him to slow down. An Own Voices, Own Stories Grand Prize winner.
ABOUT THE AUTHOR
Lesley Younge is an author and teacher passionate about interdisciplinary education, experiential education, community engagement, mindfulness, and global competency. She lives in Silver Spring, Maryland.
ABOUT THE ILLUSTRATOR
Lonnie Ollivierre paints the things that he sees in his everyday life, through which he hopes to inspire, educate, and uplift others. He lives in Atlanta, Georgia.
Please note Loyalty has a zero tolerance policy for harassment or intimidation of any kind during this event.
Event date:
Saturday, May 13, 2023 - 11:00am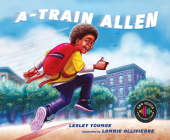 $18.99

ISBN: 9781534111837
Availability: On Our Shelves Now - Click on the title to see which location!
Published: Sleeping Bear Press - March 15th, 2023
---

$17.99

ISBN: 9781728464077
Availability: On Our Shelves Now - Click on the title to see which location!
Published: Zest Books (Tm) - March 7th, 2023
---
RSVP Form:
Submitted by christineb on Mon, 04/17/2023 - 1:38pm
All fields marked with '*' denotes mandatory fields