Beneath the Burning Wave (Paperback)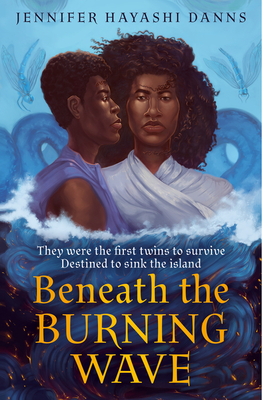 $10.99

On Our Shelves Now - Click to see location, time, and stock details
Description
---
"One of the most unique books you'll read this year" Buzzfeed
"A strikingly different trilogy opener" Kirkus Reviews
Twins destined to bring about devastation. . .
Since the beginning of Mu there has been a prophecy. Twins born of fire and water will lay waste to the island. For the sake of Mu's inhabitants, no twins can survive. Or else a catastrophe of volcano and tsunami will annihilate them all.
Kaori and Kairi are forbidden twins, two halves of a whole, the first to survive on the ancient island of Mu. One was born of fire, the other of water.
As the twins are pulled in opposing directions, and hatred reaches a boiling point between the two, many will die in the crossfire.
Will Kaori and Kairi unwittingly enact the prophecy and destroy the island of Mu or can one twin stop the other from bringing about destruction. . . ?
The Mu Chronicles is a visionary YA fantasy trilogy exploring the origin of gender and desire in an epic queer fusion of Japanese folklore and Egyptian mythology.
What readers are saying:
"An interesting and original debut which left me begging for more" Caleb, NetGalley reader review
"An ambitious take on an epic YA fantasy series exploring gender fluidity ... a political commentary ... If you're looking for an atypical YA read, this might be the one for you" Clara, NetGalley reader review
"This is a really unique YA fantasy novel. I just loved what it was trying to do. Whilst it might not be for everyone I do think it's worth a go for the unique style ... there's a certain beauty to the story and the way it's constructed" Gabrielle, NetGalley reader review
"This storyline was very interesting and flowed nicely, I will definitely recommend reading this book " Michelle, NetGalley reader review
"The use of neopronouns is lovely to see and was not at all hard to process" Luca, NetGalley reader review
"I really enjoyed the twins story ... both fascinating characters I was willing to find their own strength and courage in such a world" Wendy, NetGalley reader review
About the Author
---
Jennifer Hayashi Danns, author of The Mu Chronicles, is a Scouse writer who spent a decade in Fukuoka, Japan teaching English, raising her very genki children and finding time to explore active volcanoes and iridescent caves. She is an alumna of Faber Academy online and has published short stories and poems in various anthologies.Jennifer loves Siamese cats, pistachio ice cream and David Bowie's goblin king in Labyrinth.