Lady in the Lake: A Novel (Paperback)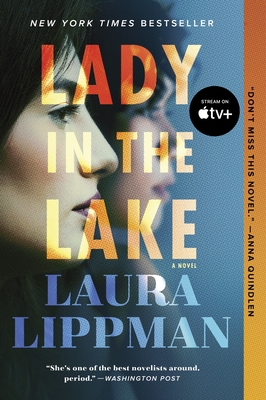 $16.99

Not In Store - Available to special order for pickup or ship. For even speediest shipping we suggest our Bookshop.org page!
August 2019 Indie Next List
---
"I continue to be in awe of Laura Lippman's ability to write novels that are so much more than mysteries. Lady in the Lake is, of course, a wonderful mystery with twists and turns and surprises —nothing is predictable. But it is also a beautiful character study and a sensitive look at the desire to have a meaningful life and how ambition can be motivating but also blinding. I loved the multiple voices in the novel— Laura's characters are never perfect and therefore come across as real people with real needs. I have no doubt that Lady in the Lake will be a huge success."
— Ann Berlin, The Ivy Bookshop, Baltimore, MD
Description
---
SOON TO BE A SERIES FROM APPLE TV!
A New York Times Bestseller
The revered New York Times bestselling author returns with a novel set in 1960s Baltimore that combines modern psychological insights with elements of classic noir, about a middle-aged housewife turned aspiring reporter who pursues the murder of a forgotten young woman. 
In 1966, Baltimore is a city of secrets that everyone seems to know—everyone, that is, except Madeline "Maddie" Schwartz. Last year, she was a happy, even pampered housewife. This year, she's bolted from her marriage of almost twenty years, determined to make good on her youthful ambitions to live a passionate, meaningful life.
Maddie wants to matter, to leave her mark on a swiftly changing world. Drawing on her own secrets, she helps Baltimore police find a murdered girl—assistance that leads to a job at the city's afternoon newspaper, the Star. Working at the newspaper offers Maddie the opportunity to make her name, and she has found just the story to do it: Cleo Sherwood, a missing woman whose body was discovered in the fountain of a city park lake.
If Cleo were white, every reporter in Baltimore would be clamoring to tell her story. Instead, her mysterious death receives only cursory mention in the daily newspapers, and no one cares when Maddie starts poking around in a young Black woman's life—except for Cleo's ghost, who is determined to keep her secrets and her dignity. Cleo scolds the ambitious Maddie: You're interested in my death, not my life. They're not the same thing.
Maddie's investigation brings her into contact with people that used to be on the periphery of her life—a jewelry store clerk, a waitress, a rising star on the Baltimore Orioles, a patrol cop, a hardened female reporter, a lonely man in a movie theater. But for all her ambition and drive, Maddie often fails to see the people right in front of her. Her inability to look beyond her own needs will lead to tragedy and turmoil for all sorts of people—including Ferdie, the man who shares her bed, a police officer who is risking far more than Maddie can understand.
About the Author
---
Since Laura Lippman's debut, she has been recognized as a distinctive voice in mystery fiction and named one of the "essential" crime writers of the last 100 years. Stephen King called her "special, even extraordinary," and Gillian Flynn wrote, "She is simply a brilliant novelist." Her books have won most of the major awards in her field and been translated into more than twenty-five languages. She lives in Baltimore and New Orleans with her teenager.
Praise For…
---
"...the closest writer America has to Ruth Rendell.... What makes this book special, even extraordinary, is that the crossword puzzle aspect is secondary...[Lady in the Lake] reflects the gulf which then existed between what women were expected to be and what they aspired to be." — Stephen King
"Don't miss this novel." — Anna Quindlen, New York Times bestselling author
"A cavalcade of narrators--including Cleo's ghost, who wants Maddie to stop poking into her world--and Lippman's expert storytelling bring the city's tensions wondrously to life." — People
"[Lippman] only seems to be getting better." — Entertainment Weekly
"[Lippman] tells a classic mystery through the prism of many characters, all feeling the reverberations of dawning feminism and racial tension in civil-rights-era Baltimore...Lady in the Lake is aching, thoughtful, and compulsively readable." — Vanity Fair
"Baltimore in the mid-1960s is the setting of Lady in the Lake, the latest novel from the ever impressive Laura Lippman...Lippman's book is revelatory, too, in showing the personal and professional costs to others—friends, loved ones, sources, witnesses—of Maddie's single-minded quest for achievement and recognition." — Wall Street Journal
"Elegantly written, the novel moves with an eye to how people adapt to changes in culture, or maybe how an evolving culture causes shifts in people...Lippman again proves she's a sharp observer of people, with an affinity for shaping complicated people in a refined plot." — Associated Press
"Inspired by the unsolved death of Shirley Parker... Lippman's ambitious novel weaves some 20 points of view into a seamless, vivid whole. The novel demonstrates that Lippman, a former Baltimore Sun reporter, is both a skilled journalist and a masterful novelist." — Washington Post
"Lippman's fans will devour this sophisticated crime novel, which captures the era's zeitgeist while painting a striking portrait of unapologetic female ambition." — Publishers Weekly (starred review)
"The story is bigger than the crime, and the crime is bigger than its solution, making Lippman's skill as a mystery novelist work as icing on the cake. The racism, classism, and sexism of 50 years ago wrapped up in a stylish, sexy, suspenseful period drama..." — Kirkus Reviews (starred review)
"...as much a mystery as it is a stylized look at life in 1966 Baltimore. Another must read from Lippman." — Popsugar
"Riveting…This is a superb character study, a terrific newspaper novel, and a fascinating look at urban life and racial discrimination in the '60s…Lippman's critical acclaim and sales figures continue to climb, and this genre-crossing thriller will extend her reach still further." — Booklist (starred review)
Praise for Sunburn:
"Suspenseful as hell, and she writes like a dream. . . . Lippman's always good, but this is a cut above." — Stephen King
Praise for Sunburn: "Every time Laura Lippman comes out with a new book, I get chills because I know I am back in the hands of the master...Sunburn is her dark, gleaming noir gem. Read it." — Gillian Flynn, #1 New York Times bestselling author of Gone Girl
Praise for Sunburn: "Fast-paced and unpredictable, Sunburn is a smart, sly riff on love in a world of trouble that's puzzling until the very last piece falls into place." — O, the Oprah Magazine
"A masterful mix from a total pro." — People