Soulswift (Paperback)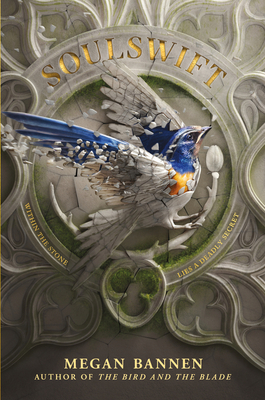 Winter 2020 Kids Indie Next List
---
"This book made me cry. It broke my heart right in two. I know that may not sound like a glowing review, but trust me, it is. The best stories are the ones that make us feel so deeply we drown in them. That is what Soulswift is. A deep, beautiful, and heartbreaking story that will stay with you forever. You'll love it as you read it and you'll be shaking when it's over, but you wouldn't want it any other way."
— Marielle Orff, Towne Book Center and Wine Bar, Collegeville, PA
Description
---
A dark, epic fantasy about a girl who must rethink everything she believes after she is betrayed and hunted by the religion that raised her—from Megan Bannen, author of The Bird and the Blade. Perfect for fans of The Winner's Curse and The Girl of Fire and Thorns.
Gelya is a Vessel, a girl who channels the word of the One True God through song. Cloistered with the other Vessels of her faith, she believes—as all Ovinists do—that a saint imprisoned Elath the Great Demon centuries ago, saving humanity from earthly temptation.
When Gelya stumbles into a deadly cover-up by the Ovinists' military, she reluctantly teams up with Tavik, an enemy soldier, to survive. Tavik believes that Elath is actually a mother goddess who must be set free, but while he succeeds in opening Her prison, he inadvertently turns Gelya into Elath's unwilling human vessel.
Now the church that raised Gelya considers her a threat. In a race against the clock, she and Tavik must find a way to exorcise Elath's presence from her body. But will this release stop the countdown to the end of the world, or will it be the cause of the earth's destruction?
And as Tavik and Gelya grow closer, another question lingers between them: What will become of Gelya?
About the Author
---
Megan Bannen is a librarian and the author of The Bird and the Blade. In her spare time, she collects graduate degrees from Kansas colleges and universities. She lives in the Kansas City area with her husband, their two sons, and a few too many pets with literary names. She can be found online at www.meganbannen.com.
Praise For…
---
"The unpeeling of both Gelya and Tavik's past traumas and the poignant rendering of love and faith in conflict are compelling, as is the inexorably tragic yet cathartic conclusion. The intersection of fantasy and religion falls somewhere between Duncan's Wicked Saints and Nix's Angel Mage, while the focus on personal faith and bodily autonomy (to say nothing of the romance between the heroine and her hunky, competent protector) will appeal to fans of Carson's Girl of Fire and Thorns trilogy."
— Bulletin of the Center for Children's Books
"Bannen hurls readers headlong into a harrowing yet ultimately hopeful fantasy rife with action and intrigue. The duo's witty banter and burgeoning romance temper the tale's weightier moments." — Publishers Weekly
"Bannen's second stand-alone is deep, dark, and sweet; many teen readers question long-held beliefs, and they will appreciate seeing Gelya do the same. Recommended for all collections." — ALA Booklist
"An examination of faith, doubt, and trust wrapped inside a stirring fantasy plot….This deeply moving and thought-provoking adventure enthralls on multiple levels." — Kirkus Reviews
"With Soulswift, Megan Bannen once again proves her knack for writing unforgettable characters and a story that, despite the heartbreak, will make you long to read it again."  — Tanaz Bhathena, author of HUNTED BY THE SKY
Praise for THE BIRD AND THE BLADE: "Lavish, sweeping, and powerful…. A must-read for fans of heart-wrenching, sob-your-heart-out YA." — Kirkus Reviews (starred review)
"A rich, imaginative tale that delivers thrilling characters, heartstopping action, and exciting intrigue with every turn of the page." — ALA Booklist
"Will leave readers in tears" — School Library Journal
"A magical and tragic romantic adventure." — Publishers Weekly
"Clever twists and narrative devices will make this novel a favorite." — Voice of Youth Advocates (VOYA)
"The Bird and the Blade is a tale filled with magic and mystery. It will entrance you from the first page. Meticulously researched and beautifully executed, this story will linger long after you have finished reading." — #1 NYT bestselling author Renèe Ahdieh
"At once haunting and compelling, this tale of love and loalty will wreck you. Exquisite from the first note to the last."
— Natalie C. Parker, author of Beware the Wild
"The Bird and the Blade has everything I want in a novel: vivid characters, sumptuous prose, romance, funny dialogue, and a sweeping storyline in an intricately researched world. This story will break your heart—but it will remake it, too."
— Rosalyn Eves, author of Blood Rose Rebellion