Tall, Duke, and Dangerous: A Hazards of Dukes Novel (Mass Market)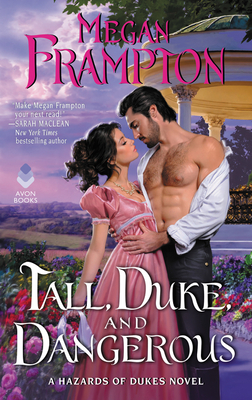 Description
---
Megan Frampton returns with the second book in the Hazards of Dukes series, a series that made Sarah MacLean say "Make Megan Frampton your next read!"

He needs a bride…
Nash, the "dangerous" Duke of Malvern, has always bristled against the rules of English society. Hot tempered and fearful of becoming like his brutish late father, he lives a life of too much responsibility and too little joy. And although he's vowed to never marry, a duke has a duty—and there's only one way to get himself an heir and a spare. So Nash reluctantly takes a look around at society's available young ladies to see who might be willing to put up with his one-word answers and frequent glowers.
She longs for love…
After the death of her father and wicked stepmother, Ana Maria goes from virtual servant to lady-in-training, and while society life has its benefits—gorgeous gowns!—its restrictive rules stifle her sprit. And when her independent actions put her in danger, her half-brother insists Nash teach her some self-defense. While most of London's ladies find Nash intimidating, she only sees a man who needs introducing to all the joys life has to offer. So although officially they are coming together for fighting lessons, unofficially their physical contact begins to blur the line between friendship and begins to grown into something more…
About the Author
---
Megan Frampton writes historical romance under her own name and romantic women's fiction as Megan Caldwell. She likes the color black, gin, dark-haired British men, and huge earrings, not in that order. She lives in Brooklyn, New York, with her husband and kid.
Praise For…
---
"Strong heroines, sexy heroes, delicious stories. Make Megan Frampton your next read!"
— Sarah MacLean, New York Times bestselling author

"A captivating second in the Hazards of Dukes series (after Never Kiss a Duke). Frampton deftly handles heavy subjects of abuse and neglect without ever losing the light of her characters' spirits or tamping down the steamy, slow-burn romance... Will enthrall readers of Eva Leigh's Union of the Rakes series."
— Library Journal

"Downright titillating."
— Cosmopolitan

"Sparkling... [Never Kiss a Duke] bursts with delightful banter, restorative supporting characters who dance off the page, and plenty of steamy interludes and tantalizing yearning."
— Entertainment Weekly

"This series opener promises more fun to come."
— Publishers Weekly

"Frampton (Never a Bride, 2019) could give Scheherazade a run for the money when it comes to crafting a compelling tale, and the superbly written first entry in her historical romance Hazards of Dukes series is another brilliant confection composed of equal measures dazzlingly droll wit and deliciously sexy romance."
— Booklist

"[An] excellent start to a bold and sensual new Regency series from the beloved Frampton (Never a Bride)."
— Library Journal