Root Magic (Hardcover)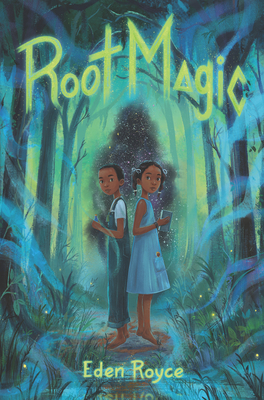 $16.99

Not In Store - Available to special order for pickup or ship. For even speediest shipping we suggest our Bookshop.org page!
Staff Reviews
---
As Black people across the diaspora learn to lean into our magic, there has been an uptake in literature on the subjects of Hoodoo and other ancestral practices. Eden Royce makes sure, with Root Magic, there is a digestible and educational story for Black children which exposes them to the magic they have inherited. This story of twin siblings learning to use their power is perfect for kids and adults learning to love the magic within themselves.
— Amani
Winter 2020 Kids Indie Next List
---
"Root Magic combines all of the great things about children's books: a vivid setting, adventure, friendship, family love and stability, overcoming hardship, and more than a sprinkling of magic. In Eden Royce's debut novel, we meet Jezebel Turner, an 11-year-old girl of Gullah-Geechee heritage living in the turbulent Jim Crow days of the 1960s in South Carolina. For generations, her family members have been root workers or witch doctors, who harvest cures and powerful medicine from the natural areas around them. When her Uncle Doc decides she and her twin brother, Jay, are old enough to begin learning root work themselves, a series of unforeseen and spooky events challenge them and their family to the core. Royce is a powerful new voice in children's literature!"
— Kelly Barth, Raven Book Store, Lawrence, KS
Description
---
"A poignant, necessary entry into the children's literary canon, Root Magic brings to life the history and culture of Gullah people while highlighting the timeless plight of Black Americans. Add in a fun, magical adventure and you get everything I want in a book!" —Justina Ireland, New York Times bestselling author of Dread Nation
Walter Dean Myers Honor Award for Outstanding Children's Literature! A Mythopoeic Fantasy Award winner!
Debut author Eden Royce arrives with a wondrous story of love, bravery, friendship, and family, filled to the brim with magic great and small.
It's 1963, and things are changing for Jezebel Turner. Her beloved grandmother has just passed away. The local police deputy won't stop harassing her family. With school integration arriving in South Carolina, Jez and her twin brother, Jay, are about to begin the school year with a bunch of new kids. But the biggest change comes when Jez and Jay turn eleven— and their uncle, Doc, tells them he's going to train them in rootwork.
Jez and Jay have always been fascinated by the African American folk magic that has been the legacy of their family for generations—especially the curious potions and powders Doc and Gran would make for the people on their island. But Jez soon finds out that her family's true power goes far beyond small charms and elixirs…and not a moment too soon. Because when evil both natural and supernatural comes to show itself in town, it's going to take every bit of the magic she has inside her to see her through.
About the Author
---
Eden Royce is a writer from Charleston, SC, now living in the garden of England. Her debut novel, Root Magic, was a Walter Dean Myers Award Honoree, an ALA Notable Children's Book, a Mythopoeic Fantasy Award winner, and a Nebula Award Finalist for outstanding children's literature. She is also a Shirley Jackson Award finalist for her short fiction for adults. You can find her online at edenroyce.com.
Praise For…
---
"A poignant, necessary entry into the children's literary canon, Root Magic brings to life the history and culture of Gullah people while highlighting the timeless plight of Black Americans.  Add in a fun, magical adventure and you get everything I want in a book!" — Justina Ireland, New York Times bestselling author of Dread Nation
"A terrific, wondrous glimpse of Gullah Geechee culture, richly detailed and inviting.  Blending familial and ancestral lore with folk magic, Royce's novel set in a racist South, resonates powerfully. An original, compelling must-read."  — Jewell Parker Rhodes, New York Times bestselling author of Ghost Boys
"Royce pulls back a curtain and invites the reader to a world within a world, a place in time full of both danger and magic. You won't just read it; you'll live it." — Saundra Mitchell, author of Shadowed Summer and All the Things We Do in the Dark
"Eden Royce's debut is a spellbinding southern gothic tale of bravery, family, and historic truths that need to be told.  Black Girl Magic has never been more powerful." — Ronald L. Smith, author of Hoodoo
"This richly detailed narrative offers elements of magical realism against a backdrop of social change, presenting a convincing family story and exploring community differences. A strong coming-of-age story grounded in a vibrant cultural heritage." — Kirkus Reviews (starred review)
"This title adds nuance to textbook lessons about Jim Crow and broadens conceptions of Blackness with rich histories and customs that predate slavery. All the while, themes of friendship and acceptance, family, and the very real pains of outgrowing childhood tether this title to the seams of the heart. Readers will revel in the magic of root work, but, perhaps more important, they'll develop a deep reverence for the practice as they come to understand its groundedness in healing, restoration, and respect for all beings. A must-read, sure to leave readers wishing for more after the final page." — Booklist (starred review)
"Root Magic successfully blends mystical elements with historical ones for a novel that explores Gullah culture as well as the social upheavals of the 1960s. Readers who are easily frightened might want to read with the lights on—but if they do, they'll discover a thoughtful story about a family taking on all obstacles, seen and unseen, together." — BookPage (starred review)
"For fans of Tracey Baptiste's The Jumbies, this book, with its rich language and evocative setting, is a great addition to the literature based on the folklore that sustained many people of color in their island communities." — The Horn Book
"1960s South Carolina comes to life in this middle grade debut filled with magic and heart." — Publishers Weekly
"Jez is a relatable apprentice as she learns the traditions of rootwork without abandoning her own principles, and her story hearteningly emphasizes maintaining a connection to ancestors as a way to negotiate and survive the present. " — Bulletin of the Center for Children's Books