The Kate In Between (Paperback)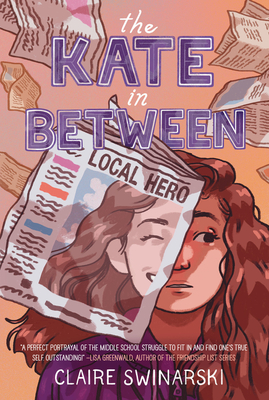 $7.99

On Our Shelves Now - Click to see location, time, and stock details
Description
---
In this timely, call-to-action contemporary middle grade novel from Claire Swinarski, author of What Happens Next, a twelve-year-old girl must face herself, and the truth, after her participation in a bullying incident goes viral. 
Kate McAllister is desperate for a change. Something to hit refresh and erase the pain of her mother leaving town without her. So when a group of popular girls folds Kate into their clique, it feels like the answer to all her problems—even if it means ditching Haddie, her childhood bestie.
But when Kate's new friends decide that Haddie is their next target, Kate becomes a passive participant in a cruel incident that could have killed Haddie…had Kate not stepped in, at the last minute, and saved her. The next day, a cell phone video of the rescue goes viral, and Kate is hailed a hero. But Kate knows the truth—she was part of the problem—and it's only a matter of time until the full version of the video is released and everyone knows it too.
With so much at stake, Kate must decide who she wants to be: a liar, a follower, or someone greater.
About the Author
---
Claire Swinarski was born and raised in Wisconsin, where she still lives with her husband and two kids. Her work has appeared in the Washington Post, Seventeen, Good Housekeeping, and many other publications. She has a degree in journalism from the University of Wisconsin–Madison and is probably either wandering through a library or sitting by a lake at this very moment. To learn more about Claire, visit her online at www.claireswinarski.com.
Praise For…
---
"An engaging and inspiring novel about standing up for what's right, being your authentic self, and finding the strength to use your voice." — Lynne Kelly, author of Song For a Whale
"This messy middle-school drama shines a light on what it means to develop identity. Illuminating." — Kirkus Reviews
The Kate In Between is a perfect portrayal of the middle school struggle to fit in and find one's true self. Kate's voice had me hooked from the first page. Outstanding!  — Lisa Greenwald, author of the Friendship List series
Well written and on point, Swinarski's middle-grade take on the mean-girls novel will resonate with readers looking for a realistic story that doesn't gloss over choices or consequences, giving them complex ideas to contemplate. — Booklist
"Swinarski adeptly presents multiple, and at times conflicting, sides of Kate in her struggle to figure out who she is and who she wants to be. With a well-developed protagonist, this book tackles bullying, friendship, parental roles, social ­media and social justice." — School Library Journal