So We Meet Again: A Novel (Paperback)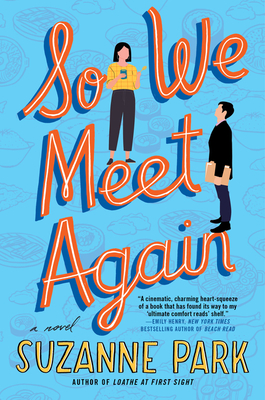 $15.99

Not In Store - Available to special order for pickup or ship. For even speediest shipping we suggest our Bookshop.org page!
Description
---
As seen on The Today Show! One of the best fall reads!
"A cinematic, charming heart-squeeze-of-a-book that has found its way to my Ultimate Comfort Reads shelf." —Emily Henry, #1 New York Times bestselling author
From the author of the "genuinely funny" and "delightful" Loathe at First Sight (NPR), a young Korean American woman's journey to finding a new career and new love means learning to embrace the awkward and unexpected—exploring familial expectations, finding your voice, and unimaginably falling for your childhood rival.
When investment banker Jessie Kim is laid off in a virtual meeting and then overhears why ("she's already being overpaid anyway for a woman" and "Asians are worker bees, not someone who can drum up new deals") she delivers an "eff you guys" speech and storms out. 
After moving back home to Tennessee to live with her loving but meddling mother and father, she runs into her childhood nemesis—golden child Daniel Choi—at the local Asian grocery store. The smart, charming lawyer appears to have it all...while Jessie has nothing.
Jess begrudgingly accepts Daniel's help to relaunch her long abandoned Korean cooking YouTube channel: HANGUK HACKS, showcasing easy meal prep for busy professionals. But just as she discovers Daniel's life isn't as perfect as it seems and there's more to him than meets the eye, he shows up for a life-changing business opportunity, and their rivalry is back on . . .
"A funny, lovely mother-daughter story. And then there's Daniel—yummy Daniel—and great food. Settle in and enjoy!" —Susan Elizabeth Phillips, New York Times bestselling author
"So We Meet Again is a hilarious read. What can go wrong when, after a quarter-life crisis, you move back in with your hyper-competitive parents? This comeback story will charm you from beginning to end." —Madeleine Henry, author of The Love Proof and Breathe In, Cash Out
About the Author
---
Suzanne Park is a Korean American writer who was born and raised in Tennessee. She is the author of the adult novels The Do-Over, So We Meet Again, and Loathe at First Sight. As a comedienne, she was selected to appear on BET's Coming to the Stage. Suzanne was also the winner of the Seattle Sierra Mist Comedy Competition and was a semi-finalist in NBC's Stand Up for Diversity showcase in San Francisco.
Suzanne graduated from Columbia University and received an MBA from UCLA. She currently resides in Los Angeles with her husband, female offspring, and a sneaky rat that creeps around on her back patio. In her spare time, she procrastinates. 
Praise For…
---
"Funny, romantic and real-world novel. It centers on Jessie Kim, a young Korean woman who is laid off from her finance job... it tackles sexism and racism in gripping ways." — The Today Show
"Some books just feel like an old friend, their first pages embracing you with an instant familiarity and warmth you can't help but sink into. Suzanne Park's So We Meet Again is that kind of book...A cinematic, charming heart-squeeze-of-a-book that has found its way to my Ultimate Comfort Reads shelf." — Emily Henry, #1 New York Times bestselling author
"A laugh out loud comedy with a warm heart. Jess's journey of finding her way amid the noise of the world's expectations will make you smile and sigh and want to chase your dreams." — Sonali Dev, award-winning author of Recipe for Persuasion
"So We Meet Again is a hilarious read. What can go wrong when, after a quarter-life crisis, you move back in with your hyper-competitive parents? This comeback story will charm you from beginning to end." — Madeleine Henry, author of The Love Proof and Breathe In, Cash Out

"So We Meet Again by Suzanne Park is a mood booster in book form." — Popsugar
"Heartwarming and empowering. . . Park is a master in crafting comedic yet endearing moments that become the foundation for intricate character development. This is sure to be a hit." — Publishers Weekly
"A charming contemporary romance with heart, humor, and home cooking. . . The plot is packed with mirth and mouthwatering meal descriptions, and the book addresses the heavier subjects of workplace sexism and racism with deftness and care." — Kirkus Reviews
"Breezy and funny . . . A classic love/hate tale to wrap up the summer." — Booklist
"This engaging romance (Park's second, after Loathe at First Sight) with great characters is highly recommended for fans of Jayci Lee's A Sweet Mess." — Library Journal (starred review)
"This charmer gives you not one, but two delightful kinds of love stories, one between Jessie Kim and her meddling mother and the other between Jessie and her childhood rival Daniel, whom she reunites with when she moves back home to Tennessee after being laid off. PSA: Daniel may just ruin all other modern literary men for you." — E! Online
"A genuinely funny and charismatic heroine shines in Loathe at First Sight, the delightful and eye-opening debut adult novel by Suzanne Park. Park—a former stand-up comedian—negotiates her energized plot masterfully… a multi-layered happy-ever-after."  — NPR
"Loathe at First Sight  bursts with humor, heart, and great energy. I loved it! Park is a hilarious new voice in women's fiction." — Helen Hoang, author of The Kiss Quotient
"Hilarious and poignant, Park's debut sparkles as a great addition to the new voices of the rom com renaissance."

— Roselle Lim, author of Natalie Tan's Book of Luck and Fortune
"Park gives us the story that only she could create. It's hilarious, smart, and the rom-com we need!" — Alexa Martin, ALA Award-winning author of Intercepted
"[A] punchy adult debut set in the world of video game design. Park makes tough topics go down easy by couching them in wry humor and lighthearted romance, and her fierce, snarky heroine is irresistible. This smart rom-com is a winner."  — Publishers Weekly (starred review) on Loathe at First Sight