Reclaiming Her Time: The Power of Maxine Waters (Hardcover)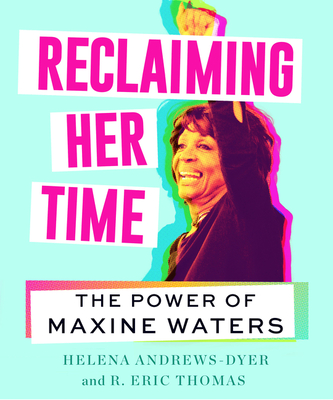 Description
---
Named a Best Political Book of the Year by The Atlantic
In the tradition of Notorious RBG, a lively, beautifully designed, full-color illustrated celebration of the life, wisdom, wit, legacy, and fearless style of iconic American Congresswoman Maxine Waters.

"Let me just say this: I'm a strong black woman, and I cannot be intimidated. I cannot be undermined. I cannot be thought to be afraid of Bill O'Reilly or anyone."—Maxine Waters 
To millions nationwide, Congresswoman Maxine Waters is a hero of the resistance and an icon, serving eye rolls, withering looks, and sharp retorts to any who dare waste her time on nonsense. But behind the Auntie Maxine meme is a seasoned public servant and she's not here to play. Throughout her forty years in public service and eighty years on earth, U.S. Representative for California's 43rd district has been a role model, a crusader for justice, a game-changer, a trailblazer, and an advocate for the marginalized who has long defied her critics, including her most vocal detractor, Donald J. Trump. And she's just getting started. 
From her anti-apartheid work and support of affirmative action to her passionate opposition to the Iraq War and calls to hold Trump to account, you can count on Auntie Maxine to speak truth to power and do it with grace and, sometimes, sass. As ranking member of the House Financial Services Committee and one of the most powerful black women in America, she is the strong, ethical voice the country has always needed, especially right now.
Reclaiming Her Time pays tribute to all things Maxine Waters, from growing up in St. Louis "too skinny" and "too black," to taking on Wall Street during the financial crisis and coming out on top in her legendary showdowns with Trump and his cronies. Featuring inspiring highlights from her personal life and political career, beloved memes, and testimonies from her many friends and fans, Reclaiming Her Time is a funny, warm, and admiring portrait of a champion who refuses to stay silent in the face of corruption and injustice; a powerful woman who is an inspiration to us all.
About the Author
---
Helena Andrews-Dyer is a features reporter for the Washington Post and the author of the memoir-in-essays Bitch Is the New Black.
R. Eric Thomas is a senior staff writer for Elle.com and the author of the memoir Here for It.
Praise For…
---
"There's plenty of funny on these pages. And not just a line here or there; we're talking curse you for making my face wrinkle this way I am now reaching for the eye cream funny. The writers are unabashed fans, writing for those who share the love and making the case that political biographies shine bright when they have as much panache as their subject."  — Washington Post
"Reclaiming Her Time renders Congresswoman Waters's extraordinary career in penetrating detail and razor-sharp wit. Andrews-Dyer and Thomas have created a beautiful celebration of Waters's great vision, wisdom, and heart in this book."
— Ibram X. Kendi, National Book Award-winning and #1 New York Times bestselling author
"Thoroughly researched, sharply written, full of amazing visuals and just as commanding as the Congresswoman herself, Reclaiming Her Time is an inspired portrait of the always fearless and inspiring Maxine Waters."  — Gabrielle Union, actor, activist, and New York Times bestselling author of We're Going to Need More Wine
"When Congresswoman Maxine Waters made her iconic proclamation "Reclaiming my time," a generation of activists rose up in solidarity and thankfulness for our Auntie Maxine. Congresswoman, hero, voice of democracy, Maxine Waters is a beacon of hope and promise during these times."
— Patrisse Khan Cullors, co-founder of Black Lives Matter, New York Times bestselling author and joint recipient of The Sydney Peace Prize.
"When Maxine Waters speaks, not only do people listen, but they learn, and they understand about her indomitable will to fight for the voiceless." — Bakari Sellers, author of My Vanishing Country
"[Andrews-Dyer and Thomas'] buoyant and zesty portrait of the woman known as 'Auntie Maxine' is perfect for the vivacious, unconventional, tireless, and essential Waters." — Booklist (starred review)
"In turn both entertaining yet serious, this informal biography will especially engage political buffs but also general readers of excellent biography." — Library Journal (starred review)
"Energetic... Readers who enjoyed Notorious RBG will cheer this vibrant account of another progressive hero." — Publishers Weekly
"A lively pop history of an impressive career." — Kirkus Reviews