I Came All This Way to Meet You: Writing Myself Home (Hardcover)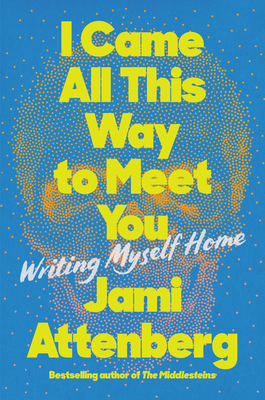 $27.99

Not In Store - Available to special order for pickup or ship. For even speediest shipping we suggest our Bookshop.org page!
Asked and answered! Inspired by the wonderful I Came All This Way to Meet You by author and friend of Loyalty Jami Attenberg, we have created the FUCK EASY Journal, which comes with a bonus sticker with the same design! Enjoy this gorgeous hardbound journal with ribbon bookmark and rubberband clasp. The bonus sticker has a seethrough background so it will look dope no matter where it lands! And if you don't yet know why we're so gleefully celebrating this profanity, we suggest getting to know us and also the words within I Came All This Way to Meet You!
January 2022 Indie Next List
---
"I love this book for its honesty about the ups and downs of the writing life, and the self-discovery that comes with telling the truth. Writers and aspiring writers of all ages will adore it. Jami Attenberg has earned her wisdom, and is generous to share it in this book."
— Emma Fusco-Straub, Books Are Magic, Brooklyn, NY
Description
---
Named a Best Book of the Year by: Time * New Yorker * Sunday Times (UK)
From New York Times bestselling author Jami Attenberg comes a dazzling memoir about unlocking and embracing her creativity—and how it saved her life.
In this brilliant, fierce, and funny memoir of transformation, Jami Attenberg—described as a "master of modern fiction" (Entertainment Weekly) and the "poet laureate of difficult families" (Kirkus Reviews)—reveals the defining moments that pushed her to create a life, and voice, she could claim for herself. What does it take to devote oneself to art? What does it mean to own one's ideas? What does the world look like for a woman moving solo through it?
As the daughter of a traveling salesman in the Midwest, Attenberg was drawn to a life on the road. Frustrated by quotidian jobs and hungry for inspiration and fresh experiences, her wanderlust led her across the country and eventually on travels around the globe. Through it all she grapples with questions of mortality, otherworldliness, and what we leave behind.
It is during these adventures that she begins to reflect on the experiences of her youth—the trauma, the challenges, the risks she has taken. Driving across America on self-funded book tours, sometimes crashing on couches when she was broke, she keeps writing: in researching articles for magazines, jotting down ideas for novels, and refining her craft, she grows as an artist and increasingly learns to trust her gut and, ultimately, herself.
Exploring themes of friendship, independence, class, and drive, I Came All This Way to Meet You is an inspiring story of finding one's way home—emotionally, artistically, and physically—and an examination of art and individuality that will resonate with anyone determined to listen to their own creative calling.
About the Author
---
Jami Attenberg has written about food, travel, books, relationships and urban life for The New York Times Magazine, The New Yorker, The Wall Street Journal, the Sunday Times (UK), The Guardian, and others. She is a New York Times bestselling author of seven books of fiction, including The Middlesteins and All Grown Up, and, most recently, a memoir, I Came All This Way to Meet You: Writing Myself Home. Her work has been published in sixteen languages. She is also the creator of the annual online group writing accountability project #1000wordsofsummer, which will be published in book form in January 2024. She lives in New Orleans.
Praise For…
---
"[A] fierce memoir of personal transformation." — USA Today
"I Came All This Way to Meet You details the highs and lows of finding yourself through your work and living a creative life—it's a thrill for superfans and newcomers alike." — Vogue
"Remarkable...It's overwhelming, beautiful stuff, though always full of living, just as effective on love and promise...At some point, [Attenberg] picks up Just Kids, Patti Smith's rightly-praised, luminescent classic about being young and brave in the New York of the early 1970s, and you can feel Attenberg revving and spinning outward from there, into a similar kind of messy, glorious ramble that also unfolds in New York (she lives for years in Brooklyn), but then New Orleans, Sicily, small bookstores across the West and most compellingly, her Midwestern youth." — Chicago Tribune
"[Attenberg's] writing…shimmers with keen pragmatic observations as well as deeply perceptible humane empathy . . . I Came All This Way to Meet You is a book about the making of a writer in the best possible way – accessible, funny, illuminating. It's a book about kindness and grief, joy and forgiveness, failures, challenges, mistakes, and hope. It's also a terrific ode to good art and true friendship." — Boston Globe
"[Attenberg] brings to the subject her gifts as a novelist: a fierce impulse toward honesty, a companionably cranky voice and an interest in the complicated, bobbing and weaving ways in which people navigate their desires. . . . Her voice and her frankness lead the way through what can sometimes feel like a maze — but the satisfactions are thick on the ground, and we follow. And when we are finished, we hold in our hands the promised ending, the book itself." — Claire Dederer,  New York Times Book Review (Editor's Choice)
"Attenberg's willingness to engage with the vulnerability that comes with leading a creative life . . . is so remarkable. She is refreshingly candid about what it really means to be a writer and to believe in a calling." — Time (A Must Read Book of 2022)