Consent: A Memoir (Paperback)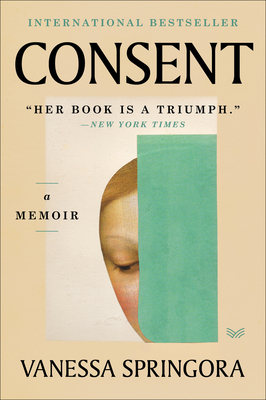 $16.99

On Our Shelves Now - Click to see location, time, and stock details
Description
---
 "Consent" is a Molotov cocktail, flung at the face of the French establishment, a work of dazzling, highly controlled fury...By every conceivable metric, her book is a triumph." -- The New York Times 
Already an international literary sensation, an intimate and powerful memoir of a young French teenage girl's relationship with a famous, much older male writer—a universal #MeToo story of power, manipulation, trauma, recovery, and resiliency that exposes the hypocrisy of a culture that has allowed the sexual abuse of minors to occur unchecked.

Sometimes, all it takes is a single voice to shatter the silence of complicity.
Thirty years ago, Vanessa Springora was the teenage muse of one of the country's most celebrated writers, a footnote in the narrative of a very influential man in the French literary world.
At the end of 2019, as women around the world began to speak out, Vanessa, now in her forties and the director of one of France's leading publishing houses, decided to reclaim her own story, offering her perspective of those events sharply known.
Consent is the story of one precocious young girl's stolen adolescence. Devastating in its honesty, Vanessa's painstakingly memoir lays bare the cultural attitudes and circumstances that made it possible for a thirteen-year-old girl to become involved with a fifty-year-old man who happened to be a notable writer. As she recalls the events of her childhood and her seduction by one of her country's most notable writers, Vanessa reflects on the ways in which this disturbing relationship changed and affected her as she grew older.
Drawing parallels between children's fairy tales and French history and her personal life, Vanessa offers an intimate and absorbing look at the meaning of love and consent and the toll of trauma and the power of healing in women's lives. Ultimately, she offers a forceful indictment of a chauvinistic literary world that has for too long accepted and helped perpetuate gender inequality and the exploitation and sexual abuse of children. 
Translated from the French by Natasha Lehrer
"...One of the belated truths that emerges from [Consent] is that Springora is a writer. [...]Her sentences gleam like metal; each chapter snaps shut with the clean brutality of a latch." -- The New Yorker
"Consent [is] rapier-sharp, written with restraint, elegance and brevity." -- The Times (London)
"[Consent] has something steely in its heart, and it departs from the typical American memoir of childhood abuse in exhilarating ways." -- Slate

"Lucid and nuanced...[Consent] will speak to trauma survivors everywhere." -- Los Angeles Review of Books
"A piercing memoir about the sexually abusive relationship she endured at age 14 with a 50-year-old writer...This chilling account will linger with readers long after the last page is turned." -- Publishers Weekly 
"Springora's lucid account is a commanding discussion of sexual abuse and victimization, and a powerful act of reclamation." -- Booklist

"A chilling story of child abuse and the sophisticated Parisians who looked the other way...[Springora] is an elegant and perceptive writer." -- Kirkus

About the Author
---
Vanessa Springora is a French writer and editor. Consent is her first book. 
Praise For…
---
"Lucid and nuanced . . . [Consent] will speak to trauma survivors everywhere."  — Los Angeles Review of Books
"Consent is that elegantly laid trap, a memoir that asks sharp questions about desire, literature, and a culture that fetishizes female youth and inexperience over female art. " — The Paris Review
"Consent [is] rapier-sharp, written with restraint, elegance and brevity." — The Times (London)
"[Consent] has something steely in its heart, and it departs from the typical American memoir of childhood abuse in exhilarating ways." — Slate
"Consent is a Molotov cocktail, flung at the face of the French establishment, a work of dazzling, highly controlled fury...By every conceivable metric, her book is a triumph." — New York Times
"A piercing memoir about the sexually abusive relationship she endured at age 14 with a 50-year-old writer. . . . This chilling account will linger with readers long after the last page is turned."   — Publishers Weekly
"A fierce account from a woman hoping to wrest her story back. Recommended Reading." — Library Journal
"Springora's lucid account is a commanding discussion of sexual abuse and victimization, and a powerful act of reclamation." — Booklist
"A chilling story of child abuse and the sophisticated Parisians who looked the other way...[Springora] is an elegant and perceptive writer." — Kirkus Reviews
"One of the belated truths that emerges from [Consent] is that Springora is a writer. . . . Her sentences gleam like metal; each chapter snaps shut with the clean brutality of a latch." — The New Yorker
"In elegant, focused prose, fluidly translated by Natasha Lehrer...With admirable restraint – another author might have been tempted to veer off into disquisitions on De Sade, Balthus, or Nabokov – Springora describes how Matzneff expertly manipulated her into believing she had as much agency and power as he did."   — The Guardian
"Springora's style is incisive and she keeps readers hooked with short chapters depicting a post-1968 libertarian establishment that lets her down[.]"  — The Financial Times
"Even if he is acquitted, Springora has managed to exact some revenge by capturing G, and all of his terrible behavior, forever in these erudite, incriminating pages." — New York Journal of Books
"[Consent] is really about power; who we give it to, and where it should be curtailed. It is also about correcting an imbalance." — Sunday Times (London)
"By coldly dismantling the mechanism, the cogs and the collusions, Vanessa Springora transcends the personal framework and questions society as a whole. In this, Consent is a book that counts, far beyond testimony."  — Nicole Grudlinger


"The story delivered is reminiscent of that of a pact with the devil and the reference to fairy tales (Bluebeard in particular) highlights the importance of the theme of sexual predator in literature, including children's literature. Love must be there in wonder; in the case of the sexual predator, the stupor is not that of joy but that of Evil. To write it is to exorcise it, in the strong sense; to receive this testimony is to accompany this disenchantment and to get out of the state of torpor in which conformism, indifference or complacency always threaten to plunge us."  — Elodie Pinel, La Revue Études
"[Springora] is not writing this memoir solely for herself; she's writing it as a plea to stop normalizing the type of toxic masculinity that is often excused because the male is a 'great artist.'…Consent is powerful and tragic, and one of the most important testimonies on this subject ever written." — World Literature Today