Marple: Twelve New Mysteries (Miss Marple Mysteries) (Hardcover)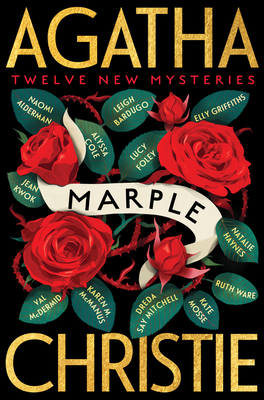 $30.00

Not In Store - Available to special order for pickup or ship. For even speediest shipping we suggest our Bookshop.org page!
Staff Reviews
---
Miss Marple is one of my heroes; constantly underestimated and always observing she brings the detective genre to its best heights. These twelve talented mystery, thriller, and suspense authors bring Jane Marple in their own scenarios and bring fresh perspective and lovingly told adventures to the indomitable detective. Those new to Agatha Christie and old hats like myself will find themselves charmed and intrigued by these new tales.
— Hannah
Description
---
NATIONAL BESTSELLER
"Each author captures Christie—and Marple—perfectly, while also displaying just a bit of her own unique touch. . . . This new and entertaining collection by some of our favorite writers will hook a new group of readers to the formidable Miss Marple." — Rhys Bowen, Washington Post
"Marple is the best loved [detective]. Also the most influential. . . . It is Miss Marple who introduced the revolutionary notion that people are essentially the same wherever one goes." — Los Angeles Times
Agatha Christie's legendary sleuth, Jane Marple, returns to solve twelve baffling cases in this brand-new collection, penned by a host of acclaimed authors skilled in the fine art of mystery and murder
One doesn't stop at one murder...
Jane Marple is an elderly lady from St Mary Mead who possesses an uncanny knack for solving even the most perplexing puzzles. Now, for the first time in 45 years, Agatha Christie's beloved character returns to the page for a globe-trotting tour of crime and detection.
Join Marple as she travels through her sleepy English village and around the world. In St Mary Mead, a Christmas dinner is interrupted by unexpected guests; the Broadway stage in New York City is set for a dangerous improvisation; bad omens surround an untimely death aboard a cruise ship to Hong Kong; and a bestselling writer on holiday in Italy is caught in a nefarious plot. These and other crimes committed in the name of love, jealousy, blackmail, and revenge are ones that only the indomitable Jane Marple can solve.
Bringing a fresh twist to the hallmarks of a classic Agatha Christie mystery, these twelve esteemed writers have captured the sharp wit, unique voice, and droll ingenuity of the deceptively demure detective. A triumphant celebration of Christie's legacy and essential reading for crime lovers, Marple is a timely reminder why Jane Marple remains one of the most famous detectives of all time.
About the Author
---
Agatha Christie is the most widely published author of all time, outsold only by the Bible and Shakespeare. Her books have sold more than a billion copies in English and another billion in a hundred foreign languages. She died in 1976, after a prolific career spanning six decades.
Alyssa Cole is an award-winning, New York Times and USA Today bestselling author of thrillers and romance (historical, contemporary, and sci-fi). Her books have received critical acclaim from Library Journal, BuzzFeed, Kirkus, Booklist, Jezebel, Vulture, Book Riot, Entertainment Weekly, and various other outlets. When she's not working, she can usually be found watching anime or wrangling her many pets.
Lucy Foley studied English literature at Durham University and University College London and worked for several years as a fiction editor in the publishing industry. She is the author of five novels including The Paris Apartment and The Guest List. She lives in London.
Elly Griffiths is the USA Today bestselling author of the Ruth Galloway and Brighton mystery series, as well as the standalone novels The Stranger Diaries, winner of the Edgar Award for Best Novel, The Postscript Murders, and Bleeding Heart Yard. She is the recipient of the CWA Dagger in the Library Award and the Mary Higgins Clark Award. She lives in Brighton, England.
Natalie Haynes is the author of eight books, including A Thousand Ships, which was a national bestseller and was shortlisted for the 2020 Women's Prize for Fiction. She has written and recorded nine series of Natalie Haynes Stands Up for the Classics for the BBC. Haynes has written for the Times, the Independent, the Guardian, and the Observer. She lives in London.
Jean Kwok is the New York Times and internationally bestselling author of Girl in Translation and Mambo in Chinatown. Her work has been published in twenty countries and is taught in universities, colleges, and high schools across the world. She has been selected for numerous honors, including the American Library Association Alex Award, the Chinese American Librarians Association Best Book Award and the Sunday Times EFG Short Story Award international shortlist. She received her bachelor's degree from Harvard University and earned an MFA from Columbia University. She is fluent in Chinese, Dutch, and English, and divides her time between the Netherlands and New York City
VAL McDERMID is the internationally bestselling author of more than twenty crime novels. She has won the CWA Gold Dagger Award for Best Crime Novel of the Year and the Los Angeles Times Book Prize; her novels have been selected as New York Times Notable Books and have been Edgar Award finalists. She was the 2010 recipient of the CWA Cartier Diamond Dagger for Outstanding Achievement in the Field of Crime Writing. More than 10 million copies of her books have been sold around the world. She lives in the north of England. Visit her website at www.valmcdermid.com.
Kate Mosse is the author of the international mega-bestsellers Labyrinth, Citadel, and Sepulchre, with sales of more than five million copies in forty-two languages. A publisher for many years, she is also cofounder and chair of the board of the prestigious Bailey's Women's Prize for Fiction (formerly the Orange Prize). She lives in Sussex, England.
Praise For…
---
"Each author captures Christie—and Marple—perfectly, while also displaying just a bit of her own unique touch. . . . This new and entertaining collection by some of our favorite writers will hook a new group of readers to the formidable Miss Marple." — Rhys Bowen, Washington Post
"If you feel nostalgic, travel back to a simpler time when polite and proper Miss Marple solved crimes. Twelve legendary mystery writers, including Lucy Foley and Karen McManus, present their short stories starring Miss Marple. This includes 'Miss Marple's Christmas' by Ruth Ware, where she solves a jewel heist at her friend's Christmas dinner, and 'A Deadly Wedding Day' by Dreda Say Mitchell, where Miss Marple arrives as a wedding guest but stays to solve a murder." — Buzzfeed
"Twelve contemporary authors, all acclaimed crime writers, bring Agatha Christie's beloved Miss Jane Marple to print for the first time in 45 years, beautifully reinvigorating one of mystery fiction's most enduring sleuths. The stories . . . are equally attuned to our heroine's wry sagacity and to her ability to detect evil intent wherever it lurks, including under the mistletoe. A thoroughly entertaining collection for all Christie devotees. Combining the enduring appeal of Miss Marple with some of today's most popular mystery writers could hardly go wrong, and it doesn't here." — Booklist (starred review)
"Readers will be eager to try this anthology as a dozen celebrated crime fiction authors try their hand at writing traditional short stories featuring Christie's amateur sleuth. As in any collection, some stories stand out, but they all capture the character of the shrewd, always underestimated Miss Marple." — Library Journal
"This highly enjoyable collection…[is] a testament to the enduring power of Christie's imagination." — Guardian (UK)
"Marple is the best loved [detective]. Also the most influential. . . . It is Miss Marple who introduced the revolutionary notion that people are essentially the same wherever one goes."
— Los Angeles Times
"[Marple] conceals a razor-sharp brain behind a white puff of hair, innocent blue eyes, and a pile of knitting. . . . Jane Marple is not nearly as sweet as she looks." — New York Times