Café Con Lychee (Hardcover)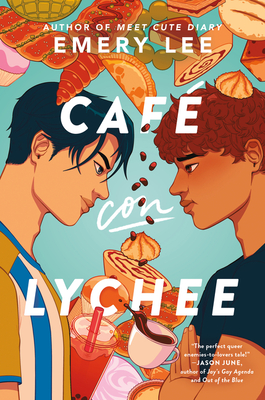 Staff Reviews
---
A Romeo & Romeo story about Theo and Gabi, whose parents own rival ethnic restaurants (one Chinese and the other Puerto Rican). When a White-owned "world fusion" shop opens and threatens both boys' families, they form an unlikely alliance that (of course) leads to a blossoming of feelings. We need more interracial romances between two characters of color, and I loved how the boys dealt with their intersectional identities. Prepare yourself for the cuteness -- and cravings for boba tea and pastelitos.
— Sandie
Description
---
From the author of Meet Cute Diary comes a delectable rom-com that's brimming with zest and a sprinkle of sweetness. A must-read for fans of Casey McQuiston and Julian Winters.
Theo Mori and Gabriel Moreno have always been at odds. Their parents own rival businesses—an Asian American café and a Puerto Rican bakery—and Gabi's lack of coordination has cost their soccer team too many games to count.
Stuck in the closet and scared to pursue his own dreams, Gabi sees his family's shop as his future. Stuck under the weight of his parents' expectations, Theo's best shot at leaving Vermont means first ensuring his parents' livelihood is secure. 
So when a new fusion café threatens both shops, Theo and Gabi realize an unfortunate truth—they can only achieve their goals by working together to cook up an underground snack operation and win back their customers. But can they put aside their differences long enough to save their parents' shops, or will the new feelings between them boil over?
About the Author
---
Emery Lee is a kidlit author, artist, and You-Tuber hailing from a mixed-racial background. After graduating with a degree in creative writing, e's gone on to author novels, short stories, and web comics. When away from reading and writing, you'll most likely find em engaged in art or snuggling cute dogs. Find em online at www.emeryleebooks.com.
Praise For…
---
"Café con Lychee quenched my thirst for the perfect queer enemies-to-lovers tale! With the most exquisitely picked ingredients—loveably cantankerous Theo, adorably awkward Gabi, delicious descriptions of treats, and relatable discoveries of love and sexuality—Emery Lee has yet again cooked up a world and characters I want to return to over and over!" — Jason June, author of Jay's Gay Agenda and Out of the Blue
"Café Con Lychee is as sweet as the baked goods and boba that fill up its pages, along with the adorable enemies-turned-lovers romance at its heart." — Adiba Jaigirdar, author of The Henna Wars and Hani and Ishu's Guide to Fake Dating
"Continuing to be THE master of tropes, Emery Lee's food filled, beautifully multicultural, enemies-to-lovers Café Con Lychee is everything that I love about eir books: humorous, sassy, the perfect amount of stress that keeps me obsessively captivated, and so incredibly gay." — Jonny Garza Villa, author of Fifteen Hundred Miles from the Sun and Ander and Santi Were Here 
"If enemies-to-lovers is what you're hungry for, Emery Lee has something special on the menu for you. Café con Lychee is the confection of sweetness and sweethearts we all need right now!" — Adam Sass, award-winning author of Surrender Your Sons