Here in the (Middle) of Nowhere (Paperback)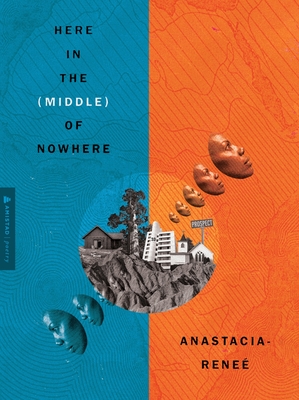 $17.99

Coming Soon - Available for Pre-Order Now
Description
---
In this bold hybrid collection of poetry, flash fiction, and Afrofuturism sci-fi, the award-winning interdisciplinary writer and author of Side Notes from the Archivist explores what happens when god is a Black woman in a town. What happens when there are multiple universes in the middle of nowhere?
And what if in each universe there reigned other Black woman gods? One million versions of god, and one million saints to watch over us? And what if this Black woman god were placed here on earth?
These are just a few of the questions Anastacia-Reneé asks in this daring and mind-bending hybrid collection. Hers is a universe of striking variety—monsters, nontraditional saints, witches, zombies, the couple in the apartment next door, the wise elders from down the block, and gods watching over us all—as well as community and connectedness.
With a prose storyline and characters that connect through family, time, and place, Anastacia-Reneé paints world(s) rich with wonder and the paranormal as she peers into the lives of everyday people and spectacular creatures inhabiting not just our neighborhoods, but other dimensions. Here in the (Middle) of Nowhere is about interstellar ancestry, community and spirituality. It is about the things we invoke, conjure, and rely on to maintain joy as we keep it moving through difficult eras. Anastacia-Reneé's power imbues her spellbinding storytelling with lovingly rendered characters brought to life in lyrical poetry. She builds worlds within worlds and dares us to fully see and love ourselves in all our complexity.
About the Author
---
Anastacia-Reneé is an award-winning cross-genre queer writer, educator, interdisciplinary artist, TEDX speaker and former Seattle Civic Poet. She is the author of Side Notes from the Archivist, (v.), and Forget It. Her mixed media art has been exhibited at the Fry Art Museum and her installation, "Don't Be Absurd (Alice in Parts)," was chosen by NBC as one of the "Queer Artist of Color Must See LGBTQ Arts Shows." She has received fellowships and residencies from Cave Canem, Hedgebrook, VONA, Artist Trust, Ragdale, Mineral School and others. Renee''s  poetry, fiction and nonfiction has been anthologized and published widely. She lives in Brooklyn, New York.