Icarus (Hardcover)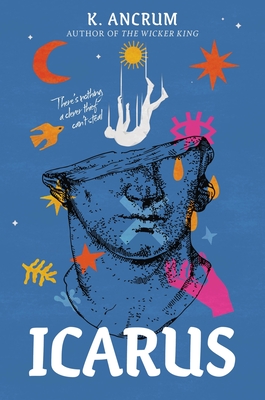 $19.99

Coming Soon - Available for Pre-Order Now
Description
---
Perfect for fans of Adam Silvera and Aristotle and Dante Discover the Secrets of the Universe, this suspenseful queer YA romance from critically acclaimed author K. Ancrum reimagines the tale of Icarus as a star-crossed love story between a young art thief and the son of the man he's been stealing from—think Portrait of a Thief for YA readers.
Icarus Gallagher is a thief. He steals priceless art and replaces it with his father's impeccable forgeries. For years, one man—the wealthy Mr. Black—has been their target in revenge for his role in the death of Icarus's mother. To keep their secret, Icarus adheres to his own strict rules to keep people, and feelings, at bay: Don't let anyone close. Don't let anyone touch you. And, above all, don't get caught.
Until one night, he does. Not by Mr. Black but by his mysterious son, Helios, now living under house arrest in the Black mansion. Instead of turning Icarus in, Helios bargains for something even more dangerous—a friendship that breaks every single one of Icarus's rules.
As reluctance and distrust become closeness and something more, they uncover the gilded cage that has trapped both their families for years. One Icarus is determined to escape. But his father's thirst for revenge shows no sign of fading, and soon it may force Icarus to choose: the escape he's dreamed of, or the boy he's come to love. Reaching for both could be his greatest triumph—or it could be his downfall.
About the Author
---
K. Ancrum is the author of award-winning thrillers, notably The Wicker King and most recently Lethal Lit: Murder of Crows. K. is a Chicago native passionate about diversity and representation in young adult fiction. She currently writes most of her work in the lush gardens of the Art Institute of Chicago.
Praise For…
---
"The sparse prose in this unconventional, must-read of a trauma-infused borderline thriller is packed with emotional breadth." — Kirkus Reviews (starred review)
"Rhythmic. Moody. A book of aching. K. Ancrum tells a story you can't get out of your skin." — Olivia A. Cole, author of Dear Medusa
"Beautiful, brilliant, and bold, K. Ancrum proves once again that not only is she one of the best storytellers of this generation, but a true poet, as well. Icarus is the perfect blend of an exciting heist, poetic prose, and an aching romance between two star-crossed lovers. Absolutely unputdownable!" — Aiden Thomas, Three-Time New York Times Bestselling Author  of Cemetery Boys, The Sunbearer Trials, and Lost in the Never Woods
"With stunning prose and a deft hand, Ancrum doesn't simply rise to the challenge of navigating a compelling tale of love, trauma and vengeance, she soars. An instant classic for those who desire complex stories, beautiful writing, and engaging storytelling." — Kosoko Jackson, Lambda Award Winning Author of I'm So Not Over You
"Icarus is a masterpiece. A passionate, heartrending story on the value of emotional intimacy and human connection. K. Ancrum's concise flash-fiction style allows readers to devour the story in one sitting, or savor each word like individual brush strokes on a work of art." — Erik J. Brown, author of All That's Left in the World and Lose You to Find Me