How to End a Love Story: A Novel (Paperback)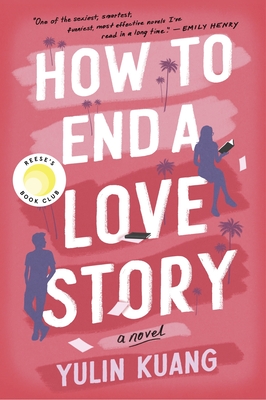 $18.99

Coming Soon - Available for Pre-Order Now
Description
---
The brilliant contemporary romance novel debut from Yulin Kuang, the acclaimed screenwriter of Emily Henry's People We Meet on Vacation and director of the forthcoming Beach Read feature film.
Helen Zhang hasn't seen Grant Shepard once in the thirteen years since the tragic accident that bound their lives together forever.
Now a bestselling author, Helen pours everything into her career. She's even scored a coveted spot in the writers' room of the TV adaptation of her popular young adult novels, and if she can hide her imposter syndrome and overcome her writer's block, surely the rest of her life will fall into place too. LA is the fresh start she needs. After all, no one knows her there. Except…
Grant has done everything in his power to move on from the past, including building a life across the country. And while the panic attacks have never quite gone away, he's well liked around town as a screenwriter. He knows he shouldn't have taken the job on Helen's show, but it will open doors to developing his own projects that he just can't pass up.
Grant's exactly as Helen remembers him—charming, funny, popular, and lovable in ways that she's never been. And Helen's exactly as Grant remembers too—brilliant, beautiful, closed off. But working together is messy, and electrifying, and Helen's parents, who have never forgiven Grant, have no idea he's in the picture at all.
When secrets come to light, they must reckon with the fact that theirs was never meant to be any kind of love story. And yet… the key to making peace with their past—and themselves—might just lie in holding on to each other in the present.
About the Author
---
Yulin Kuang is a screenwriter and director, whose credits include The CW's I Ship It and Hulu's Dollface. She was once fired from a Hallmark movie for being 'too hip for Hallmark' and is the adapting screenwriter of Emily Henry's People We Meet On Vacation, as well as the writer/director of the forthcoming Beach Read film for 20th Century Studios. She lives in Pasadena with her husband Zack and their orange cat, Eloise.
Praise For…
---
"I was hooked on the very first page of How to End a Love Story, the absurdly delicious debut from Yulin Kuang. The chemistry between Helen and Grant is pure magic, as is Yulin's gorgeous writing. I need seven other books from her ASAP. Don't miss this one!" — Carley Fortune, #1 New York Times Bestselling Author
"An utterly compelling debut complete with romance secret sauce—a couple with a real reason to stay apart...and simply can't. Emotional, relatable and binge-worthy."  — Tessa Bailey, #1 New York Times Bestselling Author 
"This captivating novel is a sexy and emotional read that deals with the aftereffects of trauma in a realistic and heartrending way. Readers looking for a contemporary romance with a passionate and grand love story, characters that leap off the page, and an original storyline will relish screenwriter and director Kuang's debut novel." — Library Journal (starred review)
"Screenwriter Kuang's debut beautifully probes the lingering effects of grief and guilt while offering readers a glimpse behindthe curtain of Hollywood glamour. … Kuang handles her characters' complex emotions with sensitivity and skill, and makes the chemistry between Helen and Grant leap off the page. Readers will have no trouble rooting for these two."
— Publishers Weekly
"Impossibly tender, funny, sexy, and heart-wrenching, How to End a Love Story is a gorgeously original romance -- and so much more -- that will leave you laughing, sobbing, and desperately wishing that it would never end. This is the kind of glorious gut-punch of a book that you'll want to share with all your friends, and reread over and over. I fell in helpless love with Helen and Grant's unforgettable story, and I wouldn't have it any other way." — Lana Harper, New York Times Bestselling Author
"Yulin Kuang's How to End a Love Story is a smart, sexy, and powerful page-turner. The insider's look at Hollywood is just as fascinating as the complicated characters who work in the writers room. I couldn't put this book down--but also didn't want it to end!" — Jill Santopolo, New York Times Bestselling Author
"Two complicated people in an impossibly complicated situation, drawn to each other in spite of a deeply complicated past: How to End a Love Story is moving, compelling, and heart-flutteringly sexy. Yulin Kuang writes with a sure-footed confidence here, with impeccable knowledge of who her characters are...and how to get them to their hard-won happy ending." — Kate Clayborn, author of Georgie, All Along
"Yulin Kuang has a wonderful voice, poignant and funny, she grabbed me from the first paragraph. I stayed up way too late reading this!" — Jill Shalvis, New York Times bestselling author
"How to End a Love Story is a sharp, sexy debut. Fans of Emily Henry and Colleen Hoover will love Yulin Kuang's wistful second chance romance."  — Elissa Sussman, bestselling author of Funny You Should Ask 
"How to End a Love Story is everything you need in a romance novel: Complex characters, hilariously witty banter, and that spice level? Off the charts! If you need me, I'll just be over here dousing myself with cold water. And then reading it again." — Colleen Oakley, USA Today bestselling author of The Mostly True Story of Tanner and Louise