There Is a Rio Grande in Heaven: Stories (Hardcover)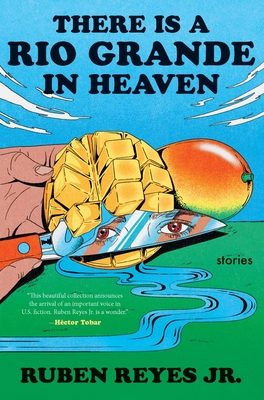 $28.00

Coming Soon - Available for Pre-Order Now
Description
---
An electrifying debut story collection about Central American identity that spans past, present, and future worlds to reveal what happens when your life is no longer your own.
An ordinary man wakes one morning to discover he's a famous reggaetón star. An aging abuela slowly morphs into a marionette puppet. A struggling academic discovers the horrifying cost of becoming a Self-Made Man.
In There Is a Rio Grande in Heaven, Ruben Reyes Jr. conjures strange dreamlike worlds to explore what we would do if we woke up one morning and our lives were unrecognizable. Boundaries between the past, present, and future are blurred. Menacing technology and unchecked bureaucracy cut through everyday life with uncanny dread. The characters, from mango farmers to popstars to ex-guerilla fighters to cyborgs, are forced to make uncomfortable choices—choices that not only mean life or death, but might also allow them to be heard in a world set on silencing the voices of Central Americans.
Blazing with heart, humor, and inimitable style, There Is a Rio Grande in Heaven subverts everything we think we know about migration and its consequences, capturing what it means to take up a new life—whether willfully or forced—with piercing and brilliant clarity. A gifted new storyteller and trailblazing stylist, Reyes not only transports to other worlds but alerts us to the heartache and injustice of our own.
About the Author
---
Ruben Reyes Jr. is the son of two Salvadoran immigrants and a graduate of the Iowa Writers' Workshop and Harvard College. His writing has appeared in The Boston Globe, The Washington Post, Lightspeed Magazine, and other publications. Originally from Southern California, he now lives in Brooklyn. There Is a Rio Grande in Heaven is his debut.
Praise For…
---
"In this rich, lively and imaginative collection, Reyes' presents the richness of the American Latine and immigrant experience, not as we are perceived, but as we know and recognize ourselves to be. In Reyes' hands, robots, alternative colonial histories, and dream sequences are more than storytelling devices. They are as real and vivid as the grief, abandoned love and homelands these characters are trying to reconcile with their American realities. These are stories to treasure and ponder, long after the last page has been turned."  — Xochitl Gonzalez, New York Times bestselling author of Olga Dies Dreaming