The Magical Adventures of Pretty Pearl (Paperback)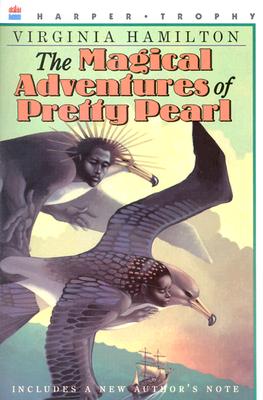 Available to order- email info@loyaltybookstores.com
Description
---
One long time ago, Pretty Pearl god child lived high on a mountaintop in Africa with all other gods. Curious about mankind and itching to show off her powers, she came down off the mountain with her brother, know-all best god John de Conquer, and sailed on a slave ship for America. There she saw the suffering of the black people, and felt their sorrow right behind her eyes . Pretty Pearl knew now was her time to act.Brother John gave her a magical necklace, a set of rules to follow, and a warning to be careful. "Them human bein's be awful tricky," he said."they has most winnin' ways."
Drawing upon her fabulous storehouse of black legend, myth, and folklore, Virginia Hamilton has ventured into new ways of exploring the human spirit in this extrodinary fantasy filled with mysteries, beauty, and hope.
About the Author
---
Virginia Hamilton's books have won many awards and honors. One of these, the first book ever to win both the John Newbery Medal and the National Book Award, M.C. Higgins, the Great, was also the recipent of the Boston Globe-Horn Book Award and the Lewis Carroll Shelf Award. Her Sweet Whispers, Brother Rush—a National Book Award Finalist, Newbery Honor Book, and Coiretta Scott King Award winner—is another towering classic of young adult literature. The Planet of Junior Brown was a Newbery Honor Book in 1971, and four of Virginia Hamilton's other books have been named Notable Children's books by the American Library Association.