Down, Out, and Under Arrest: Policing and Everyday Life in Skid Row (Paperback)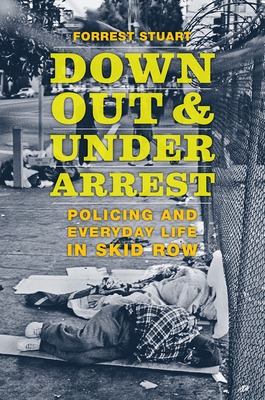 Description
---
In his first year working in Los Angeles's Skid Row, Forrest Stuart was stopped on the street by police fourteen times. Usually for doing little more than standing there.

Juliette, a woman he met during that time, has been stopped by police well over one hundred times, arrested upward of sixty times, and has given up more than a year of her life serving week-long jail sentences. Her most common crime? Simply sitting on the sidewalk—an arrestable offense in LA.

Why? What purpose did those arrests serve, for society or for Juliette? How did we reach a point where we've cut support for our poorest citizens, yet are spending ever more on policing and prisons? That's the complicated, maddening story that Stuart tells in Down, Out and Under Arrest, a close-up look at the hows and whys of policing poverty in the contemporary United States. What emerges from Stuart's years of fieldwork—not only with Skid Row residents, but with the police charged with managing them—is a tragedy built on mistakes and misplaced priorities more than on heroes and villains. He reveals a situation where a lot of people on both sides of this issue are genuinely trying to do the right thing, yet often come up short. Sometimes, in ways that do serious harm.

At a time when distrust between police and the residents of disadvantaged neighborhoods has never been higher, Stuart's book helps us see where we've gone wrong, and what steps we could take to begin to change the lives of our poorest citizens—and ultimately our society itself—for the better.
About the Author
---
Forrest Stuart is an associate professor of sociology and the director of the Stanford Ethnography Lab at Stanford University. He is the author of Down, Out, and Under Arrest: Policing and Everyday Life in Skid Row and Ballad of the Bullet: Gangs, Drill Music, and the Power of Online Infamy. He was awarded a MacArthur Fellowship in 2020.
Praise For…
---
"An intimate, multifaceted portrait of the police, residents and activists in their own voices. Down, Out, and Under Arrest adds new insights and much-needed complexity to the current debates on policing in the poorest urban areas of the U.S. It is a vivid and insightful five-year study of Los Angeles's Skid Row that contradicts much of the conventional wisdom about policing and the urban poor."
— Shelf Awareness
"For Stuart, therapeutic policing legitimates punitive treatment of the worst-off without making them or anyone else better off. Or rather, turning the police into social workers—and they make 'abysmal social workers,' we are told—benefits not the street dwellers but the developers who can now make a profit in the domesticated neighborhood.
Down, Out, and Under Arrest
is thus a well-supported critique of therapeutic policing and, by extension, of similar paternalistic efforts to help the poor by hassling them into good behavior. . . . Fascinating."
— LA Times
"In this fine study, Stuart has put some disturbing flesh on the bones of neoliberalism. His vivid description of the complex worlds of skid row and the widening of coercive social control under the guise of reintegration may remind readers of critiques of social work written in the 1960s and 1970s. This new pathway of disciplinary enterprise, however, is backed up by guns, handcuffs and the threat of incarceration."
— Times Higher Education
"An important and disturbing book. . . . Stuart portrays interesting, thoughtful people located in a tenuous yet all-embracing life world. His skill at maintaining the trust of those he interviewed shines on virtually every page, and he captures a sense of energy in the air as the contestants encounter each other."
— American Journal of Sociology
"Stuart's extraordinary field work in LA's Skid Row sheds new light on the regulation of the urban poor in the twenty-first century. This is urban ethnography at its best."
— Mitchell Duneier, author of Ghetto: The Invention of a Place, the History of an Idea
"
Down, Out, and Under Arrest
is a trenchant ethnographic account of how big city police harass and 'manage' some of the most desperate people of the urban environment, but equally important, how these impoverished denizens—including residents of SRO hotels, skid row, and homeless settlements—wisely manage the police in their everyday lives, powerfully revealing the enormous human toll of the 'neoliberal state.' This is a timely work of importance that deserves to be read by a wide audience."
— Elijah Anderson, author of Code of the Street and The Cosmopolitan Canopy
"Stuart's Down,
Out, and Under Arrest
describes a segment of reality that is virtually unknown to Americans—how policing is reshaping the experiences of extreme urban poverty. The challenges of everyday life in Skid Row are revealed in sharp relief in his compelling narrative. Indeed, Stuart's insightful account, based on years of field research, is replete with original findings. This well written book is a must-read not only for students and scholars of urban poverty, but for the general public as well."
— William Julius Wilson, author of The Truly Disadvantaged
"Stuart straddles the gap between academic rigor and reader engagement with this impressive urban ethnography. He not only tells the everyday story of the urban poor of LA's Skid Row, he also tells the ideological story of the men and women who police them. This important book represents a detailed and nuanced account of urban policing in a cultural and political environment where the debate has mostly become stagnant and binary. The author maintains an impressively balanced and objective approach throughout the narrative. In addition to fascinating insights into life on Skid Row, Stuart provides an engaging example of ethnographic research, including an approachable methodological appendix. An excellent addition to library collections on social problems, policing, or research methods. Highly recommended."
— Choice
"This book is both a searing indictment of the Los Angeles Safer Cities Initiative and an increased understanding of how collectives can work to resist misguided civic policies."
— Criminal Law and Criminal Justice Books
"In this exemplary ethnography of a Los Angeles neighborhood, we see the effects of community and institutional framing on the policing of poverty, on social service delivery, and on everyday resistance. . . . Stuart's book is vital in analyzing the far-reaching effects of neighborhood framing and the policing of poverty.
Down, Out, and Under Arrest
should be read widely, but especially by those interested in urban neighborhoods, policing, non-profits, poverty, culture, and social movements."
— Social Forces