The Last Madam: A Life In The New Orleans Underworld (Paperback)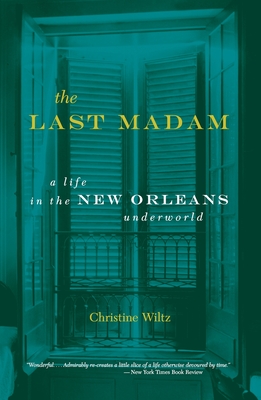 $17.99

Not In Store - Available to Special Order
Description
---
The incredible life of French Quarter legend Norma Wallace -- and a portrait of an era in New Orleans history rife with charm and decadence ("Wonderful. . . admirably recreates a slice of a life otherwise devoured by time" -- Michael Lewis, New York Times Book Review)

In 1916, at age fifteen, Norma Wallace arrived in New Orleans. Sexy and shrewd, she quickly went from streetwalker to madam and by 1920 had opened what became a legendary house of prostitution. There she entertained a steady stream of governors, gangsters, and movie stars until she was arrested at last in 1962. Shortly before she died in 1974, she tape-recorded her memories-the scandalous stories of a powerful woman who had the city's politicians in her pocket and whose lovers included the twenty-five-year-old boy next door, whom she married when she was sixty-four. Combining those tapes with original research, Christine Wiltz chronicles not just Norma's rise and fall but also the social history of New Orleans, thick with the vice and corruption that flourished there-and, like Midnight in the Garden of Good and Evil and Philistines at the Hedgerow, resurrects a vanished secret world.
About the Author
---
Christine Wiltz, a native of New Orleans, is the author of five novels, including The Killing Circle, A Diamond Before You Die, and The Emerald Lizard, all set in New Orleans and featuring Irish Channel detective Neal Rafferty. Wiltz's novel The Glass House was praised by the New York Times as "unflinchingly honest" and a book that "needs to be read on both sides of Convent Street." She has written for the New Yorker, the Los Angeles Times, and numerous other publications. She's been a writer in residence and adjunct professor at both Tulane and Loyola Universities. Wiltz lives in New Orleans.
Praise For…
---
"French Quarter madam Norma Wallace was one of those characters who could flourish only in New Orleans...She served jail time. She received the key to the city. And she died a violent, mysterious death."—New Orleans Times-Picayune

"Wonderful....Admirably re-creates a little slice of a life otherwise devoured by time."—New York Times Book Review

"In this world there are great characters who have no idea that they are great characters, and great characters who are fully aware of their greatness. [Norma] Wallace must be counted among the latter. She had the wit of Dorothy Parker and the instinct for self-dramatization of Tallulah Bankhead."—Michael Lewis, New York Times Book Review

"Christine Wiltz has done a remarkable and rare thing: she has captured perfectly the essential, earthy complexity of the most fascinating city on this continent. The Last Madam is an exhilarating mardi gras of a book."—Robert Olen Butler

"The arresting story of a domineering, conflicted American businesswoman and a vivid social study of the intimate cohabitation of politics and vice in the Crescent City."—Minneapolis Star-Tribune

"Juicy, jaunty."—Entertainment Weekly

"Affecting...Wiltz elevates a sometimes impeccably assembled historical narrative above its elementary bawdy elements into something more elegant and fragile: the resurrection of a secret world like those uncovered by Luc Sante and James Ellroy."—Publishers Weekly

"In New Orleans the water table is so high the underworld is never far beneath the surface. The Last Madam is a fascinating study of the unrivaled Mistress of that world, delightful and serious by turns, an insider's look at an insider's life in a city both know and love."—Valerie Martin, author of Mary Reilly

"Wiltz...roams beyond Wallace's professional and romantic affairs to spotlight her state's infamously crooked politics, the licensed depravities of the French Quarter, and Wallace's humorous attempt to realize a pastoral ideal in the backwoods amid a community of righteous citizens."—Kirkus Reviews

"In telling [Wallace's] remarkable story, Christine Wiltz has vividly re-created the New Orleans underworld in the first half of the 20th century. It is hardly pretty, but it is never less than absorbing....A journey of revelation, the discovery of a secret world."—The State (Columbia, SC)

"The book takes the reader by the hand just as Norma's girls did when they took a customer into one of her upstairs rooms. It's always reassuring to be in the hands of a pro, and The Last Madam gives the reader this feeling right from the get-go. It provides as good an experience in its way as Wallace must have in hers."—David Cuthbert, Times-Picayune