The Invitation (Paperback)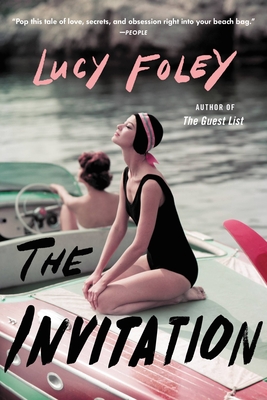 Description
---
From the author of The Guest List, an evocative love story set along the Italian Riviera about a group of charismatic stars who all have secrets and pasts they try desperately -- and dangerously -- to hide.

Rome, 1953: Hal, an itinerant journalist flailing in the post-war darkness, has come to the Eternal City to lose himself and to seek absolution for the thing that haunts him. One evening he finds himself on the steps of a palazzo, walking into a world of privilege and light. Here, on a rooftop above the city, he meets the mysterious Stella. Hal and Stella are from different worlds, but their connection is magnetic. Together, they escape the crowded party and imagine a different life, even if it's just for a night. Yet Stella vanishes all too quickly, and Hal is certain their paths won't cross again.

But a year later they are unexpectedly thrown together, after Hal receives an invitation he cannot resist. An Italian Contessa asks him to assist on a trip of a lifetime -- acting as a reporter on a tremendous yacht, skimming its way along the Italian coast toward Cannes film festival, the most famous artists and movie stars of the day gathered to promote a new film.

Of all the luminaries aboard -- an Italian ingénue, an American star, a reclusive director -- only one holds Hal in thrall: Stella. And while each has a past that belies the gilded surface, Stella has the most to hide. As Hal's obsession with Stella grows, he becomes determined to bring back the girl she once was, the girl who's been confined to history. An irresistibly entertaining and atmospheric novel set in some of the world's most glamorous locales, The Invitation is a sultry love story about the ways in which the secrets of the past stay with us -- no matter how much we try to escape them.
About the Author
---
Lucy Foley studied English literature at Durham University and University College London. She then worked for several years as a fiction editor, during which time she wrote The Book of Lost and Found. Lucy now writes full-time and is busy traveling (for research, naturally!), painting, and working on her next novel.
Praise For…
---
"Can I find words eloquent enough to describe this novel? Lucy Foley's THE INVITATION is so exquisite in its writing that it may take a place among the classics -- but it was the combination of the glittering, glamorous setting and the magnetic characters that mesmerized me. This book is luminous.--Elin Hilderbrand, bestselling author of
Here's To Us

"Pop this tale of love, secrets and obsession right into your beach bag."
--People


"Certain that they'll never meet again, journalist Hal and socialite Stella indulge in an illicit rendezvous. But when they're reunited on a yacht in Cannes a year later, temptation is everywhere."
--Cosmopolitan


"Lucy Foley crafts a subtle, dramatic story of guilt, desire and long-held secrets.... Lushly described settings and Foley's keen but compassionate eye for her characters combines to make
The Invitation
a beautiful, bittersweet journey of loss and redemption."--
Shelf Awareness
"THE INVITATION is a riveting, dazzling romance, set in the most beautiful places on earth. I wanted to go wherever Lucy Foley took me."
—
Anton DiSclafani, New York Times bestselling author of The Yonahlossee Riding Camp for Girls and The After Party
"Richly atmospheric and emotionally resonant,
The Invitation
is a compelling love story that takes us far beyond the alluring Italian coast and the film festival at Cannes to a darker place, where the wounds of war are still fresh, and secrets hide just below the water's surface. Lucy Foley's lavish depictions both immerse and transport, inviting us to cruise along with this glamorous and enigmatic cast of unforgettable characters. A great read."—
Brunonia Barry, New York Times bestselling author of The Lace Reader
"I
loved
THE INVITATION. Foley has such a visceral writing style, and her rich descriptions made me feel as if I could dive into this book and be amongst the glittering characters in the Italian sun. A beautifully complex and vivid story, full of repressed longing and secrets. An absolutely enchanting tale."—
Lucinda Riley, New York Times bestselling author of The Orchid House
"Glamorous and romantic and bittersweet all at once, this is a fabulous story with such wonderful, intelligent prose."
—
Beatriz Williams, New York Times bestselling author of A Hundred Summers
"I love
The Invitation
. The setting is so powerfully evoked that I found myself browsing holidays on the Italian Riviera for days. But while it definitely ticks all the boxes for those after a glamorous, mid-century romance, it's actually much more than that, with dark, sensuous undercurrents that lingered on in my mind, long after I'd reluctantly left Stella and Hal behind."
—
Kate Riordan, author of The Shadow Hour
"A seductive love tale set on the Italian Riviera in the 1950s"
—
Sunday Times Style (UK)
"The perfect summer read... Gorgeously compelling"
—
Good Housekeeping (UK)
"Oozes glamour... Lush, romantic and cleverly crafted - a brainy beach read to relish"
—
Sunday Mirror (UK)
"In her second novel, Foley weaves a very satisfying love story, and readers will be especially taken by the luxurious Mediterranean setting."
—
Publishers Weekly