They Can't Kill Us All: The Story of the Struggle for Black Lives (Paperback)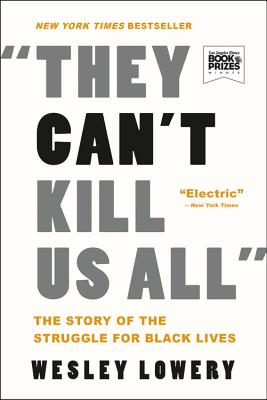 $17.99

Not In Store - Available to special order for pickup or ship. For even speediest shipping we suggest our Bookshop.org page!
Description
---
An indispensable work of journalism that "is electric, because it is so well reported" (Dwight Garner, New York Times) by Pulitzer Prize winning reporter Wesley Lowery that describes the earliest days of #blacklivesmatter and brings to life the quest for justice in the murders by police of Michael Brown, Tamir Rice, and Freddie Gray as well as an intimate, moving portrait of the activists working to dismantle systemic racism in America

Conducting hundreds of interviews over the course of one year of reporting on the ground, Washington Post writer Wesley Lowery traveled from Ferguson, Missouri, to Cleveland, Ohio; Charleston, South Carolina; and Baltimore, Maryland; and then back to Ferguson to uncover life inside the most heavily policed, if otherwise neglected, corners of America today.

In an effort to grasp the magnitude of the repose to Michael Brown's death and understand the scale of the problem police violence represents, Lowery speaks to Brown's family and the families of other victims other victims' families as well as local activists. By posing the question, "What does the loss of any one life mean to the rest of the nation?" Lowery examines the cumulative effect of decades of racially biased policing in segregated neighborhoods with failing schools, crumbling infrastructure and too few jobs.

Studded with moments of joy, and tragedy, They Can't Kill Us All offers a historically informed look at the standoff between the police and those they are sworn to protect, showing that civil unrest is just one tool of resistance in the broader struggle for justice. As Lowery brings vividly to life, the protests against police killings are also about the black community's long history on the receiving end of perceived and actual acts of injustice and discrimination.

They Can't Kill Us All is a canonical work in the fight against police brutality. Lowery grapples with a persistent if also largely unexamined aspect of the otherwise transformative presidency of Barack Obama: the failure to deliver tangible security and opportunity to those Americans most in need of both.
About the Author
---
Wesley Lowery is a national reporter for the Washington Post who covers law enforcement and justice. He was the paper's lead reporter in Ferguson, Missouri and covering the Black Lives Matter protest movement, and was a member of the team awarded the 2016 Pulitzer Prize for National Reporting for the paper's coverage of police shootings. His reporting has previously appeared in The Boston Globe, The Los Angeles Times, and The Wall Street Journal.
Praise For…
---
"Lowery's book is electric, because it is so well reported, so plainly told and so evidently the work of a man who has not grown a callus on his heart.... Lowery's book is valuable for many reasons. He circles slowly and warily around the question of why, during Obama's presidency, so little has happened to improve on the racial front."--Dwight Garner, New York Times

"Lowery's dispatches from the front lines of this new era in racial justice movement building have proven indispensable, and with They Can't Kill Us All, he further shows just how vital his reporting has become. Part early history of a still growing movement, as well as part critique of the media charged with covering this movement, Lowery also offers a peek into the process of reporting--the structural challenges, unfortunate failures, and personal successes in accurately capturing the politics and personalities involved in the biggest domestic story of the Obama presidency. They Can't Kill Us All proves itself a necessary read for anyone in need of greater understanding of why and how a new generation of young black activists have taken to the streets to demand justice from their country.—Mychal Denzel Smith, New York Times bestselling author of Invisible Man, Got the Whole World Watching

Featured on Anti-Racist Reading Lists by USA Today, Chicago Sun Times, Esquire, Oprah Magazine, Refinery29, InStyle, Publishers Weekly,The Cut, Medium, The Millions, Michigan Daily, and PopSugar 

"Riveting.... A timely, significant book."
—Kirkus, Starred Review

"With empathy, anguish, and a superb eye for telling detail, Wesley Lowery chronicles the birth of the new civil rights movement. This book is an urgent, grounds-eye view of the struggle."
—Chris Hayes, author of A Colony in a Nation

"They Can't Kill Us All is a wise memoir that chronicles the fatigue of reporting Black death at the hands of law enforcement."
—Ebony

"Lowery takes us inside the pain and courage of those who have cared to challenge the police and this nation. He details their stories and, along the way, provides a powerful and all-too-human account of what it means to be a reporter in a time of profound crisis. His example gives me renewed home in those who report the news. This is a must read!"
—Eddie S. Glaude, Jr., author of Democracy in Black: How Race Still Enslaves the American Soul

"They Can't Kill Us All is a comprehensive record of the #blacklivesmatter protest movement, as well as a first-person account of those events from the author's dual--and conflicted--perspective as a journalist and an African-American man."
—Esquire

"A searing, affecting, sharply-written treatise on one of the most important crises the United States faces today."
—Harper's Bazaar

"[A] vital book.... Setting the fatal police shootings of young black men in the historical context of racial violence, Lowery also adds personal insight as a young biracial man professionally bound to the crisis."
—Elle

"The best journalism serves as the 'first draft of history,' but every so often a reporter gets to write the second draft as well. Wesley Lowery has provided a crucial dispatch from a particularly American frontline. Ferguson, Charleston, Baltimore and Cleveland are more than flashpoints in current affairs, they are the theaters in which our longstanding battles for racial equality have taken place. They Can't Kill Us All is a valuable field report on the status of American democracy itself."
—Jelani Cobb, staff writer, The New Yorker and professor of journalism, Columbia Journalism School

"[Lowery's portrait of a nation facing up to issues of race and justice is gripping, as are his accounts of the passion and pain of activists like Brittany Packnett, who told President Obama, 'Our lives matter, stop killing us.'"
—Jane Ciabattari, BBC

"A narrative of outrage, struggle, and, eventually, optimism.... A balanced look at a protest movement that's only just begun to gather focus and strength."
—Vulture

"Through hundreds of interviews, [Lowery] looks at how the deaths of Michael Brown, Freddie Gray, and Tamir Rice have affected communities, plus the impact of perceived and actual discrimination. Lowery also offers insight into the movement that has sprung up in response and what is left to be done."
—Bustle

"The most eloquent passages in They Can't Kill Us All come when Lowery reveals the emotional cost paid by those who write the first draft of history, especially when the writers are journalists of color.... Lowery's strength lies in the breadth of his reporting and the depth of his introspection.... Lowery is still in his twenties, but already he's earned his spot among a small cadre of journalists of color."
—Chicago Tribune

"Riveting...The personal challenges faced by the young black journalist are thought-provoking and compelling. But another unique and valuable aspect of They Can't Kill Us All revolves around Lowery's examination of the complications of reporting in an era when anyone with a camera phone or social media account can break a story.... Lowery's insider perspective offers fresh insight into what it means to cover a broad national story about race in a rigorous and sustained way."
—Boston Globe

"They Can't Kill Us All offers a window onto the journalistic process, and the countervailing pressures to tell and important and awful story fairly.... Lowery is unflinchingly honest...a skillful reporter and storyteller. He takes the reader through the laborious task of reportage with a humanity and forthrightness, making this book more than just a catalog of tragedy. He succinctly presents a story of human grief."
—New York Times Book Review

"Insightful and unnerving.... Lowery draws crucial connections between the 'centuries-long assault of the black body,' and contemporary black massacre."
—Minneapolis Star Tribune

"With so much political media coverage to distract us, Lowery sets out to remind us why revisiting our history is crucial for racial improvement."
—New York Magazine's The Cut

"What makes They Can't Kill Us All more than a ripped-from-the-headlines chronicle is Lowery's combination of solid reporting, emotional commitment to his story as a black man and a reflective turn of mind."
—Milwaukee Journal Sentinel

"Everyone should read it. It is incredibly well-reported and very well done.... It's a fantastic book. Go out and read it."
—Chris Hayes, All In With Chris Hayes

"Documents, with refreshing candor and vulnerability, his efforts to balance life and work, ambition and compassion.... [Lowery's] reflections, observations and personal dilemmas offer a glimpse behind the scenes as a reporter hones his craft and calibrates his moral and professional compasses.... Through it all, Lowery was honest with himself, and now, in his book, he is honest with his readers. This candor enhances his credibility as a journalist.... Overall, this is a beautifully written reporter's journal that offers an overview of an important chapter in 21st-century African American history.... As a young man who has seen up close the bloody misuse of power and the fire and fury it engenders, Lowery has remained steadfast in his role as witness and truth-teller. His example of integrity under fire and professionalism under pressure should be an example to his junior and senior colleagues alike. We desperately need tough and tenacious reporters unafraid to speak truth to power as we wade into the multiple uncertainties of the next four years."
—Washington Post

"Lowery provides an anthropological examination of the movement.... The result is a vivid timeline of the movement from its origins to present day.... They Can't Kill Us All is a documentary on the awakening of young black Americans--no, all Americans--to the systematic injustices that weren't erased with the election of President Obama.... Lowery's clear-eyed reporting is exceeded only by his thoughtful, sharp sentences. He allows pain to seep into the prose, not hiding the anguish of a black man reporting on so much black death while pointing out connections that can't be ignored.... [Lowery] is one of the best on the national beat."
—San Francisco Chronicle

"An explosive examination of police brutality"
—O, The Oprah Magazine

"[Lowery's] careful behind-the-scenes reporting offers insight into how the various grassroots campaigns converged into what is now often referred to as a single protest movement.... The quiet optimism underlying his book is itself an act of protest in our dark times."—The Nation

"It is a model for journalism that is as deeply felt as it is informative."
—City Paper