The Book of Lost and Found: A Novel (Paperback)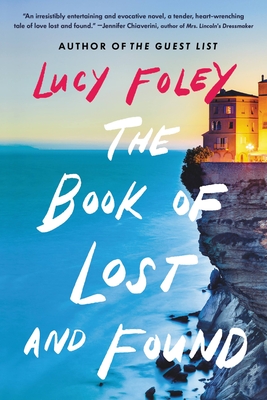 Description
---
From London to Corsica to Paris -- as a young woman pursues the truth about her late mother, two captivating love stories unfurl in this captivating novel from the author of The Guest List. 

Kate Darling's enigmatic mother -- a once-famous ballerina -- has passed away, leaving Kate bereft. When her grandmother falls ill and bequeaths to Kate a small portrait of a woman who bears a striking resemblance to Kate's mother, Kate uncovers a mystery that may upend everything she thought she knew.

Kate's journey to find the true identity of the woman in the portrait takes her to some of the world's most iconic and indulgent locales, revealing a love story that began in the wild 1920s and was disrupted by war and could now spark new love for Kate. Alternating between Kate's present-day hunt and voices from the past, The Book of Lost and Found casts light on family secrets and love -- both lost and found.
About the Author
---
Lucy Foley studied English literature at Durham University and University College London. She then worked for several years as a fiction editor, during which time she wrote The Book of Lost and Found. Lucy now writes full-time and is busy traveling (for research, naturally!), painting, and working on her next novel.
Praise For…
---
"Lucy Foley masterfully evokes period and setting in THE BOOK OF LOST AND FOUND. Readers may count on losing hours of sleep to remain immersed in lush Corsica, luminous Paris, and lively New York, with an unforgettable group of characters, and a mystery that spans decades. Sublime!"
—
Erika Robuck, bestselling author of Hemingway's Girl and Call Me Zelda
"
The Book of Lost and Found
is an irresistibly entertaining and evocative novel, a tender, heart wrenching tale of love lost and found immersed in a suspenseful historical mystery. Lucy Foley's impressive debut thoroughly satisfies, and I can't wait to read whatever she writes next."—
Jennifer Chiaverini, author of Mrs. Grant and Madame Jule and Mrs. Lincoln's Dressmaker
"
The Book of Lost and Found
is a sheer joy to read. Everything I love is in there--romance, the linking of past and present, travel to wonderful (and wonderfully described) destinations, characters I wish I could meet, and an evocative mystery--all spun together with Foley's engaging and elegant prose."—
Mary Simses, author of The Irresistible Blueberry Bakeshop and Café
"A long-hidden drawing by a reclusive artist. A famous ballerina. Childhood friendships. Secret loves.
The Book of Lost and Found
charmingly sweeps through the 20th century, taking us to England, Paris and Corsica, and from a place of loneliness and loss to one of belonging and love."—
Meg Waite Clayton, New York Times bestselling author of The Wednesday Sisters and The Race for Paris
"Blending themes of
The Goldfinch
and
Possession
,
The Book of Lost and Found
spans half a century, two love stories, and the globe--taking us from modern-day London, to a timeless Corsica, to an occupied Paris, and the New York art scene. For all that, Lucy Foley's sweeping debut shimmers as intimately as the mysterious artist sketch at the novel's center; the book is remarkably tender, tragic and true."—
Miranda Beverly-Whittemore, New York Times bestselling author of Bittersweet
"Lush descriptions of time and place enhance a compelling love story."
—
Kirkus Reviews