Hazel Bly and the Deep Blue Sea (Paperback)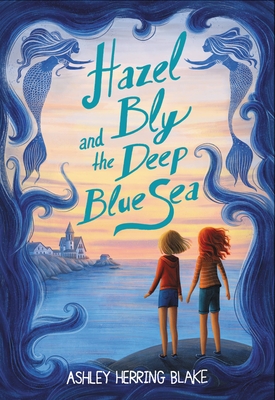 $8.99

Not In Store - Available to special order for pickup or ship. For even speediest shipping we suggest our Bookshop.org page!
Description
---
For fans of Rebecca Stead and Ali Benjamin comes a poignant yet hopeful novel about grief from Ashley Herring Blake, the award-winning author of Ivy Aberdeen's Letter to the World—now in paperback!

Hazel Bly used to have the perfect family. But when a kayaking trip goes horribly wrong, Mum is suddenly gone forever and Hazel is left with a jagged scar on her face. After Mum's death, Hazel, her other mother, Mama, and her little sister Peach needed a fresh start. So for the last two years, the Bly girls have lived all over the country. They travel from town to town, never settling anywhere for more than a few months or so. 

But when the family comes to the town of Rose Harbor, Maine, a small fog-draped beach town full of roses and rocks, Hazel senses a wildness to it that feels like magic. And when Mama runs into an old childhood friend Claire, suddenly Hazel's tight-knit world is infiltrated. To make it worse, she has a daughter Hazel's age, Lemon, who can't stop rambling on and on about the Rose Maid, a local myth a hundred and fifty years old about how a local girl was so heartbroken she turned into a mermaid.

Soon, Hazel finds herself just as obsessed with the Rose Maid as Lemon is—because what if magic were real? What if grief really could change you so much, you weren't even yourself anymore? What if instead you emerged from the darkness stronger than before?
About the Author
---
Ashley Herring Blake is the author of the young adult novels Suffer Love, How to Make a Wish, and Girl Made of Stars, as well as the Stonewall honor novel Ivy Aberdeen's Letter to the World, The Mighty Heart of Sunny St. James, and Hazel Bly and the Deep Blue Sea. Ashley lives in Georgia with her husband and two sons.
Praise For…
---
Praise for Hazel Bly and the Deep Blue Sea:
"Hazel Bly and the Deep Blue Sea is simply magical. Hazel's story of grief swells into a transformative tale of healing that will steal any reader's heart. Yes, magic is absolutely real—Ashley has proven it with the beauty and power of her words alone."
—
Kacen Callender, National Book Award winner of King and the Dragonflies
* "Packing an emotional punch, this delicately woven novel by Blake features clearly wrought characters who capture the heart."
—
Publishers Weekly, starred review
* "Blake's gorgeous prose will stir deep emotions within readers, and her descriptions of the seaside setting are full of lovely sensory details... This story of a girl navigating the choppy waters of grief toward a brighter shore is heartrending but full of hope."—
Bookpage, starred review
* "An honest and moving exploration of loss that highlights the healing power of reclaiming oneself and allowing hope to thrive."
 —
School Library Journal, starred review
"The author allows the reader to feel the pain that death and divorce bring, the joys of finding acceptance with peers, determining one's own sexual identity, and learning to begin the healing process from physical and mental pain. Readers will be able to see themselves in the characters and may find ways to deal with the struggles they are going through in their own lives." 
—
School Library Connection
[Hazel Bly and the Deep Blue Sea] is a moving story of grief and guilt. This novel deals with loss in a way that feels accessible but never condescending.
—
Booklist
"Blake balances many plot elements, often serious ones, without overburdening the narrative, to create a character-based, atmospheric novel with a strong sense of place." 
—
Horn Book
 "At times heartwrenching but ultimately heartwarming, it's a story of resilience that readers will want to dive right into."—
BCCB