A Parchment of Leaves (Paperback)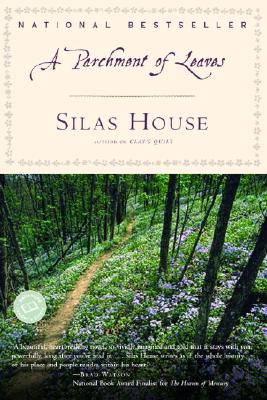 $16.00
Email or call for price.
Description
---


It is the early 1900s in rural Kentucky, and young Saul Sullivan is heading up to Redbud Camp to look for work. He is wary but unafraid of the Cherokee girl there whose beauty is said to cause the death of all men who see her. But the minute Saul lays eyes on Vine, he knows she is meant to be his wife. Vine's mother disapproves of the mixed marriage; Saul's mother, Esme, has always been ill at ease around the Cherokee people. But once Vine walks into God's Creek, Saul's mother and brother Aaron take to her immediately. It quickly becomes clear to Vine, though, that Aaron is obsessed with her. And when Saul leaves God's Creek for a year to work in another county, the wife he leaves behind will never be the same again. The violence that lies ahead for Vine, will not only test her spirit, but also her ability to forgive—both others and herself. . . .
About the Author
---
Silas House is the author of Clay's Quilt, A Parchment of Leaves, The Coal Tattoo, Eli the Good, Same Sun Here (co-authored with Neela Vaswani, 2012); three plays, The Hurting Part, Long Time Travelling, This Is My Heart For You; and Something's Rising, a creative nonfiction book about social protest co-authored with Jason Howard. House was selected to edit the posthumous manuscript of acclaimed writer James Still, Chinaberry. House was born and raised in Eastern Kentucky. He is the father of two daughters and has three dogs: Rufus, Holly, and Pepper. He divides his time between London and Berea, Kentucky.
Praise For…
---
"A beautiful, heartbreaking novel, so vividly imagined and told that it stays with you, powerfully, long after you've read it. . . . Silas House writes as if the whole history of his place and people resides within his heart."
—BRAD WATSON
National Book Award Finalist


Winner of the Award for Special Achievement from the Fellowship of Southern Writers

"A SEAMLESS WORK OF FICTION, entrancing in the manner of a vivid dream . . . The novel is steeped in details of place—the sounds, smells, and quality of light in House's native Kentucky."
—Newsday

"An eloquent and moving novel of the Appalachian South from one of her most promising new writers."
—SHARYN MCCRUMB
Author of The Songcatcher

"Breathtaking for both its beauty and its pain . . . A superb combination of wonder and suffering."
—Kirkus Reviews (starred review)

"One of the truest and most exciting new voices in American fiction."
—ROBERT MORGAN
Author of Gap Creek