Dragonfruit (Hardcover)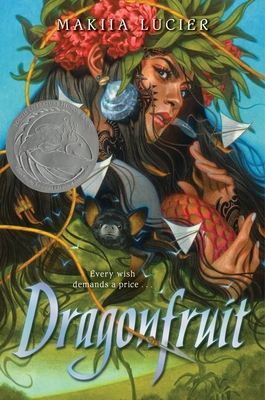 $19.99

Coming Soon - Available for Pre-Order Now
Description
---
From acclaimed author Makiia Lucier, a dazzling, romantic fantasy inspired by Pacific Island mythology.
In the old tales, it is written that the egg of a seadragon, dragonfruit, holds within it the power to undo a person's greatest sorrow. But as with all things that offer hope when hope had gone, the tale came with a warning.
Every wish demands a price.
Hanalei of Tamarind is the cherished daughter of an old island family. But when her father steals a seadragon egg meant for an ailing princess, she is forced into a life of exile. In the years that follow, Hanalei finds solace in studying the majestic seadragons that roam the Nominomi Sea. Until, one day, an encounter with a female dragon offers her what she desires most. A chance to return home, and to right a terrible wrong.
Samahtitamahenele, Sam, is the last remaining prince of Tamarind. But he can never inherit the throne, for Tamarind is a matriarchal society. With his mother ill and his grandmother nearing the end of her reign. Sam is left with two choices: to marry, or to find a cure for the sickness that has plagued his mother for ten long years. When a childhood companion returns from exile, she brings with her something he has not felt in a very long time-hope.
But Hanalei and Sam are not the only ones searching for the dragonfruit. And as they battle enemies both near and far, there is another danger they cannot escape…that of the dragonfruit itself.
About the Author
---
Makiia Lucier grew up on the Pacific Island of Guam and holds degress in journalism and library studies from the University of Oregon and the University of Wisconsin–Milwaukee. She is the author of A Death-Struck Year, Isle of Blood and Stone, and Song of the Abyss.
makiialucier.com
Twitter: @makiialucier
Praise For…
---
"Full of adventure and fascinating lore, the world of Makiia Lucier's marvelous Dragonfruit is one I would have loved to linger in were I not so feverishly turning the pages. One of the rare books that had me at the first chapter. I LOVE THESE SEADRAGONS!"   — Kendare Blake, #1 New York Times bestselling author of the Three Dark Crowns series
"Abundant with hope and second chances, this magical adventure stole me away with its pirates and seadragons, wishes and sea gods, villainy and homecomings. A winsome new take on how we should be careful what we wish for."
— Marissa Meyer, #1 New York Times bestselling author of The Lunar Chronicles
"Rich in worldbuilding, this gripping, warm-hearted fantasy is so vividly rendered you can almost feel the salt spray of the Nominomi Sea and hear the calls of sea dragons echoing through the pages. The lore is wonderfully unique and Hanalei and Sam are characters I couldn't help rooting for. A true delight." — Heather Fawcett, author of Emily Wilde's Encyclopaedia of Faeries