November 1916: A Novel: The Red Wheel II (FSG Classics) (Paperback)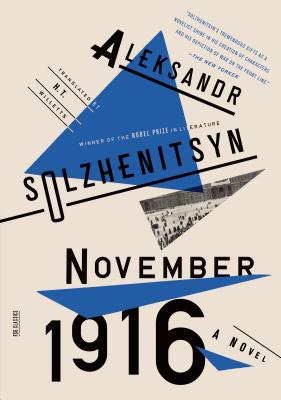 Description
---
In time for the centenary of the beginning of the Russian Revolution, a new edition of the Russian Nobelist's major work

The month of November 1916 in Russia was outwardly quiet—the proverbial calm before the storm—but beneath the placid surface, society seethed fiercely.
In Petrograd, as St. Petersburg was then known, luxury-store windows are still brightly lit; the Duma debates the monarchy, the course of war, and clashing paths to reform; the workers in the miserable munitions factories veer toward sedition.
At the front, all is stalemate, while in the countryside sullen anxiety among hard-pressed farmers is rapidly replacing patriotism.
In Zurich, Lenin, with the smallest of all revolutionary groups, plots his sinister logistical miracle.
With masterly and moving empathy, through the eyes of both historical and fictional protagonists, Solzhenitsyn unforgettably transports us to that time and place—the last of pre-Soviet Russia.
November 1916 is the second volume in Aleksandr Solzhenitsyn's multipart work, The Red Wheel. This volume concentrates on a historical turning point, or "knot," as the wheel rolls inexorably toward revolution.
About the Author
---
Aleksandr Solzhenitsyn, winner of the 1970 Nobel Prize in Literature, was born in 1918. In February 1945, while he was captain of a reconnaissance battery of the Soviet Army, he was arrested and sentenced to an eight-year term in a labor camp and permanent internal exile, which was cut short by Khrushchev's reforms, allowing him to return from Kazakhstan to Central Russia in 1956. Although permitted to publish One Day in the Life of Ivan Denisovich in 1962—which remained his only full-length work to have appeared in his homeland until 1990—Solzhenitsyn was by 1969 expelled from the Writers' Union. The publication in the West of his other novels and, in particular, of The Gulag Archipelago, brought retaliation from the authorities. In 1974, Solzhenitsyn was arrested, stripped of his Soviet citizenship, and forcibly flown to Frankfurt. Solzhenitsyn and his wife and children moved to the United States in 1976. In September 1991, the Soviet government dismissed treason charges against him; Solzhenitsyn returned to Russia in 1994. He died in Moscow in 2008.
Praise For…
---
"A superb blend of fact and fiction written in a racy, original style." —John Keep, The Times Literary Supplement

"Solzhenitsyn's tremendous gifts as a novelist shine in his creation of characters and his depiction of war on the front line." —The New Yorker

"Solzhenitsyn achives something exceedingly rare among novelists dealing with history . . . He gets a sense of the past not as something to be understood in the light of the present, but as a teeming womb of incalculablility and possibility." —John Bayley, The New York Book Review