Turn Coat: A Novel of the Dresden Files (Hardcover)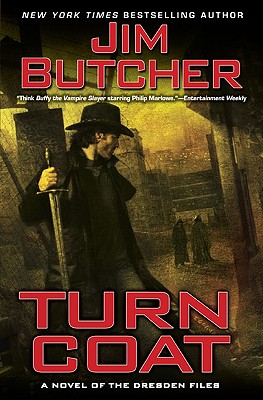 Description
---
Jim Butcher's Breakthrough #1 "New York Times" bestseller
The Warden Morgan has been accused of treason against the Wizards of the White Council-and there's only one final punishment for that crime. He's on the run, he wants his name cleared, and he needs someone with a knack for backing the underdog. Like Harry Dresden. Now, Harry must uncover a traitor within the Council, keep a less-than-agreeable Morgan under wraps, and avoid coming under scrutiny himself. And a single mistake could cost Harry his head...
About the Author
---
A martial arts enthusiast whose resume includes a long list of skills rendered obsolete at least two hundred years ago, Jim Butcher turned to writing as a career because anything else probably would have driven him insane. He lives with his wife, his son and a ferocious guard dog.