Archangel's War (A Guild Hunter Novel #12) (Mass Market)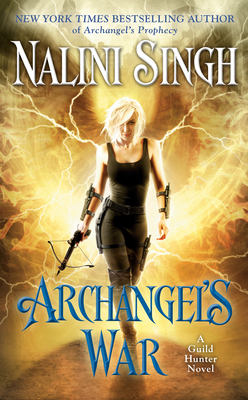 Other Books in Series
This is book number 12 in the A Guild Hunter Novel series.
Description
---
Return to New York Times bestselling author Nalini Singh's darkly passionate Guild Hunter world, where human-turned-angel Elena Deveraux, consort to Archangel Raphael, faces a new challenge that threatens the balance of the world.

Wings of silver. Wings of blue. Mortal heart. Broken dreams. Shatter. Shatter. Shatter. A sundering. A grave. I see the end. I see. . . .

The world is in chaos as the power surge of the Cascade rises to a devastating crescendo. In furiously resisting its attempts to turn Elena into a vessel for Raphael's power, Elena and her archangel are irrevocably changed. . .far beyond the prophecy of a cursed Ancient.

At the same time, violent and eerie events around the world threaten to wipe out entire populations. And in the Archangel Lijuan's former territory, an unnatural fog weaves through the land, leaving only a bone-chilling silence in its wake. Soon it becomes clear that even the archangels are not immune to this deadly evil. This time, even the combined power of the Cadre may not be enough. . . .

This war could end them all.
About the Author
---
New York Times bestselling author Nalini Singh is passionate about writing. Though she's traveled as far afield as the deserts of China, the Highlands of Scotland, and the frozen landscapes of Antarctica, it is the journey of the imagination that fascinates her most. She's beyond delighted to be able to follow her dream as a writer. Nalini lives and works in beautiful New Zealand. You can contact her directly through her website. While visiting the site, Nalini invites you to join her newsletter for up-to-date news about both the Psy-Changeling and Guild Hunter series, as well as fun exclusive extras, including free short stories set in her worlds.
Praise For…
---
"Singh's worldbuilding and imagination never disappoint...Another riveting entry in the Guild Hunter series."—Kirkus Reviews

"Singh's twisting plot and satisfying conclusion will have paranormal romance fans tuning in for the next installment."—Publishers Weekly

"A strong, game-changing book and one many readers will love...one of my favorite paranormal romance series."—Dear Author

"Archangel's War is epic in all the best ways and everything I needed it to be."—Smexy Books

"Absolutely epic and unbelievably suspenseful, Archangel's War was a complete game changer in Nalini Singh's Guild Hunter universe and will surely leave fans reeling in the best of ways...Nalini Singh's detailed, evocative writing was perfectly on point, with gripping action sequences and a thrilling conclusion that made Archangel's War an unforgettable journey."—Harlequin Junkie

"Archangel's War is a truly power packed story...Nalini Singh doesn't disappoint and truly delivered a story of edgy suspense, all the feels that tugs at the heartstrings, and a story you won't ever regret picking up!! This author works her delicious magic in every way and its magnificent!"—AddictedToRomance.org

"Surprising, riveting and just a little heartbreaking...This is one book that readers will want to read over and over and each time finds something they missed as if words were secretly hidden on the pages."—Fresh Fiction

"Guild Hunter fans, RUN do not walk to your nearest bookstore and grab this one as soon as you can. A penultimate read of epicness, Archangel's War was the best in the series yet. I can only imagine where things will go next. Bravo Ms Nalini, bravo!"—A Book Obsession

"Archangel's War delivered a long, gritty battle with losses and victories as well as personal battles and a romance for the ages.  Guild Hunter fans will find this unputdownable."—Delighted Reader

"Ms. Singh knows how to give the fans what they want in her own way, and it's glorious to read."—Romance-Reader.com