Ruth Asawa: Citizen of the Universe (Paperback)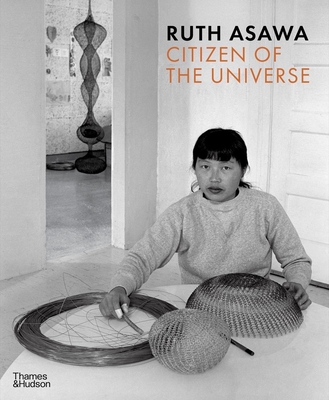 $40.00

On Our Shelves Now - Click to see location, time, and stock details
Description
---
A triumphant illustrated volume on the art of abstract sculptor Ruth Asawa, examining her contributions to modern art and education. 
Ruth Asawa is an artist of vital importance to modern art. Ruth Asawa: Citizen of the Universe, which accompanies the first public exhibition of Asawa's work in Europe, introduces readers to Asawa's work, including her signature hanging sculptures in looped and tied wire, and her pioneering education practice. It positions her expansive ethos—her self-identification as "a citizen of the universe" and belief that art education can be life enriching for everyone—as a catalyst for creative forward-thinking in the twenty-first century.
Focusing on a dynamic and formative period in her life from 1945 to 1980, this book gives readers a unique experience of the artist and her work, exploring her legacy and positioning her as an abstract sculptor crucial to American modernism. It is a wonderful celebration of her holistic integration of art, education, and community engagement, through which she called for a revolutionary and inclusive vision of art's role in society. 
About the Author
---
Emma Ridgway is chief curator and head of exhibitions at Modern Art Oxford.

Vibece Salthe is a curator at the Stavanger Art Museum.

Sigrun A°sebo is an Associate Professor of Art History at the Department of Linguistic, Literary and Aesthetic Studies at the University of Bergen. Her research interests include feminist historiography and theory, women artists from modernity until today, and gender and diversity in art museums and curating.

John R. Blakinger is Endowed Associate Professor of Contemporary Art at the University of Arkansas and the author of Gyorgy Kepes: Undreaming the Bauhaus (MIT Press), a New York Times "Best Art Book" of 2019. He is currently completing a book project exploring the resurgence of culture wars in

Emily Pringle is Head of Research at Tate and the author of Rethinking Research in the Art Museum (Routledge). She initially trained as a painter, joining Tate in 2010 as Head of Learning Practice and Research. In that role she convened the Tate Research Centre: Learning, researching and writing specifically on the role of artists in museum education and creative learning.
Praise For…
---
"An inspiring story of a life well lived, complete with a happy ending [...] with deep dives into art and design."
— The Washington Post