Lot: Stories (Paperback)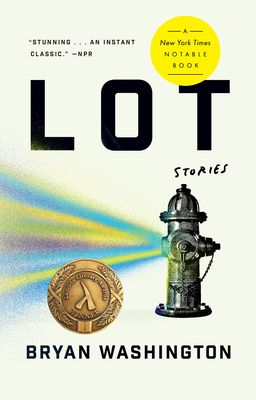 Staff Reviews
---
A writer who will become a luminary in the world of North American letters, Bryan Washington takes subject matter often overlooked in literature to deliver a sad, funny, and, ultimately, deeply memorable debut collection of short stories. Each story taking place in Washington's hometown of Houston, the author invites us into the lives of people facing bleak circumstances without neglecting the entire range of their humanity. Written in style that is distant without minimalizing the emotional turmoil of his characters, Washington has gifted us with a magnificent short story collection that will forever have a space on my bookshelf.
— Malik
Summer 2020 Reading Group Indie Next List
---
"Bryan Washington has crafted a debut that illuminates how community can shape and shelter the self. Lot explores identity, queerness, and the racial divide with such emotional resonance that you will finish the book feeling deeply connected to the characters and to the city of Houston."
— Cristina Rodriguez, Deep Vellum Books, Dallas, TX
Description
---
One of Barack Obama's "Favorite Books of the Year" 

"Phenomenal" --Justin Torres, author of We the Animals
"Brilliant" --Nicole Dennis-Benn, author of Here Comes the Sun
"A profound exploration of the true meaning of borders." —The New York Times Book Review

NAMED ONE OF THE 10 BEST BOOKS OF 2019 in the New York Times by Dwight Garner
A New York Times Notable Book of 2019

In the city of Houston - a sprawling, diverse microcosm of America - the son of a black mother and a Latino father is coming of age. He's working at his family's restaurant, weathering his brother's blows, resenting his older sister's absence. And discovering he likes boys.

Around him, others live and thrive and die in Houston's myriad neighborhoods: a young woman whose affair detonates across an apartment complex, a ragtag baseball team, a group of young hustlers, hurricane survivors, a local drug dealer who takes a Guatemalan teen under his wing, a reluctant chupacabra.

Bryan Washington's brilliant, viscerally drawn world vibrates with energy, wit, raw power, and the infinite longing of people searching for home. With soulful insight into what makes a community, a family, and a life, Lot explores trust and love in all its unsparing and unsteady forms.
About the Author
---
Bryan Washington is a National Book Award 5 Under 35 honoree and winner of the Dylan Thomas Prize and the Ernest J. Gaines Award for Literary Excellence. He received the New York Public Library Young Lions Fiction Award for his first book, Lot, which was also a finalist for the NBCC's John Leonard Prize, the PEN/Robert W. Bingham Prize, and the Aspen Words Literary Prize. He has written for The New Yorker, The New York Times, The New York Times Magazine, BuzzFeed, Bon Appétit, and GQ, among other publications. He lives in Houston. 
Praise For…
---
Praise for Lot

"Washington's subtle, dynamic and flexible stories play out across [Houston's] sprawling and multiethnic neighborhoods… An alert and often comic observer of the world… Washington cracks open a vibrant, polyglot side of Houston about which few outsiders are aware... [T]here is a fair amount of joy in Washington's stories… An underthrob of emotion beats inside them. He's confident enough not to force the action. The stories feel loose, their cellular juices free to flow." —Dwight Garner, New York Times

"This is a story collection that feels like a novel—not because the characters return throughout the book, but because Washington's astute world-building creates an ever widening scope of Houston that imprints itself on the mind and the psyche. He has such an incredible skill at texturizing people and their histories through each story that the two elements feel consequential to each other. It's a treat and an inspiration to witness." —Ocean Vuong, GQ

"[S]tunning… Lot paints an unforgettable picture of Houston and the people who call it home.... It's hard to overstate what an accomplishment Lot is.... Washington does a brilliant job making the city come to life in all its imperfect glory. His book is an instant classic of Texas literature, but it's more than that — it's a stunning work of art from a young writer with immense talent and a rare sense of compassion, and one of the strongest literary debuts in several years."  —NPR

"[F]unny, sad, wise & very alive in the best way." —Curtis Sittenfeld (Twitter)

"Audacious... A profound exploration of the true meaning of borders, written very much for and about our current cultural moment….Washington is a one-man border-eradicating crew.... There's a knowing grin of local familiarity here, yet Washington also manages to present this melancholy, jolly story in the voice of a collective 'we' that renders the collection universal." —Luis Alberto Urrea, The New York Times Book Review

"This eagerly awaited short-story collection, excerpted in The New Yorker to much fanfare, depicts its author's hometown of Houston with empathy, tragedy, and exceptional specificity." —Entertainment Weekly

"Washington's debut reads like a love letter to Houston." —New York Times

"Lot is Bryan Washington's debut book, and like...where has he been my whole life?! This collection of stories—all of which take place in Houston—is absolutely gut-wrenching and powerful, and will immediately transport you out of whatever bubble you're living in." —Cosmopolitan

"Bryan Washington makes his already much-lauded debut with Lot, a collection of extraordinary short stories set in and across the city of Houston that thrum with vitality and authenticity and are peopled with characters yearning for connection." —Southern Living

"A dynamic portrait of Houston and the people who live there." —Time

"Lot spills over with life — funny, tender, and profane.... Washington takes characters often consigned to the literary margins and drags them to the center — not as exotic objects of curiosity but as whole human beings, messy and defiant and drawn in full, vibrant color." —Entertainment Weekly

"A technicolor portrait of the city, revealing both its seediness and its enchantment. Lot's great gift is bringing into the light those who live in the shadows." —O, the Oprah Magazine

"The kind of stories I am always longing to read. I love the urgency, honesty, and vitality of Washington's voice. I love these characters for where they're from, and where they're going, what they know, and what they reveal about trouble and love." 
—Justin Torres, author of We the Animals

"A brilliant display of raw talent, with gut-punching stories that deliver with a lasting force. This is the literature that I've been waiting for." 
—Nicole Dennis-Benn, author of Here Comes the Sun

"Lot will affect you the way that cherished and, sometimes, painful memories do, with a quality like haunting, a sense that the encounter you've had is undeniably real and will stay with you for a very long time. What a thrill to inhabit—to live in, to navigate—the stories and people that make up Bryan Washington's powerful debut."
—Jamel Brinkley, author of A Lucky Man
 
"What a book. This is a generous, powerful, deeply engrossing collection of stories that will crack open your heart then put it back together again. Lot is indelible, and Bryan Washington is an important new talent."
—R.O. Kwon, author of The Incendiaries

"Lot is the confession of a neighborhood, channeled through a literary prodigy. Bryan Washington doesn't render a world, he actually captures one, grabs it out of reality and holds it up for you to see it sparkle. Unflinching, romantic while refusing to romanticize, this is the debut of a prodigious talent." 
—Mat Johnson, author of Loving Day and Pym

"Bryan Washington's voice has risen blazingly from Houston and now commands us to pay attention. Lot is as raw, soulful and moving as a story collection can get. It's my favorite fiction debut of the year."
—Jami Attenberg, New York Times bestselling author of The Middlesteins and All Grown Up

"Bryan Washington gets Houston down on the page in a way I haven't seen before; the city, in his hands, is revealed in all its strange and righteous glory, a fresh sense of youth that's a pleasure to read. Bryan is a thrilling new voice in American fiction and one to watch."  
—Amelia Gray, author of Isadora and Gutshot

"A sensitive portrait of life among Houston's struggling working class.... Washington writes with an assurance that signals the arrival of an important literary voice." —Kirkus

"Stellar... Washington is exact and empathetic, and the character that emerges is refreshingly unapologetic about his sexuality, even as it creates rifts in his family.... Washington is a dynamic writer with a sharp eye for character, voice, and setting. This is a remarkable collection from a writer to watch." —Publishers Weekly (STARRED review)