More Than Enough: Claiming Space for Who You Are (No Matter What They Say) (Paperback)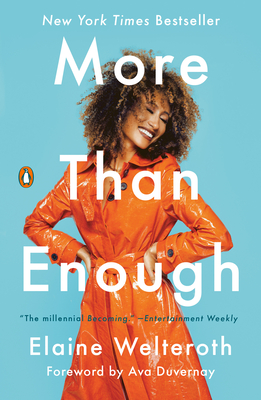 List Price: $18.00
Our Price: $17.00
(Save: $1.00 6%)
On Our Shelves Now - Click to see location, time, and stock details
Description
---
INSTANT NEW YORK TIMES BESTSELLER

WINNER OF THE 2020 NAACP IMAGE AWARD FOR OUTSTANDING LITERARY WORK — BIOGRAPHY/AUTOBIOGRAPHY

NOW OPTIONED FOR DEVELOPMENT AS A TV SERIES BY PARAMOUNT TELEVISION STUDIOS AND ANONYMOUS CONTENT

"The millennial Becoming . . . Inspiring and empowering." —Entertainment Weekly
 
"An essential read for women in the workplace today." —Refinery29

Part-manifesto, part-memoir, from the revolutionary editor who infused social consciousness into the pages of Teen Vogue, an exploration of what it means to come into your own—on your own terms

Throughout her life, Elaine Welteroth has climbed the ranks of media and fashion, shattering ceilings along the way. In this riveting and timely memoir, the groundbreaking journalist unpacks lessons on race, identity, and success through her own journey, from navigating her way as the unstoppable child of an unlikely interracial marriage in small-town California to finding herself on the frontlines of a modern movement for the next generation of change makers.

Welteroth moves beyond the headlines and highlight reels to share the profound lessons and struggles of being a barrier-breaker across so many intersections. As a young boss and often the only Black woman in the room, she's had enough of the world telling her—and all women—they're not enough. As she learns to rely on herself by looking both inward and upward, we're ultimately reminded that we're more than enough.
About the Author
---
Elaine Welteroth is a New York Times bestselling author, award-winning journalist, producer, and former editor-in-chief of Teen Vogue. In 2017, Welteroth broke new ground as the youngest person and the second African-American to ever hold this title at a Condé Nast publication. She has been credited for reinventing the magazine as the go-to source for socially conscious young people. Prior to Teen Vogue, she held senior editorial positions at Glamour and Ebony. Her writing appears in The New York Times, British Vogue, and The Hollywood Reporter. She has written for the hit show Grown-ish and has appeared on-camera for a range of media outlets including ABC News, Netflix, and Bravo's new Project Runway where she appears as a judge. She has also taken on the role of cultural ambassador for Michelle Obama's organization When We All Vote, a non-partisan voting initiative that aims to increase voter turnout, particularly among young people, women, and people of color. She resides in Brooklyn with her husband.
Praise For…
---
"Elaine gifts us all with a beautifully intimate and powerful retelling of her ever unfolding journey. In sharing her joys, pitfalls, adventures, self doubt, and successes, she reminds us that through uncovering and discovering the many facets of ourselves, we are more than enough."
—Yara Shahidi

"Elaine's book is a call for young women to find their voice and spark their courage—it's a book I would have loved to have discovered as a young woman starting my own career."
—Reese Witherspoon
 
"This isn't just a coming of age story, it's a book about coming into your own and embracing who you are. As we follow Elaine's journey, she sheds a bright light on what happens when a black girl not only decides to be the master of her own destiny but challenges what the world thinks a black girl's destiny should be."
—Lena Waithe
  
"More Than Enough is a guide for young people who want to find their voice, a crash course for those who want to challenge the status quo, and an adventure story for all of us. Young women can learn so much from Elaine's remarkable journey."
—Malala Yousafzai
  
"Elaine Welteroth has written the ultimate guide for how to come into your own, on your own terms. Packed with honesty and warmth, More Than Enough is a must read for women of all ages and walks of life."
—Karlie Kloss
 
"Elaine is a jolt of honesty, positivity, and inspiration. Anyone who has ever felt like she doesn't belong will feel less alone after reading More Than Enough. Elaine's voice couldn't be more important, and more important right now."
—Sophia Amoruso

"The millennial Becoming. . . Inspiring and empowering."
—Entertainment Weekly
 
"More Than Enough is candid but also empathetic in its human-scale telling."
—San Francisco Chronicle
 
"Welteroth has written down lessons, advice and powerful reminders to women everywhere with her debut book More Than Enough."
—USA Today

"With a new book . . . Elaine Welteroth is transforming the Black girl narrative in media."
—Essence

"A media trailblazer . . . a feminist icon and champion for her generation."
—Fortune

"An essential read for women in the workplace today."
—Refinery29

"Brimming with career and life lessons."
—InStyle
 
"Through the telling of her own fascinating life story, Welteroth leaves bits of advice for those who want to follow her own path."
—Newsweek

"The former Teen Vogue editor-in-chief opens up in this revealing memoir about growing up in California as the ambitious child of an 'unlikely interracial marriage,' only to become a boundary-breaking journalist—as she shared the lessons learned along the way."
—O, The Oprah Magazine 

"Compelling . . . More Than Enough discusses race, identity, love, friendship, taking up space as a Black woman in a predominantly white workplace, and the meaning of success. As a change maker and young boss, Welteroth reminds young Black girls and women that they are, indeed, more than enough."
—Women's Health

"Throughout her career, author Elaine Welteroth has often been the only black woman in the room. Learn how she broke down barriers—across several different intersections—to succeed in the media and fashion industries and become one of her generation's changemakers. . . . Welteroth's words may be just what you need to take back your confidence and head down the path toward a new job."
—Forbes

"A must read for women of all ages. . . The perfect graduation gift."
—PopSugar 

"[Welteroth's] debut book has been described as 'part-memoir, part-manifesto' and shares her journey of climbing the ranks of journalism, fashion and life, while often being the only Black woman in the room. A joy to read and learn from."
—Yahoo! Style

"The perfect read for any woman just starting out in her career . . . An anthem for the modern woman."
—Brit + Co
 
"[Elaine Welteroth's] impressive career trajectory makes for fascinating reading, but what makes the book especially worthwhile is its depiction of an emergent social and political consciousness so strong that it eventually led her to abandon corporate media for the 'joy of dancing into [an unknown] future.' An inspiring memoir by a dynamic groundbreaker."
—Kirkus Reviews

"With lyrical prose resonant of Jacqueline Woodson's, Welteroth shows what it truly means to be a leader: to elevate others and challenge systems of oppression, without ever sacrificing a job well done. . . . Welteroth is proof that 'living the dream' is an ever-changing, ever satisfying journey to behold."
—Booklist (starred review)

"More Than Enough is a beautifully honest look at the exhilaration and heavy weight that comes with breaking barriers. Welteroth didn't set out to shatter ceilings, but she is a force of nature. I can't wait to see what she does next."
—BookPage

"[An] inspiring debut . . . Welteroth offers a narrative of empowerment to any reader who has had similar experiences. This affecting tale of claiming one's space and refuting biases will encourage readers to believe in their own worth."
—Publishers Weekly