The Cloud Searchers (Amulet #3) (Paperback)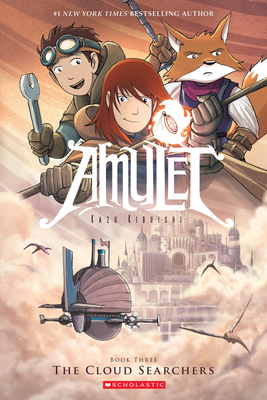 Available to order- email info@loyaltybookstores.com
Not In Store - Available to Special Order
Other Books in Series
This is book number 3 in the Amulet series.
Description
---
Kazu Kibuishi's enchanting series about two ordinary children on a life-or-death mission continues!In the third installment of the thrilling Amulet series, Emily, Navin, and their crew of resistance fighters charter an airship and set off in search of the lost city of Cielis, which is believed to be located on an island high above the clouds. The mysterious Leon Redbeard is their guide, and there's a surprising new addition to the crew: the Elf King's son, Trellis. But is he ally or enemy? And will Emily ever be able to trust the voice of the Amulet?
About the Author
---
Kazu Kibuishi is the founder and editor of the critically acclaimed Flight anthologies, as well as the creator of COPPER. He lives in Alhambra, California, with his wife and fellow comics artist, Amy Kim Kibuishi, and their son. Visit him online at www.boltcity.com.
Praise For…
---
Praise for Amulet
New York Times Bestseller
"Five—no, three pages into Amulet and you'll be hooked." — Jeff Smith, creator of BONE
"[The] action-packed adventure sequences move at an exciting clip . . . Part fantasy . . . and part manga, this volume has much to appeal to readers." — Booklist
"A richly drawn graphic-fantasy series following in the footsteps of BONE and a must for all fantasy fans." — Kirkus Reviews
"Stellar artwork, imaginative character design, moody color and consistent pacing." — PW Comics Week
Praise for Amulet
New York Times Bestseller
"Five—no, three pages into Amulet and you'll be hooked." — Jeff Smith, creator of BONE
"[The] action-packed adventure sequences move at an exciting clip . . . Part fantasy . . . and part manga, this volume has much to appeal to readers." — Booklist
"A richly drawn graphic-fantasy series following in the footsteps of BONE and a must for all fantasy fans." — Kirkus Reviews
"Stellar artwork, imaginative character design, moody color and consistent pacing." — PW Comics Week