The Hunger Games Trilogy Boxed Set (Multiple copy pack)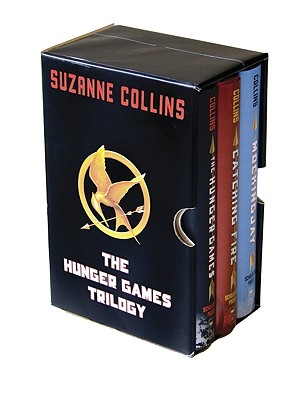 $53.97
Email or call for price.
Other Books in Series
This is book number 1 in the Hunger Games series.
Description
---
The stunning Hunger Games trilogy complete in the form of a boxed set.The extraordinary, ground breaking New York Times bestsellers The Hunger Games and Catching Fire, along with the third book in The Hunger Games trilogy by Suzanne Collins, Mockingjay, are available for the first time ever in a beautiful boxset edition. Stunning, gripping, and powerful. The trilogy is now complete!
About the Author
---
Suzanne Collins is the author of the groundbreaking Hunger Games trilogy for young adults: The Hunger Games, Catching Fire, and Mockingjay. She is also the author of the picture book Year of the Jungle, a Publishers Weekly Best Book of the Year, and the New York Times bestselling Underland Chronicles series for middle-grade readers, which started with Gregor the Overlander. Suzanne lives with her family in Connecticut. You can find her online at suzannecollinsbooks.com.
Praise For…
---
Praise for The Hunger Games series
#1 USA Today Bestseller#1 New York Times Bestseller#1 Wall Street Journal Bestseller#1 Publishers Weekly BestsellerA People magazine (Top 10) Best Book of 2009A Time Magazine Best Fiction Book of 2009A Best Book of 2009A Kirkus Best Book of 2009A 2009 BooklistEditors' Choice
"Whereas Katniss kills with finesse, Collins writes with raw power." -Time Magazine"Collins has joined J. K. Rowling and Stephenie Meyer as a writer of children's books that adults are eager to read." -Bloomberg.com"Perfect pacing and electrifying world-building." -Booklist, starred review"A humdinger of a cliffhanger will leave readers clamoring for volume three." -Kirkus Reviews, starred review"Forget Edward and Jacob... readers will be picking sides-Peeta or Gale?" -Publishers Weekly, starred review"Leaves enough questions tantalizingly unanswered for readers to be desperate for the next installment." -School Library Journal, starred review
Praise for The Hunger Games series
#1 USA Today Bestseller#1 New York Times Bestseller#1 Wall Street Journal Bestseller#1 Publishers Weekly BestsellerA People magazine (Top 10) Best Book of 2009A Time Magazine Best Fiction Book of 2009A Best Book of 2009A Kirkus Best Book of 2009A 2009 BooklistEditors' Choice
"Whereas Katniss kills with finesse, Collins writes with raw power." -Time Magazine"Collins has joined J. K. Rowling and Stephenie Meyer as a writer of children's books that adults are eager to read." -Bloomberg.com"Perfect pacing and electrifying world-building." -Booklist, starred review"A humdinger of a cliffhanger will leave readers clamoring for volume three." -Kirkus Reviews, starred review"Forget Edward and Jacob... readers will be picking sides-Peeta or Gale?" -Publishers Weekly, starred review"Leaves enough questions tantalizingly unanswered for readers to be desperate for the next installment." -School Library Journal, starred review