This Is the Night They Come For You (Paperback)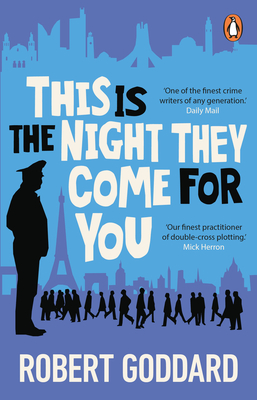 $19.99

On Our Shelves Now - Click to see location, time, and stock details
Description
---
Goddard writes amazing novels of mystery/suspense. His new one is magical and the title is simply the best' —Stephen King

'The world's greatest storyteller' —THE GUARDIAN
'One of the finest crime writers of any generation' —DAILY MAIL

On a stifling afternoon at Police HQ in Algiers, Superintendent Taleb, coasting towards retirement, with not even an air-conditioned office to show for his long years of service, is handed a ticking time bomb of a case which will take him deep into Algeria's troubled past and its fraught relationship with France.

To his dismay, he is assigned to work with Agent Hidouchi, an intimidating representative of the country's feared secret service, who makes it clear she intends to call the shots. They are instructed to pursue a former agent, now on the run after twenty years in prison for his part in a high-level corruption scandal. But their search will lead them inexorably towards a greater mystery, surrounding a murder that took place in Paris more than fifty years ago.

Uncovering the truth may be his responsibility, but Taleb is well aware that no-one in Algeria wants to be reminded of the dark deeds carried out in the struggle for independence—or in the violence that has racked the nation since. Before long, he will face a choice he has long sought to avoid, between self-preservation and doing the right thing. And, ultimately, the choice may not even be his to make.
About the Author
---
Robert Goddard's first novel, Past Caring, was an instant bestseller. Since then, his books have captivated readers worldwide with their edge-of-the-seat pace and labyrinthine plotting. He has won awards in the UK, the US, and across Europe, and his books have been translated into over thirty languages. In 2019, he won the Crime Writers' Association's highest accolade, the Diamond Dagger, for lifetime achievement in Crime Writing.
Praise For…
---
PRAISE FOR PREVIOUS TITLES:

"Robert Goddard's manipulation of suspense and surprise rarely fails to dazzle."—The New York Times Book Review on Into the Blue

''A book that will push the edges of late night fatigue... had me utterly spellbound...cracking good entertainment." —Washington Post on Into the Blue