The Long Ride (Paperback)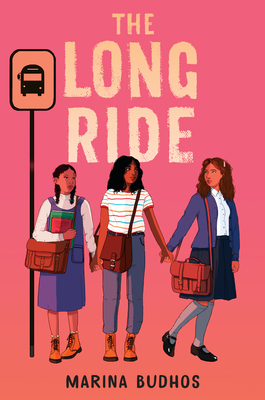 Description
---
In the tumult of 1970s New York City, kids are expected to figure out issues of race that adults haven't when seventh graders are bused from their neighborhood in Queens to integrate a new school in South Jamaica.

Jamila, Josie, and Francesca are three mixed-race girls who have always felt like outsiders in their mostly white neighborhood in Queens, but at least they have each other. Now it's seventh grade, and they're part of an experiment where kids will go on a long bus ride to integrate a new school in a black neighborhood. Maybe there the three girls can finally fit in.

But Francesca's parents put her in private school. And Jamila and Josie discover that they're not even in the same classes.

How do they find their place in a school divided between black and white? And what about the boys wanting to be friends--and maybe more? Can kids come together when grown-ups stay apart?

In this tender story of friendship and family love, award-winning author Marina Budhos captures what it's like to tip from twelve to thirteen and to try to carry the dreams of adults.
About the Author
---
MARINA BUDHOS is the author of award-winning fiction and nonfiction. Her novels for young adults are Watched, Tell Us We're Home, and Ask Me No Questions. Her nonfiction books include Eyes of the World: Robert Capa & Gerda Taro & The Invention of Modern Photojournalism; Remix: Conversations with Immigrant Teenagers; and Sugar Changed the World, which she cowrote with her husband, Marc Aronson. Budhos has received an EMMA (Exceptional Merit Media Award), a Rona Jaffe Award for Women Writers, and two fellowships from the New Jersey Council on the Arts. She has been a Fulbright Scholar to India and is a professor of English at William Paterson University. Visit her online at marinabudhos.com.
Praise For…
---
"[Budhos] portrays with nuance the ways multiracial identities, socio-economic status, microaggressions, and interracial relationships can impact and shape identity. Readers will find a powerful window into the past and, unfortunately, a way-too-accurate mirror of the present." —Kirkus Reviews, Starred

"[A] compassionate and thoughtful depiction of families grappling daily with the inequities of a changing society." —Publishers Weekly

"Gracefully balances the surrounding complex issues of race, class, and equity, without losing focus on the small moments (nascent crushes, perfect outfits) that dominate the lives of her young protagonists."—Booklist

"A layered look at desegregation through the eyes of various characters along the color spectrum, demonstrating that things are not always black and white; it's also a sharp take on the majority's getting a glimpse of what it's like to feel like an outsider." —Bulletin

"This engaging novel serves as a gateway for readers to learn about the issues of desegregation busing plans in the U.S. and the influence of various adults, and government decisions, in multiracial childhoods." —The Horn Book