Leaving Isn't the Hardest Thing: Essays (Paperback)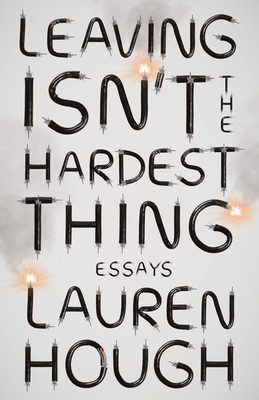 $16.95

Not In Store - Available to special order for pickup or ship. For even speediest shipping we suggest our Bookshop.org page!
Description
---
A NEW YORK TIMES BESTSELLER • "A memoir in essays about so many things—growing up in an abusive cult, coming of age as a lesbian in the military, forced out by homophobia, living on the margins as a working class woman and what it's like to grow into the person you are meant to be. Hough's writing will break your heart." —Roxane Gay, author of Bad Feminist

Searing and extremely personal essays, shot through with the darkest elements America can manifest, while discovering light and humor in unexpected corners.

As an adult, Lauren Hough has had many identities: an airman in the U.S. Air Force, a cable guy, a bouncer at a gay club. As a child, however, she had none. Growing up as a member of the infamous cult The Children of God, Hough had her own self robbed from her. The cult took her all over the globe--to Germany, Japan, Texas, Chile—but it wasn't until she finally left for good that Lauren understood she could have a life beyond "The Family."

Along the way, she's loaded up her car and started over, trading one life for the next. She's taken pilgrimages to the sights of her youth, been kept in solitary confinement, dated a lot of women, dabbled in drugs, and eventually found herself as what she always wanted to be: a writer. Here, as she sweeps through the underbelly of America—relying on friends, family, and strangers alike—she begins to excavate a new identity even as her past continues to trail her and color her world, relationships, and perceptions of self.
 
At once razor-sharp, profoundly brave, and often very, very funny, the essays in Leaving Isn't the Hardest Thing interrogate our notions of ecstasy, queerness, and what it means to live freely. Each piece is a reckoning: of survival, identity, and how to reclaim one's past when carving out a future.

A VINTAGE ORIGINAL
About the Author
---
LAUREN HOUGH was born in Germany and raised in seven countries and West Texas. She's been an airman in the U.S. Air Force, a green-aproned barista, a bartender, a livery driver, and, for a time, a cable guy. Her work has appeared in Granta, The Wrath-Bearing Tree, The Guardian, and HuffPost. She lives in Austin.
Praise For…
---
ONE OF THE BEST BOOKS OF THE YEAR: NPR, The Philadelphia Inquirer

"Stark and riveting . . . searingly honest and often painfully funny. . . . Hough's conversational prose reads like the voice of a blues singer, taking breaks between songs to narrate her heartbreak in verse, cajoling her audience to laugh to keep from crying."
—Leah Mirakhor, The New York Times Book Review

"Any appraisal of Lauren Hough that attempts to match the author's own coruscating honesty in her debut memoir-in-essays can only conclude that she is the sort of hard-bitten hero who has no expletives left to give . . . [Leaving Isn't the Hardest Thing's] sometimes shocking circumstances are related using a potent literary style that combines mordant humor and helpless indignation with ferocious intellect . . . [Hough's] salvation was the discovery of an inimitable voice — her own, speaking truths about human society that are hard to hear but not, sadly, to believe."
—Melissa Holbrook Pierson, The Washington Post

"Revealing and honest . . . [Hough] tells it like it is, and it's heartbreaking . . . Hough's book isn't really a cult memoir — it's about so much more than that (and it's also quite funny, although you'll have to take my word on that because most of the funny bits include expletives I can't quote here) . . . [Hough] makes the ties between her own upbringing and the coltishness of American ideology explicit, but also opens up room for hope via small acts of resistance."
—Ilana Masad, NPR

"Lauren Hough's extraordinary essay collection Leaving Isn't the Hardest Thing is as powerful as it is poignant. So many moments in this exceptionally crafted essays brought me to tears and before long I would find myself laughing as Hough wielded her razor sharp wit. This is a memoir in essays about so many things—growing up in an abusive cult, coming of age as a lesbian in the military, forced out by homophobia, living on the margins as a working class woman and what it's like to grow into the person you are meant to be. Hough's writing will break your heart. The ways she lays herself bare will leave you marveling at the strength it takes to reveal such delicate vulnerabilities. And when you come to the breathtaking end, you will know what it means to be entrusted with the beautifully messy truth of a person's life. What an overwhelming, unforgettable offering Hough has made. This is one of those rare books that will instantly become part of the literary canon and the world of letters will be better for it."
—Roxane Gay, author of Difficult Women

"Lauren Hough's Leaving Isn't the Hardest Thing is so brilliant, so humane and pissed off and hysterically funny and thought-provoking, and so beautifully written it's hard to describe except to say that it's a book that is going to mean a lot to a lot of people, and it might cause some fights, and you better read it so you can have the pleasure of reading it and the pleasure of talking about it with everyone. She is the kind of extraordinary writer who could make anything interesting; that these essays are about her own astonishing life, written with a clear eye and a sense of humor so quick and black it hurts, and a kind of ruthlessness for herself and others, means it's like no other book anywhere. I loved every sentence. " 
—Elizabeth McCracken, author of Bowlaway

"Lauren Hough is the best new voice I've read in years: fiercely honest, funny, brazen, and unrepentant. Best of all, the propulsive storytelling of Leaving Isn't the Hardest Thing is anchored by an unexpected tenderness and vulnerability that will get you by the throat every damn time. Like a petulant cross between David Sedaris and Mary Karr, Hough is the genuine article. Leaving might not be the hardest thing, but leaving this vibrant, heart-wrenching memoir behind is damn near impossible."
—Heather Havrilesky, Ask Polly columnist and author of What If This Were Enough?

"This is a terrific book by a woman who has had an uncommonly challenging life. Like nothing I have ever read."
—Jon Krakauer, author of Missoula and Into the Wild, via Instagram

"Leaving Isn't the Hardest Thing truly blew me away. It's like if Maid by Stephanie Land and Educated by Tara Westover had an equally talented and astute baby that started spitting f-bombs straight out of the womb. Highly recommended!"
—Sarah Knight, author of F*ck No!, via Instagram

"She's been in the military and worked as a bouncer and a 'cable guy' — the essay about that job went viral — and now Hough has written a memoir-in-essays about childhood in a cult, an adulthood of seeking, and coming to terms with her desire to be a writer."
—The Boston Globe, "Summer Reading 2021"

"Leaving Isn't the Hardest Thing is a captivating, globetrotting memoir-in-essays that touches on themes of queerness, identity, and survival in the face of chaos."
—Bustle, "The Best New Books to Read This April"

"Oh, does Lauren Hough have a story to tell . . . These essays are funny, profane and deceptively loose, as if Hough is talking to you late at night in a quiet bar. But they're also well crafted and make unexpected connections among Hough's disparate experiences, her search for identity and the larger culture. Most of all, Hough's writing is about voice, and her distinctive style is what carries the reader through. By the collection's end, you feel you know her, and you know she's finding her own way through writing. Hough is a writer to watch."
—Sarah McCraw Crow, BookPage

"A thought-provoking and intimate collection of essays chronicling the author's journey of self-discovery. From growing up in The Children of God cult to joining the military and working as a bouncer at a gay club, Hough approaches her fascinating life with humor and wisdom as she traces the many twists and turns of her story so far."
—PopSugar, "The 25 Best Books of April Will Take You Around the World (and Beyond)"

"Hough bravely and compellingly shares how our search for identity can be searingly awful, wickedly funny, and totally worth it."
—Real Simple, "The Best New Books to Read in 2021 (So Far)"
 
"This devastatingly candid and insightful collection of essays, allows the reader into Hough's world of growing up in a cult, coming out as queer in the military and exploring identity and notions of self at once humbling and emancipating."
—Ms. Magazine, "April 2021 Reads for the Rest of Us"
 
"From her experiences as a queer woman in the military to working as a bouncer, and more, there's never a dull moment in this riveting essay collection."
—Reader's Digest, "The 21 Best LGBTQ+ Books to Read Right Now"
 
"Moving . . . Hough draws a frank and funny account of her extraordinary life in this collection of essays, which revolve around her journey and her struggles to thrive instead of merely survive."
—Kate Lewis, Military Families Magazine

"Armed with a biting wit, a sharp eye for detail, and a laundry list of grievances, Hough unloads on a life's worth of absurd, sometimes horrible experiences . . . Leaving Isn't the Hardest Thing offers a glimpse of another America and lets you try to reconcile it with the one you know."
—The Philadelphia Inquirer

"Searingly powerful . . . Even as she lays bare some of her most intimate memories, Hough's sharp humor and unflinching honesty shines through, further highlighting her affecting story of resilience."
—Book Riot, "6 Stunning LGBTQ+ Books by Debut Authors to Read in 2021"

"Powerful . . . Hough's direct, no bullshit manner will have you laughing and nodding your head in agreement. If you are a fan of memoir and books about moving through life overcoming any obstacle in your way or, if, like me, you love reading about strong queer people — then this book is for you!"
—Christina Pascucci-Ciampa, Boston Magazine

"Staggering slices of autobiography . . . Though Hough has lived many lives—an airman, a cult survivor, a bartender—her brand of deadpan candidness is singular."
—Oprah Daily, "42 LGBTQ Books That Will Change the Literary Landscape This Spring"

"Folks have been gushing about Lauren Hough's memoir-in-essays for what feels like years now thanks to the time-warp of 2020, and I can't wait to get my hands on a copy."
—Eliza Smith, "Lit Hub's Most Anticipated Books of 2021"

"Lauren Hough is one hell of a writer . . . These alternatingly heartbreaking and hilarious tales stand strong on their own, but as a unit, they form a multi-faceted memoir-in-stories that is a true delight . . . Weird and genuine and idiosyncratic, [Leaving Isn't the Hardest Thing is] a quality reading experience of the finest kind. If you are interested in a unique and uniquely human read, this collection is for you."
—The Maine Edge

"For readers who have known hardships, discrimination, moments of skull-crushing despair, [Leaving Isn't the Hardest Thing] will feel like coming home."
—Julie Poole, The Texas Observer

"[Leaving Isn't the Hardest Thing] is a killer debut, as riveting for its content as it is for its captivating style."
—BookPage, "2021 preview: Most anticipated nonfiction"

"These essays mine [Hough's] eclectic, fascinating life and her efforts to create her own identity. Plus, she's a fabulous writer."
—Deborah Dundas, The Toronto Star

"[Hough's] writing is candid and harrowing . . . A page-turning account of belonging and not belonging, and what it means to start over."
—Library Journal, starred

"An edgy and unapologetic memoir in essays."
—Kirkus

"This moving account of resilience and hard-earned agency brims with a fresh originality."
—Publishers Weekly