Thornwood (Sisters Ever After #1) (Hardcover)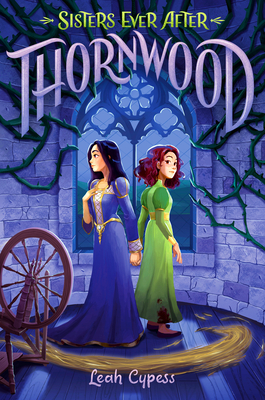 Other Books in Series
This is book number 1 in the Sisters Ever After series.
Description
---
The first book in the Sisters Ever After series! Sleeping Beauty's younger sister has always lived in her shadow—until now. Perfect for anyone who loves fairy tale retellings about sisters and princesses!

For years, Briony has lived in the shadow of her beautiful older sister, Rosalin, and the curse that has haunted her from birth—that on the day of her sixteenth birthday she would prick her finger on a spindle and cause everyone in the castle to fall into a 100-year sleep. When the day the curse is set to fall over the kingdom finally arrives, nothing—not even Briony—can stop its evil magic.

You know the story.

But here's something you don't know. When Briony finally wakes up, it's up to her to find out what's really going on, and to save her family and friends from the murderous Thornwood. But who is going to listen to her? This is a story of sisterhood, of friendship, and of the ability of even little sisters to forge their own destiny.
About the Author
---
Leah Cypess is the author of Thornwood, Glass Slippers, and The Piper's Promise, the first three books in the Sisters Ever After series. She lives in the kingdom of Silver Spring, Maryland, with her family.

Visit her at www.leahcypess.com and follower her on Twitter @LeahCypess
Praise For…
---
★ "The heart of the story lies in the utterly authentic relationship between the sisters, who squabble, tease, and hurt each other—and love one another with a fierceness that absolutely demands a happily-ever-after. Effervescent, thrilling, and practically perfect in every way." —Kirkus, starred review

★ "This retelling adds an original twist to a beloved classic and gives a younger sister a chance to earn a little of the spotlight. A fun, compelling story…recommended for younger siblings, fans of princess stories, and fantasy lovers." —SLJ, starred review

"A fantastically dark and twisty Sleeping Beauty retelling, full of secrets, danger, fairies who are truly scary, and a complicated sisterly relationship that I adored." —Stephanie Burgis, author of Kat, Incorrigible

"A compelling, delightful, topsy-turvy Sleeping Beauty retelling. Princess Briony is not one to wait for wake-up kisses, she'd rather head straight out into an adventure. Such a fun read!" —Sarah Prineas, author of The Magic Thief and Winterling

"Incorporating surprising twists and subverting tropes to emphasize sibling bonds over romance, Cypess creates a fun tale with a strong heroine..." —Publishers Weekly

"In this funny, compelling retelling of the classic fairytale, readers will enjoy untangling the mystery even while they explore ideas about how complicated sister relationships can be." —The Children's Book Review