Things We Lost to the Water: A novel (Hardcover)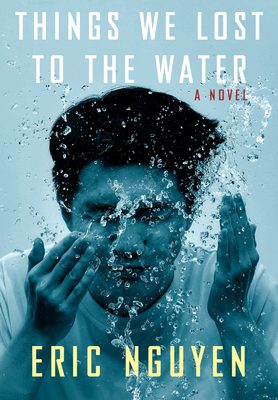 $26.95

Not In Store - Available to special order for pickup or ship. For even speediest shipping we suggest our Bookshop.org page!
Staff Reviews
---
Certain books, like Things We Lost to the Water, make me wish I was a writer so I could write a review worthy of the author's prose. Huong and her two young sons, Tuan and Binh, leave Vietnam and immigrate to America in 1979. The novel follows this family as they settle into life in New Orleans, each on their own very different paths, yet all haunted by the shadow of their absent father, Huong's husband. Spanning three decades, Things We Lost to the Water is a powerful story of love, survival, identity, family, the trauma of war, and the fundamental power of water to both nourish and destroy. Nguyen's writing is utterly captivating -- one of the best debuts of the year! -- Christine
— From
The Loyalty 100: FICTION
Description
---
A captivating novel about an immigrant Vietnamese family who settles in New Orleans and struggles to remain connected to one another as their lives are inextricably reshaped. This stunning debut is "vast in scale and ambition, while luscious and inviting … in its intimacy" (The New York Times Book Review).

When Huong arrives in New Orleans with her two young sons, she is jobless, homeless, and worried about her husband, Cong, who remains in Vietnam. As she and her boys begin to settle in to life in America, she continues to send letters and tapes back to Cong, hopeful that they will be reunited and her children will grow up with a father.

But with time, Huong realizes she will never see her husband again. While she attempts to come to terms with this loss, her sons, Tuan and Binh, grow up in their absent father's shadow, haunted by a man and a country trapped in their memories and imaginations. As they push forward, the three adapt to life in America in different ways: Huong gets involved with a Vietnamese car salesman who is also new in town; Tuan tries to connect with his heritage by joining a local Vietnamese gang; and Binh, now going by Ben, embraces his adopted homeland and his burgeoning sexuality. Their search for identity--as individuals and as a family--threatens to tear them apart, un­til disaster strikes the city they now call home and they are suddenly forced to find a new way to come together and honor the ties that bind them.
About the Author
---
ERIC NGUYEN earned an MFA in Creative Writing from McNeese State University in Louisiana. He has been awarded fellowships from Lambda Literary, Voices of Our Nation Arts (VONA), and the Tin House Writers Workshop. He is the editor in chief of diaCRITICS.org. He lives in Washington, DC. Things We Lost to the Water is his first novel.
Praise For…
---
One of President Obama's Favorite Books of the Year • Winner of the Crook's Corner Book Prize for best debut novel set in the American South • Longlisted for the Aspen Words Literary Prize • A Christian Science Monitor Best Book of the Year • An Atlanta Journal Constitution Top 10 Southern Book of the Year • A Chicago Public Library Best Book of the Year • Named one of the "Fifteen Books to Watch for" by The New York Times

"Nguyen's narrative strikes a very elusive balance: vast in scale and ambition, while luscious and inviting — enchanting, really — in its intimacy."
—Bryan Washington, The New York Times Book Review

"Eric Nguyen's masterful debut novel Things We Lost to the Water is a deeply engaging, heart-rending look at a family of Vietnamese refugees struggling to survive and how the choices they make as individuals have ripple effects on each other."
—Suzanne Van Atten, Atlanta Journal-Constitution

"Things We Lost to the Water introduces an exquisite new voice in author Eric Nguyen; his debut novel is a luminous, balletic portrayal of an immigrant Vietnamese family in the US . . . Nguyen navigates their multiple perspectives with dexterity and emotional clarity, aching but never maudlin. I loved every page."
—Arianna Rebolini, BuzzFeed

"Powerfully written . . . This is a compelling and poignant debut novel . . . Achingly beautiful . . . A highly recommended read!"
—Helen Vernier, San Francisco Book Review
 
"Nguyen traces the family's struggles alongside fellow refugees, complicated friendships, dangerous street gangs and difficult first loves, but the story is more than a by-the-book bildungsroman. By shifting points of view throughout the novel, Nguyen . . . weaves the everyday challenges of growing up with the unique pressures of overcoming the traumas of war."
—Christina Leo, inRegister Magazine
 
"Things We Lost to the Water, the first novel from Eric Nguyen, is exactly the kind of rare treasure that readers are going to feel lucky to have uncovered."
—Steven Whitten, The Anniston Star
 
"One book to take special note of this month: Things We Lost to the Water,  Eric Nguyen's debut novel. Nguyen's story spans three decades and chronicles the lives of a Vietnamese refugee family who flee to the U.S. Things We Lost to the Water is a lustrous portrait of first and second-generation immigrant life in America — full of joy, sorrow, secrets, and deceits — and showcases one family's desire to survive in life and with each other."
—Jordan Snow, Apartment Therapy

"I was captivated. The writing is absolutely gorgeous . . . The voice is strong and this is a powerful novel . . . Well worth a read. Really enjoyed."
—Roxane Gay, via Goodreads

"This is an elemental book, of water, for sure, but also of other elements of life, including love and loss. Vietnamese people know all about these elements, coming from a country whose entire length is bordered by a sea, and from a history saturated with loss. Love is one element that has enabled their survival, but sometimes at a cost. Eric Nguyen's powerful novel ripples and gleams with the unpredictable flow and surge of love, which, like water, can drown us or sustain us. From a war to a hurricane, from an ocean to a flood, Things We Lost to the Water proves itself to be a novel that sustains us." 
—Viet Thanh Nguyen, Pulitzer Prize-winning author of The Sympathizer

"Exquisitely well-written, Things We Lost to the Water is a tender, haunting story of loss, love, family and survival. A moving and powerful debut."
—Charles Yu, National Book Award-winning author of Interior Chinatown

"Nguyen's Things We Lost to the Water is a novel full of tenderness and courage. The family at its center hums with love and strength, and their journey to and within New Orleans brings a fresh perspective to that most iconic city. Nguyen will broaden the reader's understanding of migration, perseverance, and what it means to be American. This is exactly the sort of novel we need right now."
—Kawai Strong Washburn, author of Sharks in the Time of Saviors
 
What a book! Eric Nguyen has written one of the best debut novels in years. In precise, exquisite sentences, Nguyen details the emotional lives of three family members over decades of struggle, survival, joy. Things We Lost to the Water is a masterpiece, an arrival, an expression of love, from a beautiful and necessary new voice. 
—Matthew Salesses, author of The Hundred-Year Flood

"A devastatingly beautiful debut novel of secrets, deceits, and survivals. An extraordinary tale of a mother and her two sons, torn apart by the storms of Vietnam, to be tested again by the hurricanes of New Orleans. The end has me weeping from joy, sorrow and hope. Eric Nguyen's talent radiates via his urgent prose and his ability to sketch the fine line between loyalty and betrayal, between what brings us together and what breaks us apart. Things We Lost to the Water is a powerful, stunning, and necessary read!"
—Nguyễn Phan Quế Mai, author of The Mountains Sing

In Things We Lost to the Water, Eric Nguyen not only uses water to great effect but the prose itself feels like water: clear, powerful, and life-giving. While reading we believe that being loved and being flawed are not incompatible, nor belonging and being estranged. Nguyen helps us understand that we can all float if we let go of having to swim the same way to the same rhythm—we will find our own level in our own time. This is a beautiful book!
—Nicola Griffith, author of Hild

"Moving . . . Deft."
—May-lee Chai, Minneapolis Star Tribune

"While the story arc might sound familiar—other-side-of-the-world refugees who endure challenging lives in the U.S.—Nguyen's gentle precision nevertheless produces an extraordinary debut with undeniable resonance."
—Terry Hong, Booklist (starred)

"Debut author Nguyen movingly portrays the way adopted homes can become as cherished and familiar as ancestral ones . . . but also the truth that new loves can never quite heal old wounds . . . An engrossing, prismatic portrait of first- and second-generation Vietnamese American life."
—Kirkus Reviews

"Nguyen's captivating debut spans three decades to chronicle the lives of a Vietnamese refugee family . . . Nguyen keeps a keen eye on their struggles and triumphs, crafting an expansive portrayal of New Orleans's Vietnamese community under the ever-present threat of flooding, and the novel builds to a haunting conclusion during Hurricane Katrina. Readers will find this gripping and illuminating."
—Publishers Weekly