Bird Milk & Mosquito Bones: A Memoir (Hardcover)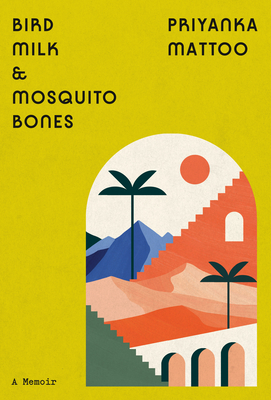 $29.00

Coming Soon - Available for Pre-Order Now
Description
---
From a wry, insightful, and very funny new voice, here is one woman's peripatetic search for home, from Kashmir to England to Saudi Arabia to Michigan to Rome and, finally, to Los Angeles.

Priyanka Mattoo was born into a wooden house in the Himalayas, as were most of her ancestors. In 1989, however, mounting violence in the region forced Mattoo's community to flee. The home into which her family poured their dreams was reduced to a pile of rubble.

Mattoo never moved back to her beloved Kashmir—because it no longer existed. She and her family just kept packing and unpacking and moving on. In forty years, Mattoo accumulated thirty-two different addresses, and she chronicles her nomadic existence with wit, wisdom, and an inimitable eye for light within the darkest moments. She takes us from her grandparents' sprawling home in Srinagar, where her boisterous aunties raced through the halls; to Saudi Arabia, where friendships were gained and lost behind the sandstone walls of a foreigners' compound. We witness her courtship with a nice Jewish boy, now her husband, and her efforts to replicate her mother's Rogan Josh recipe via Zoom. And we are with her as she settles into her unlikely new homeland, Los Angeles, where she sets off on what is perhaps her most meaningful journey, that of becoming a writer.

Through these astonishingly poignant and often laugh-out-loud stories, Mattoo has given us an open-hearted, frank, revealing glimpse into a journey of almost constant motion, as well as a journey of self-discovery.
About the Author
---
PRIYANKA MATTOO is a writer, filmmaker, former talent agent, and a co-founder of Earios, a women-led podcast network. She is a contributor to The New York Times and The New Yorker, and a recipient of a MacDowell Fellow­ship. Mattoo holds degrees in Italian and law from the University of Michigan and currently lives in Los Angeles with her husband and kids.
Praise For…
---
"The magic of Bird Milk & Mosquito Bones is that it takes us all over the world but always feels like it could be happening right next door. Priyanka Mattoo's writing is steady and true and warm but also exquisitely insightful and precise. Her family is now our family. Her stories are a part of us. This book is an absolute treasure."
—Jami Attenberg, author of I Came All This Way to Meet You

"Priyanka Mattoo has recreated the beloved, intoxicating Kashmir of her childhood in this beautiful memoir, and in doing so, renders the place immortal. I would follow Mattoo to the ends of the earth, because she would know what to eat there, and how to make a friend, and then sit me down and tell me a story."
—Emma Straub, author of This Time Tomorrow