Village in the Dark (Hardcover)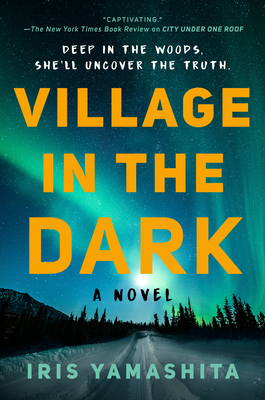 $28.00

Coming Soon - Available for Pre-Order Now
Description
---
Detective Cara Kennedy thought she'd lost her husband and son in an accident, but harrowing evidence has emerged that points to murder--and she will stop at nothing to find the truth in this riveting mystery from the author of City Under One Roof.

On a frigid February day, Anchorage Detective Cara Kennedy stands by the graves of her husband and son, watching as their caskets are raised from the earth. It feels sacrilegious, but she has no choice. Aaron and Dylan disappeared on a hike a year ago, their bones eventually found and buried. But shocking clues have emerged that foul play was involved, potentially connecting them to a string of other deaths and disappearances. 
 
Somehow tied to the mystery is Mia Upash, who grew up in an isolated village called Unity, a community of women and children in hiding from abusive men. Mia never imagined the trouble she would find herself in when she left home to live in Man's World. Although she remains haunted by the tragedy of what happened to the man and the boy in the woods, she has her own reasons for keeping quiet.
 
Aided by police officer Joe Barkowski and other residents of Point Mettier, Cara's investigation will lead them on a dangerous path that puts their lives and the lives of everyone around them in mortal jeopardy.
About the Author
---
Iris Yamashita is an Academy Award–nominated screenwriter for the movie Letters from Iwo Jima. She has been working in Hollywood for fifteen years developing material for both film and streaming, has taught screenwriting at UCLA, and is an advocate of women and diversity in the entertainment industry. She has also been a judge and mentor for various film and writing programs, and lives in California.
Praise For…
---
Praise for Village in the Dark

"Riveting. . .[A] chilling murder mystery. . .with memorable characters and a stunning conclusion.  Readers will be glued to the page." -- Publishers Weekly

"Ingenious plotting filled with corpses, shootouts, and plenty of clever misleads." -- Booklist

"These are fascinating characters and circumstances, and the story that brings them together and sees them struggling against inner demons, and very real danger, is gripping." -- First Clue

Praise for City Under One Roof

"Captivating." -- New York Times Book Review

"Yamashita deliciously exploits the eerie mystique of Whittier [and] conjures up fresh plot twists galore."—Washington Post

"City Under One Roof is a gripping, unsettling and oppressive thriller that welcomes a wonderful new talent to the genre. Prepare to be quickly immersed in this dark and moody murder mystery."—Mary Kubica, New York Times bestselling author of Local Woman Missing
 
"Northern Exposure meets Dexter in this clever thriller in which an isolated community is rocked by a twisted murder, increasingly dark secrets and the terrifying knowledge that the people they always thought they knew are now the ones they should fear the most."—Lisa Gardner, #1 New York Times bestselling author of One Step Too Far
 
"Electric and fast-paced, this debut thriller is a testament to Yamashita's skills as a storyteller. There's no escape from the isolated Alaska setting for either the murder investigator or the reader . . .I couldn't come out until I read the final page."—Naomi Hirahara, Edgar-winning author of Clark and Division
 
"Iris Yamashita delivers! Compelling characters, clever plot twists, and a story that will chill you to your bones. . . . [A] must-read thriller."–Laura Griffin, New York Times bestselling author of The Texas Murder Files

"[W]onderfully claustrophobic and atmospheric."—Ann Cleeves, New York Times bestselling author of The Long Call and Vera Stanhope novels

"Yamashita blasts into the world of crime fiction by doing something spectacular: introducing us to a totally unique location and sub-culture. A compulsive page-turner."—C.J. Box, #1 New York Times bestselling author of Shadows Reel

"[An] atmospherically charged debut…that leads to a spellbinding, unforgettable climax and an unpredictable resolution….This distinctively original perspective on a 'community of stragglers, oddballs, and recluses' heralds the arrival of a major new talent."—Publishers Weekly (starred review)

"The claustrophobic atmosphere in this unique one-building town, isolated by tunnels, weather, and secrets, builds a memorable debut crime novel."—Library Journal (starred review)

"An urban Alaska detective unlocks menacing secrets in a frigid, sinister small town. . . .[R]iddles large and small add fuel to the mystery on the way to the final solution. An offbeat, sharply written thriller." – Kirkus Reviews (starred review)

"Yamashita knows how to keep her pages turning with plenty of close-up-ready characters…[her] plotting proves addictive." -- Booklist

"Yamashita makes the most of this claustrophobic environment, making 'City Under One Roof' the perfect locked-room mystery… a rousing debut." --South Florida Sun-Sentinel

"Clever and claustrophobic, dark and atmospheric, the well-crafted, expertly executed City Under One Roof is crime fiction at its best. It's a perfect winter read, guaranteed to hold your attention rapt."  --Mystery Scene Magazine