The Great Reclamation: A Novel (Hardcover)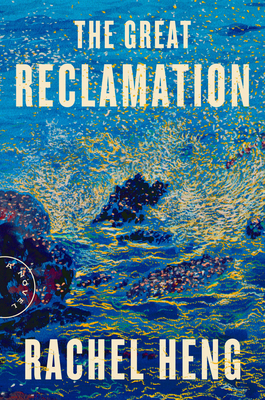 $28.00

Not In Store - Available to special order for pickup or ship. For even speediest shipping we suggest our Bookshop.org page!
April 2023 Indie Next List
---
"An epic historical fiction in an area most Americans know little about. Ah Boon and Siok Mei's paths diverge between fighting oppression and moving Singapore into the 'modern' world. So many relevant issues in this thought-provoking read."
— Audrey Huang, Belmont Books, Belmont, MA
Description
---
WINNER OF THE NEW AMERICAN VOICES AWARD

LONGLISTED FOR THE ANDREW CARNEGIE MEDAL FOR EXCELLENCE AND THE JOYCE CAROL OATES PRIZE

NAMED A BEST BOOK OF THE YEAR BY TIME, KIRKUS AND BOOKPAGE!

"Stunning…epic…impressive…It is a pleasure to simply live alongside these characters."—The New York Times

"A deep and powerful love story."—NBC The Today Show

"A beautifully written novel. I loved so much in this book: the richly imagined setting, the complicated love story, and the heartbreaking way history can tear apart a family." —Ann Napolitano, New York Times bestselling author of Hello Beautiful

Set against a changing Singapore, a sweeping novel about one boy's unique gifts and the childhood love that will complicate the fate of his community and country

Ah Boon is born into a fishing village amid the heat and beauty of twentieth-century coastal Singapore in the waning years of British rule. He is a gentle boy who is not much interested in fishing, preferring to spend his days playing with the neighbor girl, Siok Mei. But when he discovers he has the unique ability to locate bountiful, movable islands that no one else can find, he feels a new sense of obligation and possibility—something to offer the community and impress the spirited girl he has come to love.
 
By the time they are teens, Ah Boon and Siok Mei are caught in the tragic sweep of history: the Japanese army invades, the resistance rises, grief intrudes, and the future of the fishing village is in jeopardy. As the nation hurtles toward rebirth, the two friends, newly empowered, must decide who they want to be, and what they are willing to give up.

An aching love story and powerful coming-of-age that reckons with the legacy of British colonialism, the World War II Japanese occupation, and the pursuit of modernity, The Great Reclamation confronts the wounds of progress, the sacrifices of love, and the difficulty of defining home when nature and nation collide, literally shifting the land beneath people's feet.
About the Author
---
Born and raised in Singapore, Rachel Heng is the author of the novel Suicide Club, translated into ten languages. Her short fiction has appeared in The New Yorker, Glimmer Train, McSweeney's, and elsewhere. She received her MFA from the Michener Center for Writers and has received grants and fellowships from the National Endowment for the Arts, Sewanee Writers' Conference, and the National Arts Council of Singapore, among others. She is currently an assistant professor of English at Wesleyan University.
Praise For…
---
Praise for The Great Reclamation:

"Epic for the reasons life itself is epic. The Great Reclamation asks the reader to confront the big things, like love and identity and loss, but it allows us to revel in the little things, too, from the buttery taste of steamed fish to the smooth surface of a rubber seed. It is a pleasure to simply live alongside these characters."—The New York Times

"[The Great Reclamation] illustrates the unsteadiness of both the physical environment and personal and political allegiances during a time of overwhelming historical change."—The New Yorker

"A love story about both heart and home." —Time

"Precisely and elegantly rendered."—Vanity Fair
 
"Stupendous… The Great Reclamation is a masterful work of historical fiction that makes the larger sweep of history intimate."—Town & Country

"Original and moving...It was not that long ago, in 2018, that Singapore appeared as a sort of flawless Wakanda-like place in the movie 'Crazy Rich Asians.' In The Great Reclamation, Singapore is given the complexity it deserves." —The Boston Globe

"An exquisitely written, heartbreakingly beautiful tale of love and war." —Ms. Magazine

"Defies easy genre categorization, with elements of historical fiction, magical realism, and a sweeping, captivating love story at its heart." —Harper's Bazaar

"Heng wrings a great deal of emotion from Boon's experiences and relationships. . .skillfully capturing the inner psyche of a Singaporean everyman caught between two immovable worlds. This epic undertaking is not to be missed." –Publishers Weekly, STARRED review

"[A] story scaffolded against a sweeping backdrop—the politics of colonialism, World War II in Southeast Asia, ecology, the inexorable forces of development and modernization—with very little of that ever mentioned, instead focusing on the experiences of the characters in language of perfect simplicity. . .Like a drop of rain that holds the reflection of the world, crystalline and beautiful."—Kirkus, STARRED review

"Heng captures the individual and collective challenges of being human, and explores what a modern country might become after the disruption and displacement of World War II. Every bit of it is a delight."—BookPage, STARRED review

"Rachel Heng's moving, mighty novel grapples with the cultural unmooring that accompanies personal and collective change."—Christian Science Monitor

"A sprawling, scrupulously researched marvel. At once a coming-of-age love story and a tale of political turmoil. . . Lush and evocative, Heng's sentences render every setting and each scene with vivid intensity. . .nearly impossible to put down."—Electric Literature

"A sweeping story with hints of magical realism."—Asian Review of Books

"The Great Reclamation is many things. It is an epic of nation-building. It is a historical fantasy. It might be the next great Singapore novel. . .Heng grounds the story in Singapore's landscape with a rich sense of place. She writes of its coastlines, mangroves and waters with a lucid beauty shot through with melancholy."—The Straits Times (Singapore)

" [The Great Reclamation] is full of vivid, delicious writing, and the story is addictive, moving across time at a startlingly rapid clip of progress— just as it really happened in Singapore. The plot and pacing are cinematic, and with a full cast of fleshed-out characters."—The Japan Times

"I loved this book, its layering of Singapore's history with a very complicated love story... what a marvelous novel."—Megha Majumdar, New York Times bestselling author of A Burning

"A gorgeous novel about love, fate, free-will, and how, in wartime, one person's choices can have long-lasting consequences. The Great Reclamation is as sweeping as it is specific. Ah Boon's story will stay with me for a long time." –Lara Prescott, New York Times bestselling author of The Secrets We Kept

"Gorgeously written and compulsively readable, The Great Reclamation is both an intimate love story and an epic historical tale that is sure to be read for years to come. Heng's writing is full of rich, sensuous detail—mysteriously appearing islands, the smell of rain on hot monsoon evenings, the fierce burn of a rubber seed when pressed against the skin—that mesmerizes on every page. She deals with difficult questions—who, and what, are we willing to sacrifice in the name of progress?—while never losing sight of the complex humanity of her characters."—Julie Otsuka, author of The Buddha in the Attic
 
"The Great Reclamation is an extraordinary achievement - an epic love story set in a world at war within and without itself.  Every page pulses with mud and magic. I loved it." —Miranda Cowley Heller, #1 New York Times bestselling author of The Paper Palace
 
"Through the story of one remarkable boy, Rachel Heng's breathtaking epic of 20th century Singapore shows us the human and environmental costs of a nation's quest for freedom, prosperity, and order. Told with great tenderness and moral clarity, and alive to the beauty and mystery of the natural world as well as the human heart, The Great Reclamation is timeless, timely, and unforgettable." —Jessamine Chan, New York Times bestselling author of The School for Good Mothers
 
"The Great Reclamation is a beautifully written novel. I loved so much in this book: the richly imagined setting, the varied languages and motivations at play in this burgeoning country, the complicated love story between Lee Ah Boon and Siok Mei, and the heartbreaking way history can tear apart a family. I'm grateful to Rachel Heng for writing this gorgeous novel."—Ann Napolitano, New York Times bestselling author of Hello Beautiful

"The Great Reclamation is so beautifully written and perfectly imagined that you follow its characters out to sea, through city streets, into the corners of villages, through every strange quirk of life, until they get under your skin and into your dreams.  How does Rachel Heng write about the imaginary and the historical in a way that they are both equally believable and moving and strange? I don't know how she does, it but this book is a marvel."—Elizabeth McCracken, author of Bowlaway

"The Great Reclamation is a truly wondrous book. In telling the story of one country confronting the forces of change, one community caught between the pain and the promise of transformation, and one young man who must decide whether to live in the past or give it all up for a chance at a different future, Rachel Heng has written one of the most extraordinary novels I have read in some time."—Cristina Henriquez, author of The Book of Unknown Americans

"A monumental epic. A story of an entire nation reckoning with its past combined with a heart-wrenching love story. This one shouldn't be missed. I was spellbound." —Nathan Harris, New York Times bestselling author of The Sweetness of Water

"Arresting and haunting…. Rachel Heng asks us to consider the tensions between homeland and nationhood, and whether progress can be made without sacrifice. This is a powerful, expansive book that made my heart ache. It will stay with me for a long time." —Crystal Hana Kim, author of If You Leave Me