Sex, Lies and Sensibility (Paperback)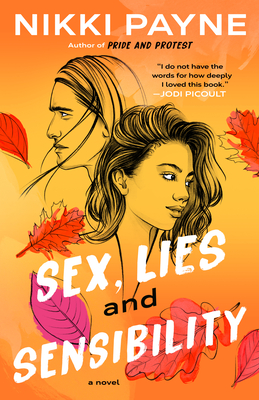 $18.00

Coming Soon - Available for Pre-Order Now
Description
---
"Nikki Payne skillfully spins the tale of a well-known Jane Austen classic and makes it entirely her own. Thoughtful, hilarious, and smolderingly steamy."—Kristina Forest, author of The Partner Plot

Two sisters roll up their sleeves to run a dilapidated inn but must learn to work with the locals in this deliciously spicy novel inspired by Sense and Sensibility.

There's never a good time to learn you are your father's secret child—especially not at the reading of his will. With their father's affairs laid bare and Nora's sensible reputation in tatters due to a viral video scandal, she and her free-spirited sister have nothing left but a rustic inn in the middle of nowhere and each other. What's more, they need to revamp the inn before Labor Day or they lose it all. Nora hasn't even knocked the traveling dust off last season's designer boots when she's confronted with three problems: 

1. She really should have watched more HGTV.
2. She hasn't seen another Black person for miles.
3. A tall, dark stranger has already staked a claim on their property.

Native Abenaki eco-tour guide Ennis "Bear" Freeman has seen hapless tourists come and go. When he spots two pampered city girls at his unofficial headquarters, he expects them to catch a flight out of the inhospitable coastal Maine backwoods within a week's time. But Nora, turns out, is made of sterner stuff. And as she rolls up her sleeves to breathe new life into the inn, she unwittingly reignites a flood of emotions inside of Bear that he had very intentionally suppressed.

Their connection is electric, their desire palpable. But Bear's silence about his mysterious past might turn out to be the one thing that sends Nora packing.
About the Author
---
By day, Nikki Payne is a curious tech anthropologist asking the right questions to deliver better digital services. By night, she dreams of ways to subvert canon literature. She's a member of Smut U, a premium feminist writing collective, and a cat lady with no cats.
Praise For…
---
"I do not have the words for how deeply I loved this book. It's the smartest Austen update I've read in ages, and the relationship between the main characters is utter perfection. I love, love, love Bear and Nora, and so will everyone wise enough to buy this book."—Jodi Picoult, #1 New York Times bestselling author

"Deeply relatable characters and whip-smart dialogue...Nikki Payne delivers Jane Austen for the modern reader."—Julia Quinn, #1 New York Times bestselling author of the Bridgerton novels

"Sex, Lies and Sensibilities is the second time that Nikki absolutely amazes me. Her ability to take in Jane Austen's works, to adapt them for contemporary sensibilities, and—I know, bold statement—to improve on them by doing justice by characters that Jane did dirty is unparalleled. I will read whatever she writes, whenever she writes it, and I will not rest until the entire world is made aware of the absolute magic of a Nikki Payne book. No one writes like her, and I truly feel so blessed that we are contemporaries and I get to enjoy the products of her marvelous mind!"—Ali Hazelwood, #1 New York Times bestselling author of Love, Theoretically

"Sex, Lies and Sensibility reads like the most delicious soap opera! There were parts that had me positively cackling; parts that had me absolutely sweating; and a whole that tugged on my heart as I rooted for these two people who'd put sense and duty above all else to find something passionate and real together. Nikki Payne is a true ARTIST and her medium is tension, hilarity, and whip-smart updates on the classics. The more I know of the world, the more I am convinced that I shall never get tired of Nikki Payne's voice!"—Alicia Thompson, USA Today bestselling author of With Love, from Cold World

"Readers won't have to be Janeites to appreciate Nora and Bear's magnetic connection."—Publishers Weekly, starred review

"With super-sexy scenes, deeply emotional storylines, and strong Black and Indigenous characters, Payne's (Pride and Protest) modern retelling of Jane Austen's Sense and Sensibility will appeal to readers who enjoy multicultural, smart, and highly entertaining contemporary romances."—Library Journal, starred review

"If you were to bottle longing glances, secret kisses, and the existence of soul mates, you'd be able to sip the fine wine that is Sex, Lies and Sensibility. Reading this felt like falling into the story I was always meant to read and I couldn't put it down. Nikki Payne delivers an Austen-inspired love story for this generation, and she delivers it flawlessly. Tl;Dr: this book is phenomenal and belongs on your shelf."—Denise Williams, author of Technically Yours

"In Sex, Lies and Sensibility, Nikki Payne skillfully spins the tale of a well-known Jane Austen classic and makes it entirely her own. Thoughtful, hilarious, and smolderingly steamy, I stayed up late into the night reading Nora and Bear's story, rooting for their well-deserved HEA. I can't wait to read what Nikki Payne writes next!"—Kristina Forest, author of The Neighbor Favor