You Know What You Did: A Novel (Hardcover)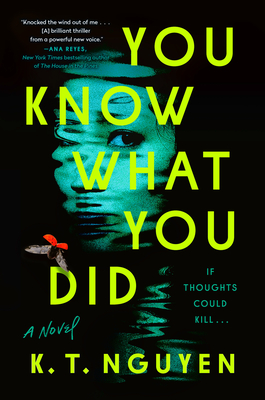 $28.00

Coming Soon - Available for Pre-Order Now
Description
---
In this heart-pounding debut thriller for fans of Lisa Jewell and Celeste Ng, a first-generation Vietnamese American artist must confront nightmares past and present. . . .

Annie "Anh Le" Shaw grew up poor, but seems to have it all now: a dream career, a stunning home, and a devoted husband and daughter. When Annie's mother, a Vietnam War refugee, dies suddenly one night, Annie's carefully curated life begins to unravel. Her obsessive-compulsive disorder, which she thought she'd vanquished years ago, comes roaring back—but this time, the disturbing fixations swirling around in Annie's brain might actually be coming true.

A prominent art patron disappears, and the investigation zeroes in on Annie. Spiraling with self-doubt, she distances herself from her family and friends, only to wake up in a hotel room—naked, next to a lifeless body. The police have more questions, but with her mind increasingly fractured, Annie doesn't have answers. All she knows is this: She will do anything to protect her daughter—even if it means losing herself.
 
With dizzying twists, You Know What You Did is both a harrowing thriller and a heartfelt exploration of the refugee experience, the legacies we leave for our children, and the unbreakable bonds between mothers and daughters.
About the Author
---
K. T. Nguyen is a former magazine editor. Her features have appeared in Glamour, Shape, and Fitness. After graduating from Brown University (just barely), she spent her twenties and thirties hopping from New York City to Taipei, Beijing, Shanghai, and San Francisco. She's now settled just outside Washington, D.C. with her family and their adopted terrier Alice.
Praise For…
---
"This book knocked the wind out of me. On top of its razor sharp twists and visceral scares, You Know What You Did taps into the true horror experienced by so many refugees and war survivors, and the way that trauma lives on through generations. Don't miss this brilliant thriller from a powerful new voice." —Ana Reyes, New York Times bestselling author of The House in the Pines

"You Know What You Did is an exciting, complex thriller that takes the reader on a thoroughly disturbing journey through the mind of a protagonist who may or may not be the villain. At times harrowing and heartfelt, You Know What You Did will keep you on the edge of your seat until the final page." —S.A. Cosby, New York Times bestselling author of Razorblade Tears and All the Sinners Bleed

"K.T. Nguyen's You Know What You Did is a stunning debut, a complex and compelling thriller that grabbed me from the first page and didn't let go until the very end. Nguyen's keen eye for detail and gorgeous prose contrasts with her deeply tormented narrator to set up an escalating tension that elevates this novel far above most domestic thrillers. I loved this book!" —Karen Dionne, #1 internationally bestselling author of The Marsh King's Daughter and The Wicked Sister

"Creepy-crawly and terrifyingly brilliant, You Know What You Did heralds the arrival of the remarkably talented K.T. Nguyen. Intergenerational trauma, mental health issues, and core memories are at the heart of this gripping, raw debut. With expert care, seamlessly structured time jumps, and a propulsive plot, Nguyen has crafted a genius, powerful, emotional thriller I will never forget." —Samantha M. Bailey, USA Today and #1 international bestselling author of A Friend in the Dark

"You Know What You Did is a masterful puzzle begging to be solved. With an unreliable narrator you can't help but root for, plus twists and turns galore, I tore through this captivating debut with my breath held. I can't wait to read whatever K.T. Nguyen writes next." —Stephanie Wrobel, USA Today bestselling author of Darling Rose Gold and This Might Hurt

"A stunning debut that will stay with you. You Know What You Did is not only a twisty psychological thriller, it's a gripping story about the wars we wage from within, the fallacy of the American Dream, and, most of all, the love, dreams, and fears mothers hold for their daughters." —Alex Finlay, author of The Night Shift

"I got totally drawn in by this unusual, mysterious, atmospheric story and its complex protagonist. With themes of identity, guilt, mental illness, and fragmenting reality, you never quite know who or what to believe. Right until the end, I kept changing my mind about how all the intriguing pieces of this disturbing puzzle might resolve. It's definitely worth reading it to find out!" —Helen Cooper, author of The Downstairs Neighbor and The Couple in the Photo