Blood Sisters (Hardcover)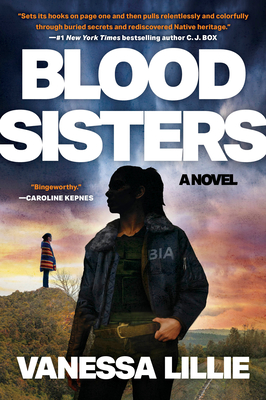 $27.00

On Our Shelves Now - Click to see location, time, and stock details
Staff Reviews
---
Atmospheric Oklahoma noir mystery that will keep you guessing through the end! Sydney left her home in Northeast Oklahoma after a traumatic childhood event and never looked back. Now she's an archaeologist with the Bureau of Indian Affairs, and when a skull is found on the Native land where she grew up at the same time her sister goes missing, Sydney has to face the ghosts of her past to find out what happened.
— Susie
Description
---
A visceral and compelling mystery about a Cherokee archeologist for the Bureau of Indian Affairs who is summoned to rural Oklahoma to investigate the disappearance of two women…one of them her sister.

There are secrets in the land.

As an archeologist for the Bureau of Indian Affairs, Syd Walker spends her days in Rhode Island trying to protect the land's indigenous past, even as she's escaping her own.

While Syd is dedicated to her job, she's haunted by a night of violence she barely escaped in her Oklahoma hometown fifteen years ago. Though she swore she'd never go back, the past comes calling.

When a skull is found near the crime scene of her youth, just as her sister, Emma Lou, vanishes, Syd knows she must return home. She refuses to let her sister's disappearance, or the remains, go ignored—as so often happens in cases of missing Native women.

But not everyone is glad to have Syd home, and she can feel the crosshairs on her. Still, the deeper Syd digs, the more she uncovers about a string of missing indigenous women cases going back decades. To save her sister, she must expose a darkness in the town that no one wants to face—not even Syd.

The truth will be unearthed.
About the Author
---
Vanessa Lillie is an enrolled citizen of the Cherokee Nation of Oklahoma and the author of the bestselling suspense novels Little Voices and For the Best. With fifteen years of marketing and communications experience, Vanessa hosts a weekly Instagram Live event with crime fiction authors and was a columnist for the Providence Journal. She lives on Narragansett land in Rhode Island.
Praise For…
---
"Blood Sisters sets its hooks on page one and then pulls relentlessly and colorfully through buried secrets and rediscovered Native heritage."
— C. J. Box, #1 New York Times bestselling author of Storm Front

"Bingeworthy. A propulsive story of familial fault lines with as much to say about the dark side of people as the potential for redemption."
—Caroline Kepnes, New York Times bestselling author of the You series

"Vanessa Lillie's riveting thriller explores the elusiveness of truth, and the history that binds people together—and to a place—no matter the time or the distance. At once captivating and illuminating, surprising and powerful, Blood Sisters is a story that resonates."
—Megan Miranda, New York Times bestselling author of All the Missing Girls

"Combines pulse-pounding action with Cherokee myth and customs. I loved Syd Walker, a compelling new character who's dealing with her own disturbing family history while trying to unravel the disappearance of several Native women. I hope we'll see more of Syd Walker soon!"
—David Heska Wanbli Weiden, award-winning author of Winter Counts

"[A] tale with all the twisting fury of a tornado. Set on the complex checkerboard of Indian land in northeastern Oklahoma, it delves deeply and dramatically into the issue of missing and murdered Indigenous women. But it also mines the rich territory of family, kinship, love, loyalty, guilt, and regret. Vanessa Lillie is a remarkable and courageous storyteller and an important Native voice. I recommend this book with all my heart and the hope that it will make a difference."
—William Kent Krueger, New York Times bestselling author of This Tender Land

"Vanessa Lillie expertly balances a compassionate look at Native American culture and a comprehensive examination of the treatment by the government and white settlers, never once allowing these issues to override the gripping plot of Blood Sisters."
—South Florida Sun-Sentinel

"Combines Cherokee history and legend with contemporary drug and land problems in a gripping story of missing Indigenous women. Readers looking for LGBTQIA+ and Two-Spirit characters will hope for more about Syd Walker."
—Library Journal (starred)

"Gripping…provides a valuable insider's look at the injustices that continue to be part of daily life for many Native Americans."
—Washington Post

"Blood Sisters is about Syd and Emma Lou, as well as the thousands of missing and murdered Indigenous women whose cases are never solved, if they're investigated at all."
—New York Times

"This suspenseful mystery will not only captivate you, but it may just teach you something about Cherokee history, land rights and the plague of missing and murdered Indigenous women. Including queer and Two-Spirit characters, Blood Sisters is a meaningful and compelling thriller." 
—Ms. Magazine

"Lillie paints the beautiful yet bleak landscape with a fine brush. Readers who enjoy strong voices will be pulled in by the characters, while those who are drawn to setting will feel as if they are in Picher."
—Booklist

"Lillie does an excellent job of balancing a riveting plot with a moving portrait of her troubled lead."
—Publishers Weekly

"Just a few pages in and this novel is roaring with mystery, danger, anguish and regret. Lillie fuels her Native characters with hope, resentment, anger and despair…A crime novel's journey often runs toward escapism, but the best, like Blood Sisters, lead us on a path toward knowledge and discovery."
—Minneapolis Star Tribune

"A dark tale of justice and injustice."
—Denver Post

"Cherokee citizen Vanessa Lillie tackles a variety of threats to Indian people in and out of Indian Country. Blood Sisters is gritty, authentic and full of heart. This is the novel of justice this Cherokee woman wanted to read." 
—Andrea L. Rogers, author of Man Made Monsters

"A critically important and riveting story of sisterhood, love, kinship and the search for justice in a federal system that has long ignored the epidemic of Missing and Murdered Indigenous Women, Girls and Two-Spirit People. Lillie illuminates Native womens' simultaneous erasure and inhuman treatment with sensitivity, ingenuity and passion, powerfully elucidating all the ways that MMIWG2S are not missing by any fault of their own."
—Chelsea T. Hicks, author of A Calm & Normal Heart

"For fans of mysteries about archeologists, missing person cases, and returning home!"
—BookRiot

"...[S]uspenseful, gritty, touching, heartbreaking, and atmospheric."
—Mystery & Suspense Magazine

"Both a story of injustice and land rights issues, Lillie writes a gritty and insightful mystery."
—Montecito Journal

"A compelling story and a riveting, thought-provoking read delving into a number of important issues."
—New York Journal of Books