Other People's Clothes: A Novel (Large Print / Paperback)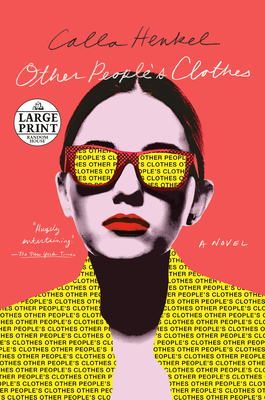 Description
---
A propulsive debut with a wicked sense of humor in which two American ex-pats obsessed with the Amanda Knox trial find themselves at the nexus of murder and celebrity in glittering late-aughts Berlin.


Hoping to escape the pain of the recent murder of her best friend, art student Zoe Beech finds herself studying abroad in the bohemian capital of Europe—Berlin. Rudderless, Zoe relies on the arrangements of fellow exchange student Hailey Mader, who idolizes Warhol and Britney Spears and wants nothing more than to be an art star.

When Hailey stumbles on a posting for a high-ceilinged, pre-war sublet by well-known thriller writer, Beatrice Becks, the girls snap it up. They soon spend their nights twisting through Berlin's club scene and their days hungover. But are they being watched? Convinced that Beatrice intends to use their lives as inspiration for her next novel, Hailey vows to craft main-character-worthy personas. They begin hosting a decadent weekly nightclub in the apartment, finally gaining the notoriety they've been craving. Everyone wants an invitation to "Beatrice's." As the year unravels and events spiral out of control, they begin to wonder whose story they are living—and how will it end?

Other People's Clothes brilliantly illuminates the sometimes dangerous intensity of female friendships, as well as offering an unforgettable window into millennial life and the lengths people will go to in order to eradicate emotional pain.
About the Author
---
CALLA HENKEL was born in 1988 in Minneapolis, MN, USA. A writer, playwright, director and artist, she currently lives and works in Berlin. She has staged plays at Volksbühne Berlin, The Whitney Museum of Art, as well as at New Theater, the experimental theatre space she founded and programmed in Berlin from 2013-2015. Her art writing has been published in periodicals such as Texte zur Kunst, Spike, Mousse, and others. Her artistic work with Max Pitegoff has been exhibited in museums and galleries worldwide. She currently operates a bar, performance space and film studio called TV in Berlin. Other People's Clothes is her debut novel.
Praise For…
---
ONE OF THE MOST ANTICIPATED BOOKS OF THE YEAR: Washington Post, Time, Entertainment Weekly, Bustle, The Millions, Literary Hub, NY Post, PopSugar, Apartment Therapy, Book Riot, E! News

One of Glamour's Best Books of the Year • A GOOP Book Club Pick

"Hugely entertaining."
—New York Times

"Gleefully raunchy."
—Washington Post

"In Henkel's exciting and visceral debut novel, two New York art students spend a year in Berlin, where they get caught up in a swirl of seedy nightclubs and cut-rate booze. Their toxic entanglement is the true star here, but there are plenty of wild revelations to keep a reader turning the pages."
—New York Times Book Review (Editor's Choice)

"Other People's Clothes is a gritty take on toxic female friendships...Expect a slow burn that's deliciously dark."
—Time Magazine

"Calla Henkel's Other People's Clothes is darkly funny, psychologically rich and utterly addictive. I couldn't stop turning the pages as this witty, harrowing tale of twisty female friendships, slippery identity and furtive secrets unfolded. This is a debut you won't want to miss."
—Megan Abbott, author of The Turnout

"What a rush! Reading Other People's Clothes is like being granted entry to the best party on earth, a night to end all nights with Andy Warhol, Donna Tartt, and Graham Greene on the host committee. Calla Henkel's young and beautiful buccaneers of Berlin show us how to turn mere fantasies into rocket fuel, how to rearrange reality into a collage of depravity and dopamine hits. Wh​y hit the sack ​when you can live life to the last drop? This book is fun with a capital F."
—Lauren Mechling, author of How Could She

"Other People's Clothes feels like reading a thriller by your most acerbic friend—the friend you're not sure you trust but who tells the best jokes and who has the best hair. The tingle of acid is sweetened by a loving look at the hungers that run through young women."
—Rowan Hisayo Buchanan, author of Harmless Like You and Starling Days
 
"Full of delicious layers...I felt drunk reading it."
—Emma Jane Unsworth, author of Grown Ups

"Absorbing and electric...Henkel masterfully brings every inch of Hailey and Zoe's world to life with her live-wire prose."
—Kirkus (starred review)

"A propulsive portrait of obsession and paranoia, set against the backdrop of late-aughts Berlin. Pop-culture references abound, none of the characters can be trusted, and twists and turns are both abundant and shocking. Readers who appreciate stories about the dark side of women's friendships, such as Social Creature (2018) by Tara Isabella Burton, will devour Zoe's twisted tale."
—Booklist

"Henkel's engrossing debut stages a cat and mouse game between a novelist and two art students in which art bleeds (literally and profusely) into life and vice versa…Henkel shines with her wry, well-observed portrait of the artist. In the end, this offers an intelligent dissection of the insatiable appetite for dead girl stories."
—Publishers Weekly

"[A] very good plot-driven thriller dressed in a glittery jumpsuit. The story is multilayered, touching on sex, female friendship, queerness, Berlin nightlife, drugs, celebrity culture and art."
—The Guardian (UK)

"Thrilling."
—Cosmopolitan (UK)

"Sharply observed and very funny...As the story unfolds into a coming-of-age murder mystery with a highbrow spin, Calla Henkel cleverly manipulates expectations to build tension until the very end."
—Times Literary Supplement (UK)

 "Fuelled by a creeping sense of unease, this is a wild, energetic gem of a novel that is entirely involving."
—The Daily Mail (UK)

"This darkly glamourous debut novel set in Berlin will mess with your head: Britney Spears. Virginia Woolf. Amanda Knox. Other People's Clothes, the debut novel by Berlin-based American writer and artist Calla Henkel (Sceptre), is spiked with references to women whose mental health and sexual relationships have been a source of public speculation, and who have tried – in various ways – to tell their own stories…Truly original, Other People's Clothes evokes major moments from 21st century pop culture – from Unothordox's fish-out-of-water Berlin setting to the psychological mind games of Gone Girl and Behind Her Eyes…Brutal, glamourous and genuinely unpredictable, it will blow your mind until the very last page."
—The Stylist magazine (UK)

"Other People's Clothes by Calla Henkel is the most fun novel I've read this year. Told at the breathless pace of gossip, full of delicious details as though shared over a bottle of wine with a best friend au fait with both high and low culture…the story of two art students abroad becomes a slowly unravelling thriller, set in the same time period as the Amanda Knox saga and borrowing from its twists and turns. As things spiral out of control, the reader starts to wonder who, exactly, is holding the reigns. I kept reading late into the night to find out, enjoying every moment."
— Laura Waddell, The Scotsman (UK)

"The plot slowly builds to a crescendo touching on matters of friendship, art, celebrities, drugs and sexuality, and ultimately murder—all set against the backdrop of Berlin's wild nightlife. Henkel, an American playwright, director, and artist living in Berlin, provides a peek into the city's art world and its communities of expats."
—Library Journal