The Cherokee Rose: A Novel of Gardens and Ghosts (Paperback)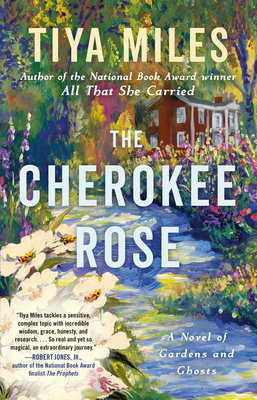 $18.00

On Our Shelves Now - Click to see location, time, and stock details
Description
---
Three women uncover the secrets of a Georgia plantation that embodies the intertwined histories of Indigenous and enslaved Black communities—the fascinating debut novel, inspired by a true story, of the National Book Award-winning and New York Times bestselling author of All That She Carried, now featuring a new introduction and discussion guide.

"The Cherokee Rose is a mic drop—an instant classic. An invitation to listen to the urgent, sweet choruses of past and present."—Honorée Fanonne Jeffers, author of The Love Songs of W.E.B. Du Bois

LAMBDA LITERARY AWARD FINALIST

Conducting research for her weekly history column, Jinx, a free-spirited Muscogee (Creek) historian, travels to Hold House, a Georgia plantation originally owned by Cherokee chief James Hold, to uncover the mystery of what happened to a tribal member who stayed behind after Indian removal, when Native Americans were forcibly displaced from their ancestral homelands in the nineteenth century.

At Hold House, she meets Ruth, a magazine writer visiting on assignment, and Cheyenne, a Southern Black debutante seeking to purchase the estate. Hovering above them all is the spirit of Mary Ann Battis, the young Indigenous woman who remained in Georgia more than a century earlier. When they discover a diary left on the property that reveals even more about the house's dark history, the three women's connections to the place grow deeper. Over a long holiday weekend, Cheyenne is forced to reconsider the property's rightful ownership, Jinx reexamines assumptions about her tribe's racial history, and Ruth confronts her own family's past traumas before surprising herself by falling into a new romance.

Imbued with a nuanced understanding of history, The Cherokee Rose brings the past to life as Jinx, Ruth, and Cheyenne unravel mysteries with powerful consequences for them all.
About the Author
---
Tiya Miles is the Michael Garvey Professor of History and Radcliffe Alumnae Professor at the Radcliffe Institute for Advanced Study at Harvard University and the author of All That She Carried, which won the National Book Award for Nonfiction and the PEN/John Kenneth Galbraith Award for Nonfiction. She is a recipient of the MacArthur Foundation Fellowship Award and the Hiett Prize in the Humanities from the Dallas Institute of Humanities and Culture. Her book The Dawn of Detroit received the Merle Curti Award, the James A. Rawley Prize, the James Bradford Best Biography Prize, the Hurston/Wright Legacy Award in Nonfiction, an American Book Award, and a Frederick Douglass Book Prize. Additionally, Miles is the author of Ties That Bind, The House on Diamond Hill, and Tales from the Haunted South, and the co-editor of Crossing Waters, Crossing Worlds.
Praise For…
---
"Untold history blossoms vibrantly to life in Tiya Miles's The Cherokee Rose. A triumphant arrangement—part ghost story, part historical mystery told with modern flair. Miles seamlessly layers robust fact with immersive fiction in a revelatory investigation of Cherokee and Black American identity—a tale of division, unity, and awe-inspiring cultural resilience."—Afia Atakora, author of Conjure Women

"Poignant and essential storytelling."—Jason Mott, National Book Award–winning author of Hell of a Book

"Beautifully written and impeccably researched . . . Lovely."—Asha Lemmie, New York Times bestselling author of Fifty Words for Rain

"Tiya Miles tackles such a sensitive and complex topic with incredible wisdom, grace, honesty, and research. The Cherokee Rose is a fascinating exploration and enchanting examination of often hidden or misunderstood histories. It's so real and yet so magical; an extraordinary journey."—Robert Jones, Jr., author of the New York Times bestselling novel The Prophets, a finalist for the National Book Award for Fiction

"Poignant and essential storytelling. That only begins to describe Tiya Miles's work. The Cherokee Rose is a book that, with a deft hand, illuminates a little-known, yet vitally important, facet of a past we all share. A wonderful read."—Jason Mott, National Book Award-winning author of Hell of a Book

"The history of the American slave-owning South is a history of erasures. With this novel, Tiya Miles overwrites the whitewashing, vibrantly imagining a complex and nuanced community within the Cherokee Nation where the lives of African Americans and Native Americans are interwoven in surprising and forgotten ways."—Alice Randall, author of The Wind Done Gone

"The Cherokee Rose is a great story, a skillfully woven mystery about the way history unfolds in individual lives. It neglects neither the Indian nor African American side of the story."—Craig Womack, author of Drowning in Fire

"Peopled with richly conceived characters, driven by compelling human dramas that cross cultures and ages . . .   [The Cherokee Rose] is an intimate study of the tangled histories and contemporary legacies of slave-holding in Indian country."—Daniel Heath Justice, Canada Research Chair in Indigenous Literature and Expressive Culture, University of British Columbia

"Dr. Tiya Miles's fiction contains, perhaps, just as much truth about our forgotten histories as her nonfiction. Her imagination—rendered with intricate and beautiful sentences and clear yet expected indications of her meticulous research—enables our moral imagination to grow. We need this."—Caleb Gayle, author of We Refuse to Forget