The Prospects: A Novel (Paperback)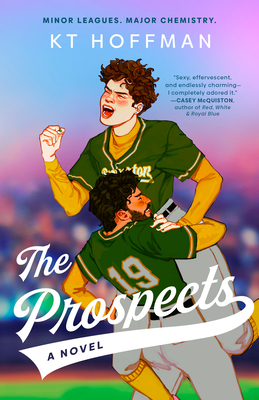 $18.00

Coming Soon - Available for Pre-Order Now
Description
---
The pressure cooker of minor league baseball leads to major chemistry in this exhilarating, sexy, and triumphant rivals to lovers debut romance.

"Tenacious, sexy, effervescent, doggedly hopeful, and endlessly charming, with characters to root hard for and an irresistible voice—I completely adored it." —Casey McQuiston, author of Red, White & Royal Blue

Hope is familiar territory for Gene Ionescu. He has always loved baseball, a sport made for underdogs and optimists like him. He also loves his team, the minor league Beaverton Beavers, and, for the most part, he loves the career he's built. As the first openly trans player in professional baseball, Gene has nearly everything he's ever let himself dream of—that is, until Luis Estrada, Gene's former teammate and current rival, gets traded to the Beavers, destroying the careful equilibrium of Gene's life.

Gene and Luis can't manage a civil conversation off the field or a competent play on it, but in the close confines of dugout benches and roadie buses, they begrudgingly rediscover a comfortable rhythm. As the two grow closer, the tension between them turns electric, and their chemistry spills past the confines of the stadium. For every tight double play they execute, there's also a glance at summer-tan shoulders or a secret shared, each one a breathless moment of possibility that ignites in Gene the visceral, terrifying kind of desire he's never allowed himself. Soon, Gene has to reconcile the quiet, minor-league-sized life he used to find fulfilling with the major-league dreams Luis inspires.

This triumphant debut romance reveals what's possible when we allow ourselves to want something enough to swing for the fences.
About the Author
---
KT Hoffman is originally from Beaverton, Oregon and currently lives in Brooklyn. He received his bachelor's degree in English and Creative Writing from Stanford University. If he isn't writing about trans hope and gay kissing, he's probably white-knuckling his way through the ninth inning of a Seattle Mariners game. The Prospects is his debut novel.
Praise For…
---
"I finished this book with a heart full of joy, gratitude, and infield dirt. The Prospects is the kind of perfect sports romance that happens when a genuine love of the game meets stubborn human goodness. Tenacious, sexy, effervescent, doggedly hopeful, and endlessly charming, with characters to root hard for and an irresistible voice . . . I completely adored it."—Casey McQuiston, author of Red, White and Royal Blue

"The queer romcom I've been waiting for . . . Gene is the short king of my dreams and Luis is the secret cinnamon roll I want to wrap in a warm hug! The Prospects is a love letter to baseball, the Pacific Northwest, and trans joy. I adored every second of it!"—Alison Cochrun, author of The Charm Offensive

"This book is optimism and grit, dedication and unbridled joy. I fell in love with baseball, Gene and Luis, and the earnest beauty of KT Hoffman's writing. An absolute delight."—Rachel Lynn Solomon, author of The Ex Talk

"A gorgeously written tale of queer joy and trans possibility, a heart-stealing romance and a loving tribute to the art of baseball—particularly the beauty, struggle, and camaraderie of the minor leagues . . .  But what I love most of all about The Prospects is how much it is a story about hope, and how deeply comforted and at home I felt in both its honesty and its optimism. This is my favorite book—of this and any year."—Anita Kelly, author of Love & Other Disasters

"KT Hoffman has written a thrillingly swoony and big-hearted love story between two baseball players who you can't help but root for, even as they root against each other. Gene's love for baseball is infectious, despite the scrutiny he faces as the first openly trans player in professional baseball. The Prospects is a beautifully resonant appeal to a future where gay and trans people are celebrated, and even expected, in sports. . . . My heart beat fast, my feelings soared, and then I got tickets to a minor league game."—Sabrina Imbler, author of How Far the Light Reaches

"Funny, tender, and hot, this book made me feel like I could dream bigger for myself. KT Hoffman's debut is, pardon the sports analogy, a homerun. If you liked Ted Lasso, you will love The Prospects."—John Paul Brammer, author of ¡Hola Papi!
 
"The Prospects is the book I will reread every time I want to go back to a world where I feel safe, and loved, and like big-hearted underdogs can rule the world. I can't even express how much I adore this beautiful, joyful book."—Alicia Thompson, author of With Love, from Cold World