Velvet Song (Mass Market)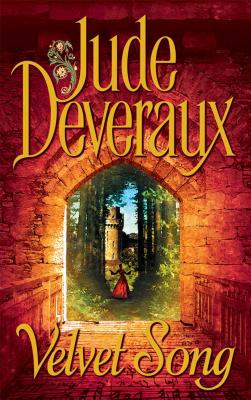 Description
---
Two outcasts in medieval England are brought together and share a destiny of passion in the third of the Velvet Montgomery Annals Quadrilogy from the New York Times bestselling author of The Duchess.

With her father murdered, her home burned, lovely Alyx Blackelt fled to the woods and found sanctuary in the camp of Raine Montgomery, a nobleman outlawed by the king's edict. There she hid her beauty in the guise of a boy, and her sorrow in her work as Montgomery's squire.

But how long could such loveliness as hers be hidden? How long could such a gallant man's desires be blind? And how soon—even as a blood feud raged between the Montgomery family and the Chatworth, as angry swords clattered in the name of family honor—one woman's love would make all the difference...one woman's love would inflame a hero's passion, touch a kings pity, and raise a song of praise in every English heart.
About the Author
---
Jude Deveraux is the author of more than forty New York Times bestsellers, including Moonlight in the Morning, The Scent of Jasmine, Scarlet Nights, Days of Gold, Lavender Morning, Return to Summerhouse, and Secrets. To date, there are more than sixty million copies of her books in print worldwide. To learn more, visit JudeDeveraux.com.