On Looking Into the Abyss: Untimely Thoughts on Culture and Society (Paperback)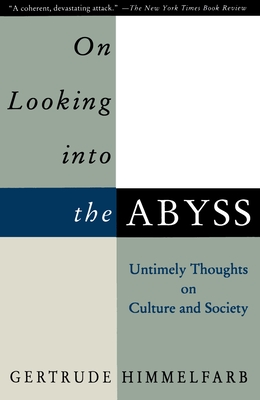 $15.00
Email or call for price.
Description
---
In these provocative essays, one of our most distinguished historians looks into the abyss of the present. Himmelfarb exposes the intellectual and spiritual impoverishment of some of our most fashionable current ideas--and shows how the vogue for historical structuralism has made it possible to trivialize the tragedy of the Holocaust.
About the Author
---
Gertrude Himmelfarb taught for 23 years at Brooklyn College and the Graduate School of the City University of New York, where she was named distinguished professor of history in 1978. Now professor emeritus, she lives with her husband, Irving Kristol, in Washington, DC. Her books include The De-Moralization of Society: From Victorian Virtues to Modern Values; On Looking into the Abyss: Untimely Thoughts on Culture and Society; Poverty and Compassion: The Moral Imagination of the Late Victorians; The New History and the Old; Marriage and Morals Among the Victorians; The Idea of Poverty: England in the Early Industrial Age; On Liberty and Liberalism: The Case of John Stuart Mill; Victorian Minds (nominated for a National Book Award); Darwin and the Darwinian Revolution; and Lord Acton: A Study in Conscience and Politics.